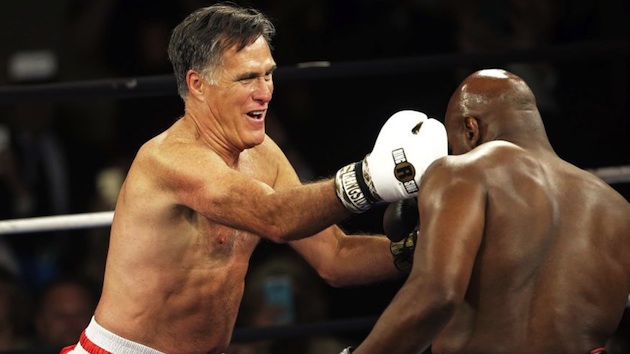 The charity boxing match between Republican presidential candidate Mitt Romney and five-time heavyweight champion Evander Holyfield lasted two rounds Friday at an event in Salt Lake City. The charity fight raised a million dollars.
The fight between Romney, 68, and Holyfield, 52, went on for just two short rounds before Romney ran away from the boxer and threw in the towel, giving up a round early. The black-tie event raised money for the Utah-based organization CharityVision, which helps doctors in developing countries perform surgeries to restore vision in people with curable blindness.
Romney's son Josh Romney, who lives in Utah, serves as a volunteer president for CharityVision, which saw corporate sponsorship ranging from $25,000 to $250,000. The entertainment didn't end with the fight, as Romney told a series of jokes that had the crowd rolling.
"He said, 'You know what? You float like a bee and sting like a butterfly,'" Romney said after the fight.
Attendees enjoyed the event and the chance to see Romney in the ring, not to mention the choreographed knowkdown of Holyfield. But when he got up and frantic Romney ran around the ring before his wife Ann threw in the towel to save her husband.
"Oh, it was great. I was very proud of Mitt," said Katie Anderson, who attended the event with her husband.
"I was happy it went to the second round," Devin Anderson said.