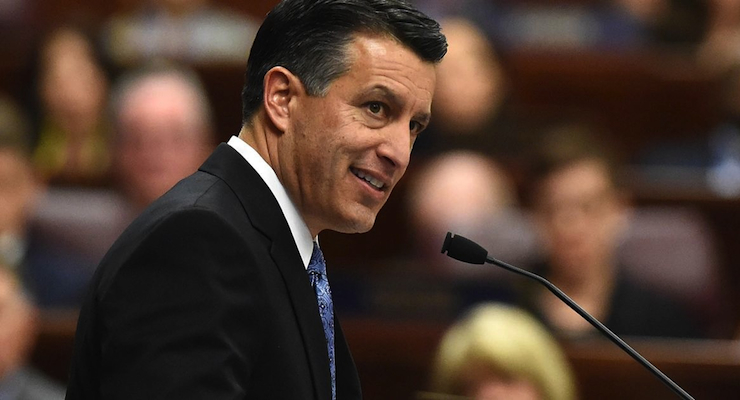 Democrats Breath Sigh of Relief After Sandoval Says No to Senate
Nevada Gov. Brian Sandoval announced Tuesday that he will not run for the open U.S. Senate seat after the retirement of Democratic Sen. Harry Reid. While the race will remain a Toss-Up on PPD's 2016 Senate Election Projection Map, for now, there is little doubt that the development is bad news for the Republican Party, which hopes to keep its new majority next cycle.
"My heart is in my responsibilities as governor and continuing to build the New Nevada," the popular Nevada governor said in a statement. "My undivided attention must be devoted to being the best governor, husband and father I can be."
Sandoval, 51, who was polling far ahead of potential Democratic challengers in head-to-head matchups, sailed to re-election in November with 71 percent of the vote.
Former Nevada Attorney General Catherine Cortez Masto, the favorite Democratic choice for outgoing Reid, announced in April that she would run. U.S. Rep. Dina Titus, who could've thrown a wrench in Reid's plans, was instead chased out of the race and decided only to seek re-election to the House.
On the Republican side of the aisle, three-term Republican U.S. Rep. Joe Heck confirmed he is exploring a run, while Republican Las Vegas City Councilman Bob Beers, considered an underdog, has long made his interest in the race known, as well.
Reid, 75, the former majority leader and current minority leader in the Senate, announced in March that he would not seek a sixth term. While the decision came after an exercise injury left him blind in one eye, Reid would've begun the race as an underdog against Sandoval.
Lucky for Democrats, Sandoval, a Hispanic rising star in the Republican Party, has decided to focus on getting his $1.1 billion tax plan and other policy proposals through the Republican-controlled Nevada Legislature.
"I sincerely thank Sen. Dean Heller and the many people who encouraged me to run and graciously afforded me and my family the time to arrive at this decision," he said Tuesday. "I look forward to supporting the ultimate Republican nominee."
The state's two national Senate seats are split between the parties and, even though Republicans will be on the defensive in a presidential election cycle, Nevada Senate races have not leaned as heavy toward Democratic candidates as the state's presidential vote preference. The state will be one of several that determine control of the U.S. Senate.