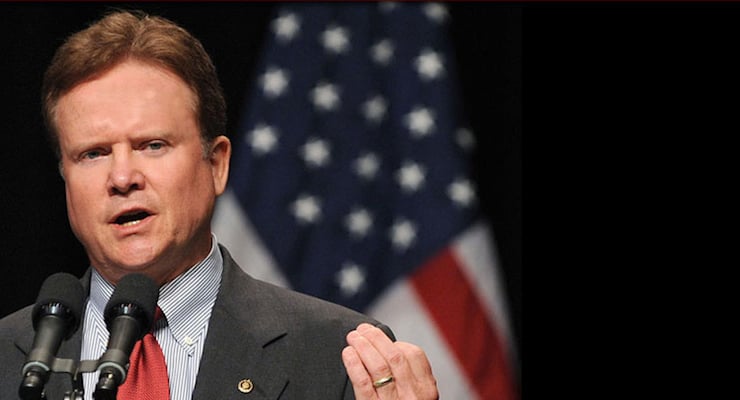 Former Virginia Sen. Jim Webb has formally announced he will run for the Democratic presidential nomination against the weakening frontrunner, Hillary Clinton.
"After many months of thought, deliberation and discussion, I have decided to seek the office of the Presidency of the United States," Webb said in a message to supporters posted on his website. "I understand the odds, particularly in today's political climate where fair debate is so often drowned out by huge sums of money. I know that more than one candidate in this process intends to raise at least a billion dollars — some estimates run as high as two billion dollars — in direct and indirect financial support," he wrote. "We need to shake the hold of these shadow elites on our political process."
Webb, 69, has become the fifth Democratic presidential candidate to enter a race still dominated by Clinton, though Vermont Sen. Bernie Sanders lately has been gaining in the polls and drawing enormous crowds.
But Webb, unlike Sanders, will be competing for the same votes as Clinton, who is trying to move hard left to head off the socialist Vermont senator. A highly decorated Vietnam veteran and former secretary of the Navy under the Reagan administration, Webb ripped into Hillary over her support for the Iraq War and less-than stellar track record at the State Department.
"I warned repeatedly that this use of our military did not meet the test of a grave national security interest," he said. "The attack in Benghazi was inevitable in some form or another, as was the continuing chaos and the dissemination of large numbers of weapons from Qaddafi's armories to terrorist units throughout the region."
Webb is considered by many in his own party to be too moderate and, in fact, too conservative to be a Democrat. He supports gun rights and is strong on national defense, which he contends will appeal to a wide swath of voters who feel disenfranchised by Washington politics.
In his statement, he said the country needs a "fresh approach" to its problems.
However, the Democratic Party is not the party Webb may remember from his time in office. They have taken a hard left turn under President Obama, with a recent Gallup survey suggesting Democratic primary voters have more of a problem with Sanders for being Jewish than they do have with him being a socialist.
Webb said he "would make it clear to our friends and our potential adversaries that we will retain vigorous relationships with our treaty partners and our allies, and that we will meet and defeat any international terrorist movement that threatens our national security."
"I have been warning for many years that the United States is the essential guarantor of stability in East and Southeast Asia, and that China's increasingly aggressive military posture in that region threatens our own national security," Webb said. "If I am elected as your President I can promise you that we will not accept China's continuing military expansion and intimidation in such areas as the South China Sea."
Webb cited his military experience as well as his domestic policy record in the Senate. As a senator, Webb was credited with sponsoring and shepherding the new G.I. Bill, which gave returning Iraq and Afghanistan vets improved education and other benefits for the first time since World War II. His last days in office were marked by efforts to reform the prison system, particularly mandatory sentences for non-violent drug offenders.
"Let's work together to fix our broken criminal justice system," Webb said of his future plans to retackle the issue. "This isn't a political issue, it's a leadership issue. It's costing us billions of dollars. It's wasting lives, often beginning at a very early age, creating career criminals rather than curing them."
The PPD average of polls nationwide show Webb trailing the Democratic nomination field with just over 2 percent nationally, roughly tied with former Maryland Gov. Martin O'Malley.