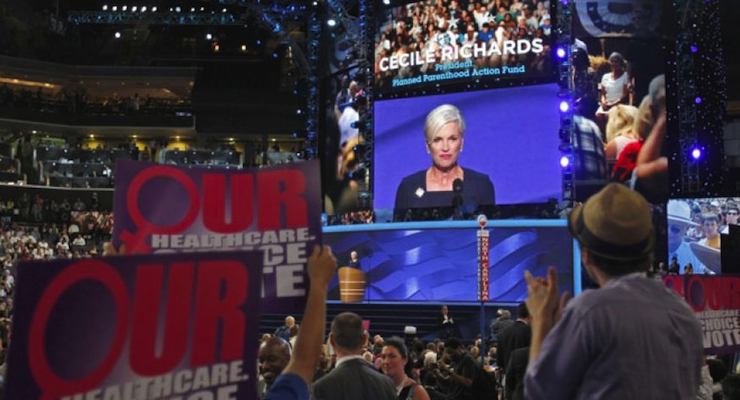 Planned Parenthood and proponents of the billion-dollar abortion industry outright dismissed a video revealing a practice they have repeatedly denied the organization engages in as a policy. Undercover footage released by the pro-life Center for Medical Progress shows Planned Parenthood Federation of America's Senior Director of Medical Services, Dr. Deborah Nucatola, describing how Planned Parenthood sells the body parts of aborted babies, and admitting she and others at the organization use partial-birth abortions to supply intact body parts.
"A well funded group established for the purpose of damaging Planned Parenthood's mission and services has promoted a heavily edited, secretly recorded videotape that falsely portrays Planned Parenthood's participation in tissue donation programs that support lifesaving scientific research," the organization said in a statement. "Similar false accusations have been put forth by opponents of abortion services for decades. These groups have been widely discredited and their claims fall apart on closer examination, just as they do in this case."
The footage, which also starred Planned Parenthood President and CEO Cecile Richards, herself, who praised Nucatola's work to facilitate connections for fetal tissue collection, resulted in outrage from Republican candidates. Yet, as of Wednesday morning, not a single declared Democratic presidential candidate — including former Secretary of State Hillary Clinton, Vermont socialist Sen. Bernie Sanders, former Maryland Gov. Martin O'Malley, former Virginia Sen. Jim Webb, or former Rhode Island Gov. Lincoln Chafee — have responded to multiple requests from PPD to comment. The same is true for the White House communication team, who heralded President Obama's decision to become the first sitting U.S. president to speak at a Planned Parenthood conference.
According to its 2013-2014 annual report, Planned Parenthood received $528.4 million dollars in taxpayer federal funding for the year ending June 30, 2014. During the same year, the organization performed 327,653 abortions, which they have repeatedly claimed does not result in the harvest of body parts for sale or other illegal use. In fact, when they were first caught harvesting baby body parts 15 years ago, Planned Parenthood claimed it was the action of a rogue affiliate, or franchise-like location.
However, the video footage clearly proves otherwise. Nucatola reveals that Planned Parenthood's national office is concerned about their liability for the sale of fetal parts, but they are speaking with affiliate locations "behind closed doors" until they have a leftwing Supreme Court willing to deem their activities legal and constitutional.
"At the national office, we have a Litigation and Law Department which just really doesn't want us to be the middle people for this issue right now," she says. "But I will tell you that behind closed doors these conversations are happening with the affiliates."
The sale or purchase of human fetal tissue is a federal felony punishable by up to 10 years in prison and a fine of up to $500,000 (42 U.S.C. 289g-2). Considering Americans' near-180-degree swing on abortion since the 1990s, particularly regarding late-term and partial-birth abortion, it's no wonder why the Democratic candidates are in hiding.
"Planned Parenthood and the Democrats who vote to fund this organization owe the American people an explanation for these heinous, and possibly illegal actions," Wisconsin Gov. Scott Walker, a 2016 presidential candidate said. "Practices like this cannot be tolerated, which is why as governor I defunded Planned Parenthood."
Indeed, unlike other candidates in the running for the White House, Walker did ban the use of taxpayer money to fund the abortion industry's leading organization. Following the release of the video, Louisiana Gov. Bobby Jindal, who is also running for president, ordered an investigation to make sure the practice isn't occurring in his state. In the video, Dr. Nucatola paints a very clear picture of exactly how those practices are put into place and transpire.
"I'd say a lot of people want liver. And for that reason, most providers will do this case under ultrasound guidance, so they'll know where they're putting their forceps," the good doctor said in the video. "We've been very good at getting heart, lung, liver, because we know that, so I'm not gonna crush that part, I'm gonna basically crush below, I'm gonna crush above, and I'm gonna see if I can get it all intact."
The age of information and science has ironically proven a detriment to the abortion movement and lawmakers who support it. Since 1995, when Gallup measured a 23 percent advantage for the pro-choice designation, support for abortion has steadily ceded ground to the pro-life designation and now trails by an average 7-point margin. Most Americans, particularly younger Americans, find it harder to see a 20-week-old baby as a fetus considering the science. Yet, Republican lawmakers and leaders in Washington have repeatedly displayed a lack of political courage on the issue, as they did in January when they tabled a ban on late-term abortion after 20 weeks.
That was a political miscalculation, as usual.
A recent WaPo/ABC news poll found that by a 56 percent – 27 percent margin, Americans say they'd prefer to impose limits on abortions after the first 20 weeks of pregnancy rather than the 24-week mark established under current law in some states. Even a recent Huffington Post poll found that by a two-to-one margin, Americans said they would favor a federal law banning abortion after 20 weeks of pregnancy, the exact timeframe named in the now-tabled House bill. It gets worse when we look at the average of polls over the last year and a half.
Only 26 percent of Americans say abortion should be legal in all circumstances, while 20 percent say it should be illegal in all circumstances and 52 percent say only in certain circumstances should it be allowed. When polled together, 72 percent supported a ban on late-term abortion. I suspect the support for harvesting baby body parts from partial-birth and late-term abortions wouldn't fare much better.
Yet, while Republicans in Washington continue to fear the mainstream media more than the voters, unlike Govs. Walker and Jindal, Planned Parenthood will continue to insist they did nothing wrong.
"In health care, patients sometimes want to donate tissue to scientific research that can help lead to medical breakthroughs, such as treatments and cures for serious diseases," the organization said. "Women at Planned Parenthood who have abortions are no different. At several of our health centers, we help patients who want to donate tissue for scientific research, and we do this just like every other high-quality health care provider does — with full, appropriate consent from patients and under the highest ethical and legal standards."