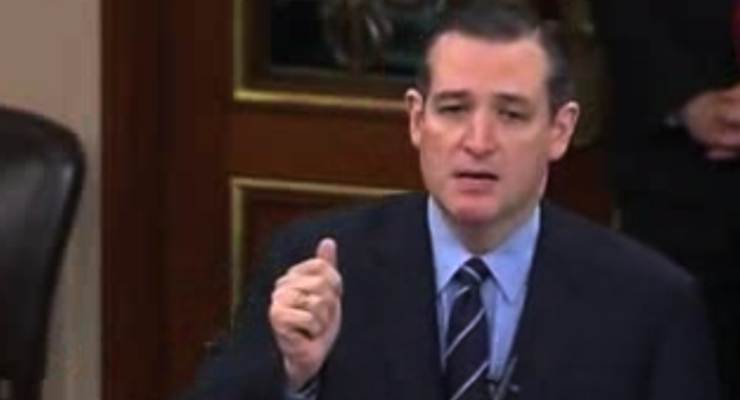 Sen. Ted Cruz, R-Texas, a 2016 Republican presidential candidate, accused Majority Leader Mitch McConnell of telling a "flat-out lie" about allowing an amendment to push through Ex-Im reauthorization. Cruz rose to deliver his remarks moments after McConnell had lined up a vote to reauthorize funding for the Export-Import Bank in the coming days, which expired on June 30.
"It saddens me to say this. I sat in my office, I told my staff the majority leader looked me in the eye and looked 54 Republicans in the eye. I cannot believe he would tell a flat-out lie, and I voted based on those assurances that he made to each and every one of us," Cruz said. "What we just saw today was an absolute demonstration that not only what he told every Republican senator, but what he told the press over and over and over again, was a simple lie."
However, while the media drones on-and-on about how Cruz's comments are "an extraordinary departure from the norms of Senate behavior," it is apparently lost on them that he is correct. As PPD previously reported, a source close to McConnell told PPD that the majority leader was not telling us the truth when confronted about the allegations.
Big business has been pushing hard for Ex-Im Bank reauthorization after its charter expired for the first time in more than 81 years of existence. The U.S. Chamber of Commerce, Boeing, GE, Business Roundtable and National Association of Manufacturers spent a combined $46.9 million on lobbying in the period between April 1 and June 30.
Now, they may have found an ally in the man who just recently assumed control of the Senate on the promise to end corporate welfare, among other conservative agenda items. PPD can confirm McConnell did in fact give assurances to Cruz and other GOP senators that there was no deal to allow a vote to renew the federal Export-Import Bank.
"Now the Republican leader is behaving like the senior senator from Nevada," Cruz said. "We keep winning elections and then we keep getting leaders who don't do anything they promised."
The Export-Import Bank, which was established in 1934 by Franklin D. Roosevelt, supposedly exists to "facilitate exports and imports and the exchange of commodities between the United States and other Nations." Proponents of the Ex-Im Bank argue that the loans, which are funded by money borrowed from the U.S. Treasury, are necessary to gain a competitive advantage in the global economy.
However, as PPD has repeated investigated and reported, the Ex-Im Bank perpetuates corporate welfare, corruption and crime at the expense of U.S. taxpayers. Last summer, big business Democrats led by New York Sen. Chuck Schumer, who is widely expected to take over for the soon-to-be retired Minority Leader Harry Reid, D-Nevada, began kicking up lobbying and legislative efforts to save their crony cash cow. This year, big business spent more than ever to protect their interests, which are outlined below.
In 2013, Boeing received a whopping 30.3 percent of the share doled out by Ex-Im. During the second quarter of 2015, Boeing nearly tripled its spending on lobbying efforts from the previous quarter. Here's a list of the top 10 spenders, according to Politico Influence (Ex-Im supporters in bold):
U.S. Chamber of Commerce, $17.9 million
American Medical Association, $12.4 million
Boeing Co., $9.3 million
General Electric Co., $8.5 million
National Association of Realtors, $8.2 million
Business Roundtable, $6.4 million
U.S. Chamber Institute for Legal Reform, $5.1 million
National Association of Manufacturers, $4.8 million
PhRMA, $4.8 million
American Hospital Association, $4.7 million
The list, unsurprisingly, is filled with the usual K-Street to Wall Street Ex-Im suspects, but the U.S. Chamber of Commerce remained at the top of the list. The Chamber increased its spending by more than $4 million from the first quarter, when it spent $13.8 million. The Chamber continues to run TV ads in support of the bank, and continues to use fear tactics to make unsupported claims. A video posted on its website claims that the bank "supported 1.3 million American jobs over the past six years." The claim simply does not hold up to scrutiny.
"McConnell will not allow conservatives to offer an amendment that prevents taxpayer money from funding Planned Parenthood, which was recently caught on video trying to sell the organs of aborted babies," said Senate Conservatives Fund President Ken Cuccinelli. "If the Senate's liberals get to bring the Ex-Im Bank back to life, Senate conservatives should be allowed to defund Planned Parenthood. They should also get votes to repeal ObamaCare, stop executive amnesty, force Iran to recognize Israel, and permanently ban Internet taxes."
READ ALSO — WATCH: Cruz Accuses Majority Leader Mitch McConnell of Lying on Senate Floor