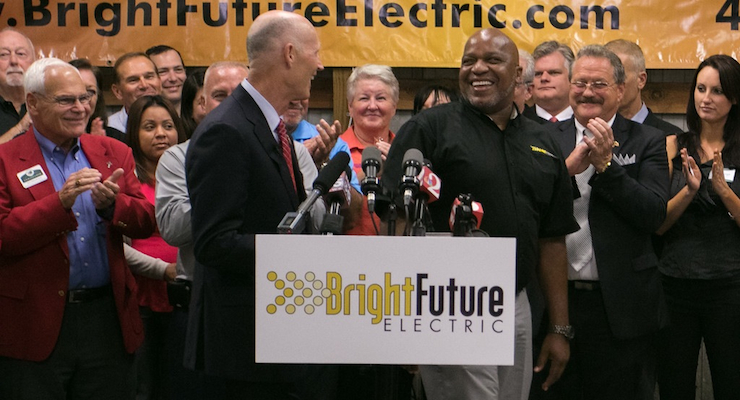 Florida Gov. Rick Scott has ordered an investigation into Planned Parenthood following the release of a third grizzly video revealing their traffic in aborted baby body parts. Scott, a Republican, said Wednesday the state will take quick legal and regulatory action if any of the 16 facilities in Florida are found in violation of the law.
"The videos coming out about Planned Parenthood are deeply troubling to say the least. It is against the law for any organization to sell body parts," Gov. Scott said in a statement. "I have asked AHCA Secretary Liz Dudek to begin immediately dispatching staff from their licensure office to evaluate the 16 Planned Parenthood offices in Florida that perform abortion procedures to ensure they are in full compliance with the law."
Planned Parenthood's President Cecile Richards has said the group has done nothing illegal and will cooperate with the investigation, though they have not cooperated with Congress. The Florida head of the organization has echoed Richards in the wake of the announcement.
"These political attacks claiming that Planned Parenthood profits in any way from tissue donation are simply not true. While we do not have donations programs in Florida, some Planned Parenthood organizations in other states do, and they follow all laws and ethical guidelines," Planned Parenthood Affiliates Executive Director Laura Goodhue said in a statement.
In the wake of the videos, seven state governments and three House committees have opened investigations into Planned Parenthood's sale of aborted fetal body parts. The House Energy and Commerce Committee has called PPFA's Senior Director of Medical Services to testify this month about the organization's fetal tissue harvesting.
Sen. Rand Paul, R-Kty., a physician by profession, vowed to defund Planned Parenthood by any means necessary after the shocking videos were released. Friday, Sen. Paul fast-tracked his defund Planned Parenthood legislation by invoking Rule 14, which could allow for a Senate vote as early as next week.
"If a Planned Parenthood office is not following the law, we will move quickly to take legal and regulatory action against them," Scott added. "We hold our healthcare organizations in Florida to the highest standards of safety and we expect them to fully comply with the law at all times."
BACKSTORY
A video released by the Center for Medical Progress captured PPFA Senior Director of Medical Services Dr. Deborah Nucatola admitting to using partial-birth abortions to get intact parts — as she slurped down big glasses of red wine and chomped on a salad — suggesting a price range of $30 to $100 per specimen.
Then, a second undercover video shows Planned Parenthood Federation of America's Medical Directors' Council President, Dr. Mary Gatter, haggling over payments for intact baby parts. Further, and more disturbing, Dr. Gatter offers to use a "less crunchy technique" to get more intact body parts during a practice the group has repeatedly claimed they do not engage in.
In "Human Capital," a documentary web series produced by The Center for Medical Progress, features a former employee who was hired under false pretenses to harvest the body parts of aborted babies. Holly O'Donnell, a licensed phlebotomist who unsuspectingly took a job as a "procurement technician" at the fetal tissue company and biotech start-up StemExpress in late 2012. O'Donnell and others reveal the real-life interactions inside Planned Parenthood's commercial exploitation of aborted fetal tissue.