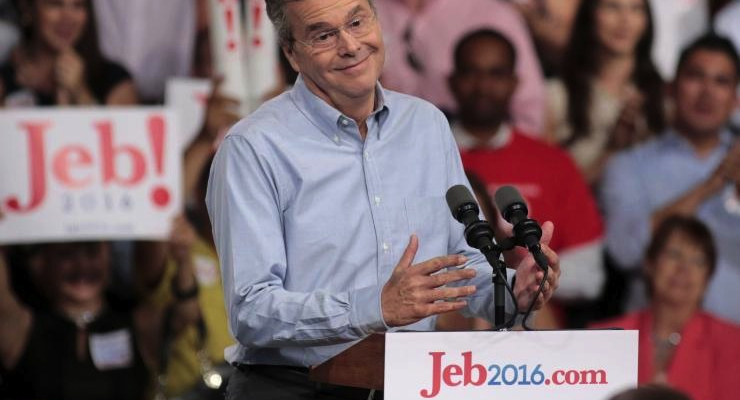 In a move that has pundits scratching their heads, former House Majority Leader Eric Cantor, R-Va., endorsed former Florida Gov. Jeb Bush on Thursday. Cantor, of course, was defeated by political outsider and economist David Brat, who won 56 percent of the vote compared to 44 percent for Cantor. The how and why a little-known political newcomer defeated a House majority leader for the first time in the history of the American republic, was completely lost on Beltway pundits, and so is Cantor's endorsement of Bush.
"Governor Bush is a true conservative leader with a long-term vision for this country and the practical know-how to implement it," Cantor said in a statement. "After eight years of anemic growth and declining international relevance, America needs a president that can re-energize our nation and recapture our greatness — Jeb Bush is that man. I look forward to working closely with the governor and his team as they chart a course to the White House."
Cantor also tweeted his support, using the hashtag #AllInForJeb.
Cantor, 52, was also named a Virginia state co-chair of Bush's 2016 campaign. The endorsement was first reported by Politico. When the former Virginia congressman left Congress more than a year ago he became the vice chairman of Moelis & Company, a global investment bank. While he no longer holds office, Cantor is still a power player in the Republican Party. But for a candidate who is struggling in the polls and has an undeniable base problem, the very public announcement was political amateur hour and more likely to further hurt Bush with base voters.
The donor class and notoriously inaccurate pollsters may be excited over another Bush running for the White House, but Republican voters aren't. Frontrunner Donald Trump, who cracked 40% in the most recent Gravis Marketing Poll (PPD Pollster Scorecard Grade: A-), has repeatedly called Bush "low energy" at his rallies across the nation. And, at least for now, he's right.
Since December 2014, PPD has been tracking GOP enthusiasm as a whole and for individual candidates. On average, 51% of Republican and Republican-leaning independents have said say they are less likely to vote in 2016 if Jeb Bush is the nominee, and 48% of all registered voters say they definitely will not vote for another Bush. Further, just 29% of Republicans say the former Florida governor should've run for president in 2016. But even among these voters, just 14% say they would definitely vote for Bush in their state primary or caucus.
Bush, who is widely known to be the establishment choice in 2016, has disputed our research. In an interview with FOX News' Bret Baier in July, Gov. Bush said he is going to run a general election campaign that will inspire and drive voter turnout, "particularly among people who are conservative and just don't know it yet."
"I'm going to win the nomination and I'm going to run a campaign that will inspire people that their lives can get better," Gov. Bush said. "That will drive turnout, particularly among people who are conservative and just don't know it yet."
However, despite Mr. Bush's claims, PPD's research is crystal clear. Republican donors are the only bloc excited about him taking on Hillary Clinton or the inevitable Democratic nominee. While a lifetime separates now from the first caucus and primary, until the former Florida governor gets out of the Beltway echo chamber he is unlike to gain the needed traction in the Republican primary. Trump and retired neurosugeon Ben Carson have now monopolized the top spots on the PPD average of national Republican nomination polls, and Ohio Gov. John Kasich is pulling much-needed support away from Bush.
Insisting on touting endorsements from the establishment likes of Cantor will do little more than help Bush in sharing his fate. Roughly 18,000 more votes were cast in Cantor's primary defeat than in 2012, when Cantor easily fended off a candidate who was actually backed by the Tea Party, Floyd Bayne. If Bush believes associating himself with Cantor will fend off the efforts by Trump, Carson and others to bring new voters into the GOP primary fold, he and the establishment will suffer a painfully embarrassing defeat.