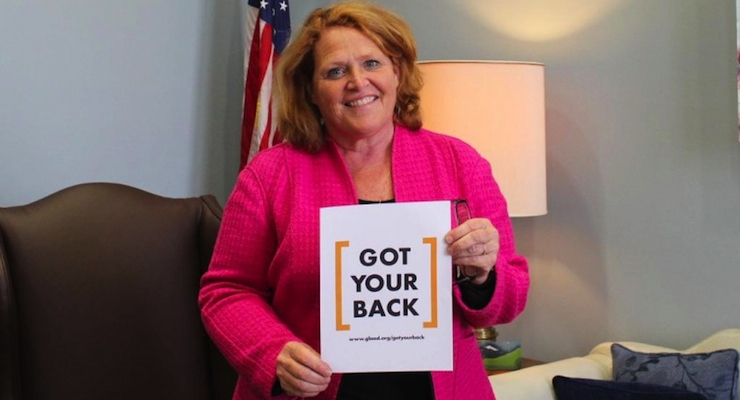 Sen. Heidi Heitkamp Not the Conservative Democrat She Claimed to Be
In-state activists and pro-life groups are vowing to hold Sen. Heidi Heitkamp, D-N.D., accountable for her very recent flip-flop on late-term abortion. In 2007, and indeed during her entire bid for the U.S. Senate in 2012, Heitkamp claimed to be against late-term abortion in a very conservative state.
"I do not support public funding of abortions," Heitkamp said in 2007, "and believe that late term abortions should be illegal except when necessary to save the life of the mother."
Yet, earlier this week, a spokeswoman at her office indicated she would oppose the Pain-Capable Unborn Child Protection Act (S. 1553), which according to PPD research, is a very popular piece of legislation to limit late-term abortions after five months.
"Senator Heitkamp believes reproductive decisions should be left to a woman, her family, and her doctor, and it isn't up to the government to determine what that timeline should be."
Now, the national pro-life group Susan B. Anthony List (SBA List) and North Dakota Concerned Women of America launched a campaign that includes a web ad, North Dakota polling, and a grassroots mobilization aimed at either encouraging her to support the Pain-Capable bill or build an organization capable of holding her accountable in the future.
"Polls show that Americans – regardless of gender, age, or political party – are unified against late-term abortion more than halfway through pregnancy, when the unborn child can feel excruciating pain," said SBA List President Marjorie Dannenfelser. "In North Dakota, 63 percent of Democrats and 71 percent of women support the Pain-Capable Unborn Child Protection Act. This compassionate, common sense measure should be a no-brainer for Sen. Heitkamp, who previously opposed late-term abortion and partial birth abortion."
Nationwide, only 26 percent of Americans say abortion should legal in all circumstances, while 20 say it should be illegal in all circumstances and 52 percent say only in certain circumstances should it be allowed. When together, 72 percent supported a ban on late-term abortion.
Prior to this most recent development, Heitkamp voted "Nay" on Senate bill S.1881, a bill introduced by Iowa Sen. Joni Ernst to prohibit Federal funding of Planned Parenthood Federation of America. The bill was taken up in the Senate following the release of several undercover videos produced by the pro-life Center for Medical Progress, which exposed Planned Parenthood's lucrative trafficking of baby body parts harvested during late-term abortions.
"Americans support removing the United States from the list of only seven nations to allow brutal abortion after 5 months," added Dannenfelser. "Senator Heitkamp, and other Democratic leaders, are sadly moving against growing public opinion – and at their own political peril."
PPD's senior political analyst Richard D. Baris agrees, and says Heitkamp and other Democrats should think about heeding Dannenfelser's warning. The self-proclaimed conservative Democrat has been mulling a run for governor and is expected to announce her decision within a week, but Baris says her plans could be completely derailed by this issue.
"PPD has spent a great deal of time analyzing the support for abortion, and Americans have favored a late-term abortion ban for years," Baris said. "That includes a majority of young and women voters polled nationwide before the Planned Parenthood videos were exposed, let alone far more conservative voters in North Dakota. Voters by roughly a 3 to 1 margin (69%-21%) favor the Pain-Capable Unborn Child Protection Act. Considering recent news, it is more likely those numbers will hold or solidify than it is Heidkamp's new position will be well-received."
"If the senator does decide to run, she would begin the race in the conservative state as an underdog on PPD's election projection model," Baris added. "No doubt about it."
Earlier this year, the Republican-controlled House easily passed the Pain-Capable Unborn Child Protection Act in a bipartisan vote of 242-184. Further, 14 states have passed state-based versions of the legislation or flat-out bans on abortion after 20 weeks. In fact, North Dakota has a law on the books banning late-term abortion in the state, which Heitkamp previously supported. However, Democrats have avoided the political consequences of siding with the abortion industry over the voters in their state thanks to liberal activist judges ruling against such bills, as was the case in Texas and other states.
"This compassionate, common sense measure should be a no-brainer for Sen. Heitkamp, who previously opposed late-term abortion and partial birth abortion," Dannenfelser added. "Her alleged refusal to stand up for the helpless children whose bodies are brutally ripped apart during abortion – and vivisected for their organs – is a sad sign she has sold out to Planned Parenthood and the abortion lobby."
Watch Entire Undercover Planned Parenthood Video Web Series
[brid playlist="614″ player="1929″ title="Planned Parenthood"]