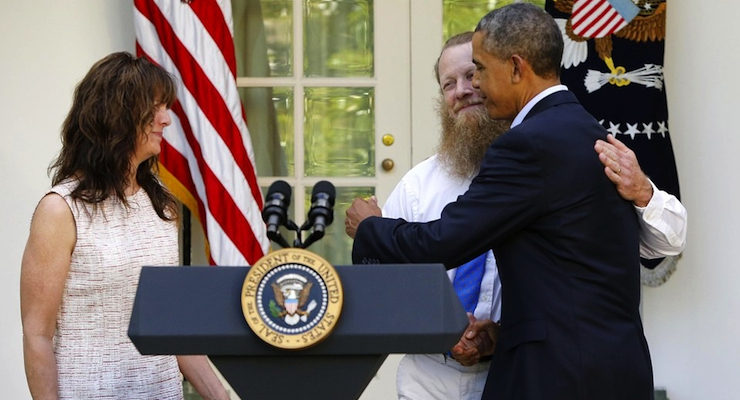 In January 2015, PPD reported that Army Sgt. Bowe Bergdahl would be charged with a watered down "leaving a post to avoid duty"desertion charge unless he took a plea deal and forfeited the $200,000 in back pay he received for the time in captivity. Fox News host Bill O'Reilly said "the fix is in" on the Bergdahl case, predicting that the Obama administration would let the known deserter and likely traitor go free.
Now, it would appear that Mr. O'Reilly was right, as PPD has confirmed that an Army officer is expected to recommend Bergdahl face a lower-level court martial that would not only spare him the possibility of jail time for leaving his post in Afghanistan, but also remain in the Army with a reduced rank.
Bergdahl was captured by the Taliban after deserting his post on June 30, 2009, and freed five years later in a controversial trade for five Guantanamo detainees. He was slow-rolled charged with "Desertion with Intent to Shirk Important or Hazardous Duty" and "Misbehavior Before The Enemy by Endangering the Safety of a Command, Unit or Place." Former commanding officers and fellow-soldiers on the ground in Afghanistan say a 45-day search for Bergdahl resulted in the death of multiple servicemen.
Yet, Eugene Fidell, Begdahl's defense attorney, said Saturday that Lt. Col. Mark Visger recommended Bergdahl's case be referred to a special court martial, which is a misdemeanor-level military justice forum. It limits the maximum punishment to reduction in rank, a bad-conduct discharge and a term of up to a year in prison.
Fidell also said that Visger recommended that there be no prison time or punitive discharge against Bergdahl, and is now asking that the case instead be disposed of non-judicially, rather than by any court martial. Visger presided over last month's Article 32 hearing in Texas that reviewed evidence against Bergdahl, which revealed the deserter had long communicated secretly with the Taliban before ever stepping off post.
When Visger submitted his report with a recommendation on Monday the Army hadn't said what Visger recommended. General Robert Abrams, the commanding general of U.S. Army Forces Command, ultimately has the sole authority to decide whether the case should be referred to a court-martial.
No timeline has been given for a decision from Abrams. Paul Boyce, a spokesman for the U.S. Army's Force Command, released a statement Saturday that appeared not to confirm Visger's decision.
"As legal action is ongoing, we continue to maintain careful respect for the military-judicial process, the rights of the accused, and ensuring the case's fairness and impartiality," Boyce said.
But a conversation Fox News had with Mr. Fidell on Saturday, as well as a review of his memo to Visger, the appearance of "a fix" is more than evident.
"These are highly discretionary matters and, needless to say, I hope General Abrams does the right thing, but it's his call," Fidell told Fox News by phone Saturday. In a memorandum addressed to Visger sent by Fidell, the defense attorney said he was "grateful for the balanced, judicious, and humane approach you have taken to this complex case, and for the evenhanded way you conducted the public hearing."
Philip Cave, a retired Navy judge advocate now in private practice in Virginia, sadly told Fox the commanders often follow the officer's recommendation and that politics is at play.
"The real issue here is the politics. That's the elephant in the room. How much is Abrams going to be affected by the politics?" Cave said. "I think the answer is, fairly little at this point."
Meanwhile, Republican presidential front-runner Donald Trump said Thursday that Bergdahl should have been executed for leaving his post in Afghanistan and called him a "no-good traitor," a position that he first made clear in August.