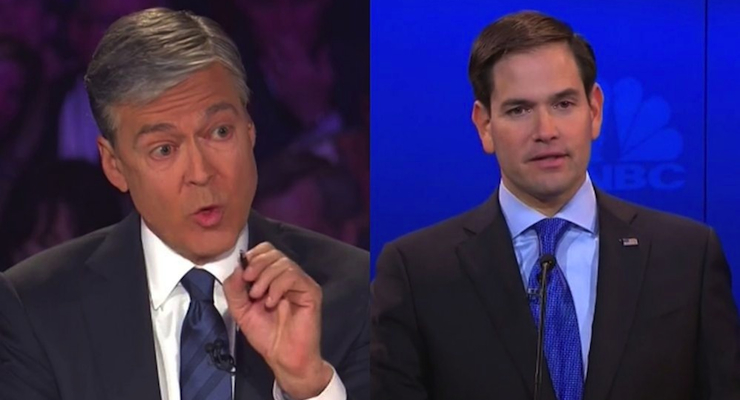 While the entire network is under fire Thursday morning following the third Republican presidential debate in Boulder, Colorado, CNBC moderator John Harwood lied not once but twice, badly damaging his credibility.
First, during an exchange with Florida Sen. Marco Rubio, Harwood claimed (repeatedly) that the senator's tax plan offers breaks weighted toward the rich. Despite Rubio correcting him and the record multiple times, and even pointing out that he had made those claims prior only to be forced to tweet a retraction, Harwood insisted that the Tax Foundation was on his side.
CORRECTING earlier tweet: Tax Foundation says Rubio benefits lowest 10% proportionally more (55.9) than top 1% (27.9%). Avg for all: 17.8%.

— John Harwood (@JohnJHarwood) October 14, 2015
In fact, Rubio's plan gives nearly double the tax relief to the lowest earning Americans on a percentage basis. Dan Mitchell, a senior fellow at CATO Institute, economist and PPD contributor, thoughtfully assessed Rubio's tax plan. Even though it is certainly worth reading, Scott Hedge, the head of the Tax Foundation, backed Rubio up last night shortly after the exchange.
Rubio was right about his plan. Poor get larger tax benefit than the rich. #CNBCGOPdebate https://t.co/GOkJyYpdfw

— Scott A. Hodge (@scottahodge) October 29, 2015
But that wasn't the only bald-faced lie Harwood told last night. During his closing statements, Donald Trump touted how he renegotiated the time and term of the CNBC debate as an example of how he could get America winning again. Harwood denied Trump's claim, stating that the debate was always slated for two hours. Again, that's simply not true.
In mid-October, Trump called Dr. Ben Carson to get him on board with a threat to boycott the CNBC debate if they didn't limit the event to two hours, and they caved to the two frontrunners, one of which is a ratings magnet. Though the network initially planned for the Boulder, Colorado debate to run over two hours, including roughly 8 to 16 minutes of commercial breaks, sources told PPD that the initial plan had been thrown out the window, and it was.
Trump sent a letter to CNBC, which Carson signed on with, demanding that the debate be allowed to go no longer than "120 minutes including commercials," and allow opening and closing statements, which the network was going to forego. The ultimatum threatened, according to the letter, "[neither] Mr. Trump or Dr. Carson will participate."
Either Harwood was unaware of his own network's dealings involving a debate he was slated to moderate, or he lied. Plain and simple, Harwood lied.
"We started a dialogue yesterday with all of the campaigns involved and we will certainly take the candidates' views on the format into consideration as we finalize the debate structure," CNBC spokesman Brian Steel said in a statement.
Trump took to Twitter to declare victory and the network was embarrassed, putting out a lame statement nobody took seriously. But the network is able to weather what was a simple embarrassment. Harwood, on the other, shouldn't test whether he can weather repeated questions regarding his credibility. An apology for outright bias and lying is definitely in order.
Don't hold your breathe.