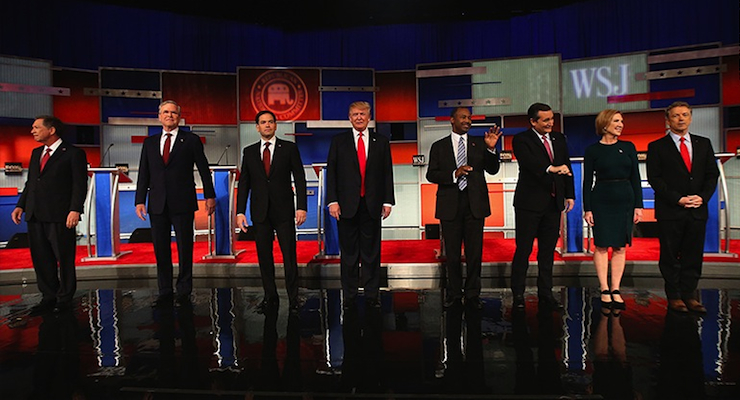 Nielson Media Research & Akamai say FBN debate was watched by 13.5 million total viewers, 1.4 million livestreams
The fourth Republican primary debated hosted by FOX Business Network and The Wall Street Journal set a record for the network and drew the most concurrent livestreaming views ever for a primary debate.
The primetime debate was watched by 13.5 million total viewers, including 3.7 million in the key A25-54 demographic, according to Nielsen Media Research. That easily makes the debate making the network's highest rated program in its history. The debate was also the most watched livestreaming primary event ever, topping 1.4 million concurrent streams according to Akamai. That latter tops both NBC's 2015 Super Bowl, which saw 1.3 million concurrent livestreams, and CNN's 921,000 concurrent streams for the September 16th GOP debate.
Moderated by FBN's Maria Bartiromo and Neil Cavuto, along The Wall Street Journal's (WSJ) editor-in-chief Gerard Baker, the primetime debate was the first ever conducted in the network's history. Unlike the first Republican debate hosted by Fox News, which was widely criticized on social and conservative media, Cavuto & Co. were widely praised by PPD.
"Enter Neil Cavuto & Co., who not only redeemed their sister network Tuesday night, but also set the bar," PPD's senior analyst Richard Baris wrote Wednesday. "Cavuto–joined by Maria Bartiromo and Gerard Baker, the editor-in-chief of the Wall Street Journal–are now the Gold Standard of debate moderation going forward in the 2016 presidential election cycle."
FOX Business Network launched in 2007 and is currently available to 82 million homes nationwide. That's 11 million less than the 93 million homes CNBC can be found in, yet FBN brought in just 4% fewer voters to the CNBC primetime debate last month.
The 7PM/ET debate, moderated by FBN's Sandra Smith, Trish Regan, and WSJ's Gerald Seib, averaged 4.7 million total viewers and 866,000 viewers in the A25-54 demo, which also beat out CNBC's undercard debate by roughly 188 percent.
November 10, 2015 Republican Presidential Primary Debates
• 7-8:15PM/ET Debate: 4,706,850 P2+, 866,076 A25-54
• 9-11:15PM/ET Debate: 13,491,045 P2+, 3,649,457 A25-54
FOX Business Network (FBN) is a financial news channel delivering real-time information across all platforms that impact both Main Street and Wall Street. Headquartered in New York—the business capital of the world—FBN launched in October 2007 and is available in more than 80 million homes in major markets across the United States. Owned by 21st Century Fox, the network has bureaus in Chicago, Los Angeles, Washington, DC and London. On the web at www.foxbusiness.com.