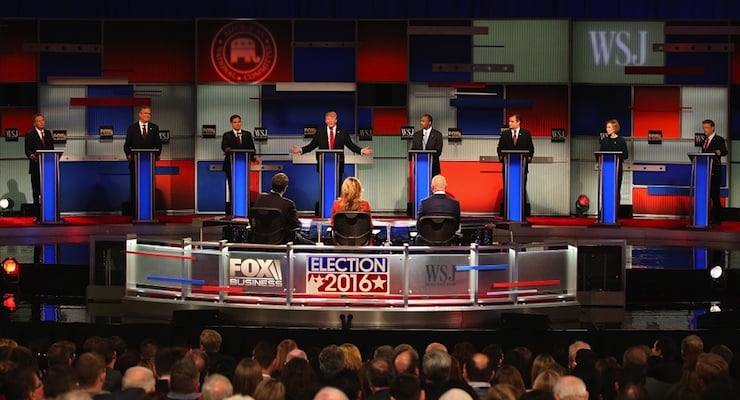 Neil Cavuto, Maria Bartiromo, and Gerard Baker are the Gold Standard for Moderators Going Forward
Post Republican debate analysis worth reading or listening to should never be predicated on the simple question of who won or who lost. Each candidate, as far as competent campaigns and pundits should be concerned, have a set of goals to accomplish while they have the ear and attention of millions of viewers. Whether that is reenforcing or shattering a narrative surrounding their candidacy, calming donors' nerves or just trying to stand out in a crowded field of candidates, each should be measured accordingly.
As far as the candidates go, that's what I am going to do with my post Republican debate analysis following the fourth round hosted by FOX Business and The Wall Street Journal in Wisconsin on Tuesday. That said, before we get into the candidates, let's get one last observation worth mentioning out of the way.
It took four debates, but Republican primary voters were finally presented with a debate that didn't waste several hours of their time. The first Republican debate–which was also hosted by Fox News and moderated by Bret Baier, Megyn Kelly and Chris Wallace–was a complete sham and a total disaster. Despite the network's usual sycophants patting each other on the back, and reenforcing their self-gratification by citing reaction from leftwing news outlets, Main Street social media was fuming over the handling of that debate.
After the "raise-your-hand" stunt and ridiculous questions aimed at painting candidates as God-fearing lunatics (see Megyn Kelly), Republican voters were worried Fox News blew their one and perhaps only chance to have a substantive debate in the primary.
Enter Neil Cavuto & Co., who not only redeemed their sister network Tuesday night, but also set the bar. Cavuto–joined by Maria Bartiromo and Gerard Baker, the editor-in-chief of the Wall Street Journal–are now the Gold Standard of debate moderation going forward in the 2016 presidential election cycle.
Now, with that out of the way, let's move on to the candidates.
Donald Trump
Trump chose, wisely, not to attack Ben Carson's character and instead focused on his competence and personal resume. That was smart. However, PPD survey panelists of primary voters have begun to show a hint of fatigue regarding specifics. The answer on his opposition to the Trans-Pacific Partnership (TPP) agreement was lacking and could even have done The Donald serious damage if Sen. Rand Paul, R-Kty., didn't somewhat rescue him from himself.
More on that when we discuss Mr. Paul. But, once again, establishment candidates such as Gov. Jeb Bush and John Kasich, foolishly challenged Trump on one of if not the predominant issue to GOP primary voters–immigration. Trump cited former President Dwight D. Eisenhower to silence the two nay-sayers and the facts are on his side. The immigration reforms put in place by Ike reduced illegal immigration by over 95%, something the establishment has said for decades is impossible.
Ben Carson
While Ben Carson outperformed his expectations in a debate focused on the economy, it remains an open question whether or not the good doctor is in over his head on a stage where all but him and two others–John Kasich and Carly Fiorina–have put out detailed proposals. That will be the line of attack going forward against Carson, and even Trump, from groups known for backing the non-establishment candidate.
"Tonight's debate went a long way toward weeding out the pretenders in the GOP field," Club for Growth President David McIntosh told PPD immediately after the debate. "As the debate delved into tax reform specifics, real entitlement reform, and proposals for cutting federal spending by abolishing federal agencies, it became clear that Donald Trump and Dr. Ben Carson are in over their heads."
Whether you agree with Trump or not, that's a line of criticism that doesn't apply to him as much as Carson. Still, if Carson loses support in the coming weeks, it will be to Sen. Marco Rubio and Ted Cruz.
"Their talking points don't measure up to the detailed plans–backed by credible records–put forth by Senators Marco Rubio, Ted Cruz, and Rand Paul."
Marco Rubio
There is no doubt that Florida Sen. Marco Rubio, my senator in full disclosure, knows how to bring it to a debate. Presidential elections, ultimately, are largely about the future. And Rubio's goal to remind Republican voters that Republicans would be the party of the future with him as their nominee was clearly met.
"I said we need more welders and fewer philosophers," Rubio said in an email to PPD, which was also the central theme in a fundraising email to supporters Wednesday morning. "The audience chuckled, but the point I made is serious. Technology has fundamentally transformed the way we work, and also transformed the ways we acquire education and skills."
Both Trump and Bush view Rubio to be their greatest threat and they are correct to do so. On the Bush feud, Rubio once again demonstrated why establishment donors are leaving one for the other and why it isn't smart to take a stab at someone who is holding a sharper knife.
Ted Cruz
If I had to pick a winner, which again is simply to simplistic, it would be either Rubio or Texas Sen. Ted Cruz. His goal is to remind conservatives that they have a real chance to split the moderate vote and nominate someone they can trust and who truly shares their values. Cruz gave the single-most effective and articulate defense of the conservative criticism to illegal or unfettered immigration, further positioning himself to be the candidate that benefits from a collapse in support for the frontrunner (Trump).
Also worth noting, Cruz gave the most detailed explanation to his already thorough proposals on taxes and spending, naming in detail agencies and programs that would be cut to make up for the budget shortfall his flat tax plan would create in static scoring. He has effectively disarmed the typical Democratic argument against GOP tax cuts, which claims they are willing to worsen structural budget deficits in order to give the rich a tax cut.
Jeb Bush
No Mr. Rove, Jeb's performance wasn't a game-changer. Though he certainly put on his best debate performance thus far, and probably stopped the hemorrhaging of donors to Rubio, Gov. Bush has yet to put forward a real, convincing justification for running for president outside of his last name.
As Mark Steyn correctly pointed out Monday night, he and his campaign are asking the American people to make history and admit by default that the Bushes are "so indispensable to the survival of the Republic" that it must elect another Bush. That has always been the former Florida governor's challenge and he did not even begin to address it.
The best development for Bush was the complete and total implosion of Gov. Kasich, who is currently fighting over the same Granite State voters. Stay tuned.
Carly Fiorina
I don't know what I could add to the scathing review of Carly Fiorina's performance by PPD editor Laura Baris (also my wife), in the fourth debate.
Fiorina repeatedly interrupted several candidates in exchanges that came across as rude rather than an admirable attempt to muscle her way into the discussion. This is something New Jersey Gov. Chris Christie pointed out during the debate hosted by CNN. But, unlike the CNN debate moderators, the team at FOX Business did a more than decent job at allotting candidates time fairly and appropriately.

Her blatant disregard for the buzzer and other candidates made me want to throw something at the television, not cheer her on.
And that about says it. However, I would add that Mr. McIntosh's criticisms of Trump and Carson apply to Fiorina, as well. "Framework" policy proposals and oft-regurgitated sound bites, particularly from a candidate with a questionable rather non-conservative record, will no longer suffice. Laura is also correct to note that–according to the PPD average–Fiorina is tied with Sen. Rand Paul at 3.2%, "and is not in a statistically significant better position than Kasich or Gov. Mike Huckabee, the latter of which was relegated to the undercard debate."
There will be no bump this time around for Carly, who has lost most of her support to Dr. Carson and has shown no ability to capitalize on her past debate performances.
Rand Paul
Sen. Paul had his best debate thus far, following what was an absolutely horrible showing in the first two. Even if he didn't win over voters in the hawkish wing of the GOP during his exchange with Sen. Rubio, he was right on the substance. The same is true on the scuff up over Rubio's tax plan, which essentially gives out a welfare transfer payment without offsetting its damage to the deficit.
Paul also definitely scored points against the frontrunner when he noted that China was not even a part of TPP, which Trump appeared not to know. Unfortunately, Paul also pardoned Trump from his own attack to some extent when he admitted to agreeing with him over whether or not the Congress should've given President Obama more power to negotiate the deal.
Nevertheless, it was a good night for Paul, who has seen his numbers bounce back in recent weeks as Fiorina cratered. Paul is now tied with the former CEO for sixth place, and I suspect that trajectory and trend may just continue to favor him. Even if that turns out not to be the case, it is a far cry from just a few weeks ago when pundits were prematurely pontificating about his demise.
John Kasich
If I had to pick a winner, as I said, it would be either Marco Rubio or Ted Cruz. If I had to pick a loser, it would be Gov. Kasich. In fact, even though the question of "who won" a debate isn't at all that simple, sometimes "who lost" is crystal clear. Kasich, from the beginning, came across as unlikable, as well as morally and intellectually condescending. He lost the exchanges with Trump and Cruz on immigration and was booed in his losing exchange with Cruz alone on bank bailouts.
Bottom Line
Neither Trump nor Carson had a night that inflicted fatal or even significantly harmful damage to them among their core supporters. And if you are tempted to think otherwise listening to the geniuses offering post Republican debate analysis, I'd remind you we've been here before. In fact, about three times before.