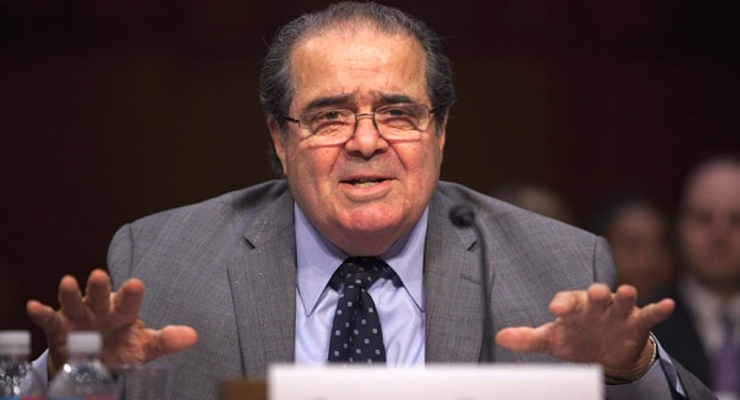 Justice Antonin Scalia, the longest-serving justice on the Supreme Court and important conservative voice, has died at the age of 79. Justice Scalia, was was appointed by President Ronald Reagan in 1986, died in his sleep Friday night after a hunting trip in Texas, according to multiple official sources.
"On behalf of the Court and retired Justices, I am saddened to report that our colleague Justice Antonin Scalia has passed away," Chief Justice John G. Roberts said in a statement. "He was an extraordinary individual and jurist, admired and treasured by his colleagues. His passing is a great loss to the Court and the country he so loyally served. We extend our deepest condolences to his wife Maureen and his family."
A federal official who asked not to be named said there was no evidence of foul play and that it simply appears that Justice Scalia died of natural causes. He had been quail hunting at Cibolo Creek Ranch outside of Marfa, Texas, the day prior. Friends in the hunting party checked on him in his room at a ranch where they were staying when he did not appear for breakfast Saturday morning.
"He was the solid rock who turned away so many attempts to depart from and distort the Constitution," Texas Gov. Greg Abbott said in a statement. "We mourn his passing, and we pray that his successor on the Supreme Court will take his place as a champion for the written Constitution and the Rule of Law. Cecilia and I extend our deepest condolences to his family, and we will keep them in our thoughts and prayers."
Mr. Abbott, who sent condolences to his family, released a statement Saturday afternoon that called Justice Scalia a man of God, a patriot and an "unwavering defender of the written Constitution," adding that he was "a champion for the written Constitution."
Review Writings by Justice Scalia via Cornell University Law School
"Justice Scalia was the most influential Supreme Court Justice of our time," said Club for Growth President David McIntosh. "He was a relentless and courageous defender of the Constitution. I had the privilege of studying law under Justice Scalia and he inspired me with wisdom that has stayed with me throughout my life. It is with a heavy heart that I express my deepest condolences to Maureen and to all of the Scalia family."