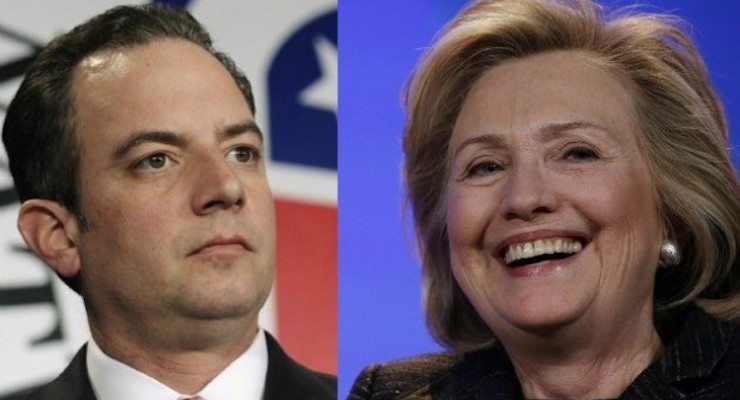 The Republican National Committee (RNC) Chairman Reince Priebus slammed Hillary Clinton following a Saturday document dump at the State Department. The agency, at the end of the weekly news cycle when voters are less engaged, released more than 1,000 new pages of emails as part of a federal court order for officials to comply with a Freedom of Information Act request. Of the emails released on Saturday, 81 are now marked marked as "classified," though the agency continues to maintain that they were not at the time she received them on a home-brew server.
"With the number of emails found to contain classified information climbing to nearly 1,700, Hillary Clinton's decision to exclusively conduct official business on an unsecure email server in her basement looks even more reckless," Republican National Committee (RNC) Chairman Reince Priebus said in a statement. "This court-ordered release is another reminder that Hillary Clinton's attempt to skirt transparency laws put our national security at risk and that she failed to meet her legal obligations to protect classified information as Secretary of State."
Last month, 22 emails were withheld in full because they contained "top secret" material. As PPD first and previously reported, Mrs. Clinton's emails withheld by State contained information identified as "HCS-O," which is code relating material to intelligence collected from human spying. Further, another 18 of the former secretary of state's messages with President Obama were withheld for being protected communications.
"We have found these 18, and I do not expect that there will be more," Mr. Kirby said.
"Considering how brazenly she exposed sensitive material, it isn't surprising President Obama's former Defense Intelligence Agency Director thinks she should drop out of the presidential race," Priebus added. "With Clinton now tied to three federal investigations by the State Department and FBI, buyer's remorse must be growing amongst the Democrat establishment who have gone out of their way to rig the nominating process in her favor."
PPD also first reported in January that the FBI expanded their investigation into Clinton's email practices to include "public corruption" in relation to the Clinton Foundation. While the agency had been previously investigating potential "gross negligence" relating to her use of a private server to conduct official State Department business, they have begun to scrutinize whether she inappropriately used her role to benefit the foundation and, according to sources, these two investigations are now "inseparable."
Clinton's email controversy has plagued her run for the Democratic nomination and ultimately the presidency, as Vermont socialist Sen. Bernie Sanders nearly defeated her in Iowa and handed her a 20-plus point defeat in New Hampshire. Exit polls showed Sanders won more than 90% of voters who said honesty and trustworthiness were the most important considerations to their vote.
Clinton first claimed that her confidant Sidney Blumenthal, who was barred by President Barack Obama from working at the State Department, offered her unsolicited information. Previous emails show otherwise and, the latest batch includes one email that appears to show Blumenthal gave her classified details about an October 2011 assassination attempt on Saudi Arabia's ambassador at the time to the United States. The event took place outside a popular Washington, D.C., restaurant.
Blumenthal wrote that his sources think that details of the failed attempt were "certainly known" by Qasem Soleimani, then a major general in the Iranian Army of the Guardians of the Islamic Revolution.
"As the results in Iowa and New Hampshire have shown, even Democrats find Clinton's dishonesty and untrustworthiness unacceptable," Priebus added.