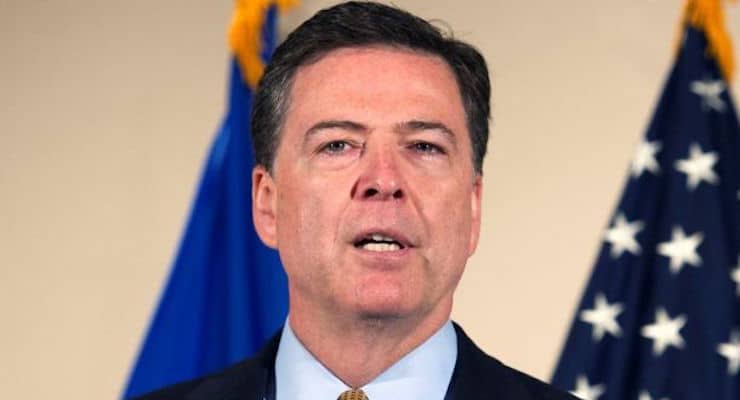 FBI Director James Comey announced Tuesday that despite evidence Hillary Clinton was "extremely careless" in her handling of classified emails on a private server, the Bureau will not recommend to the Department of Justice that criminal charges be brought against the former secretary of state.
"There is evidence to support a conclusion that any reasonable person in Secretary Clinton's position, or in the position of those government employees with whom she was corresponding about these matters, should have known that an unclassified system was no place for that conversation," Director Comey said before effectively letting her off the hook. "Our judgment is that no reasonable prosecutor would bring such a case," Comey said.
Mrs. Clinton,the presumptive Democratic presidential nominee, released a statement via a spokesman following the announcement.
"We are pleased that the career officials handling this case have determined that no further action by the Department is appropriate.," spokesman Brian Fallon said in a written statement. "As the Secretary has long said, it was a mistake to use her personal email and she would not do it again. We are glad that this matter is now resolved."
Clinton is the presumptive Democratic presidential nominee. Her Republican rival, Donald Trump, blasted the FBI's decision on Twitter.
FBI director said Crooked Hillary compromised our national security. No charges. Wow! #RiggedSystem

— Donald J. Trump (@realDonaldTrump) July 5, 2016
Director Comey also confirmed what PPD previously reported, which is that there were multiple private servers used by Secretary Clinton and her staff to conduct state department business. The FBI is operating under the assumption that the Clinton server was hacked by hostile actors. He also confirmed that numerous emails were indeed classified as top secret–some beyond top secret, SAP (Special Access Privilege)–at birth. That runs contrary to her statements attempting to explain her behavior.
House Speaker Paul Ryan, R-Wis., said the Bureau's decision not to prosecute Mrs. Clinton is indefensible. The presence of the emails on her private server–whether it be intended or negligence–is alone a crime.
"No one should be above the law."
Director Comey did not take questions after the announcement at the press conference and did not mention the investigation into public corruption.