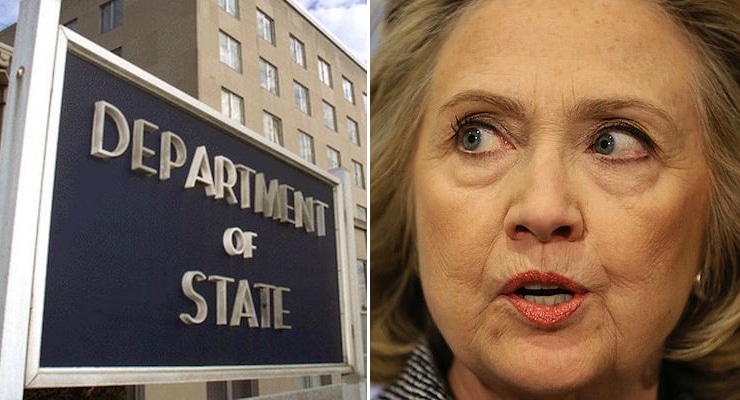 Hillary Clinton "gave a voluntary interview" Saturday morning with the Federal Bureau of Investigation (FBI) about her use of a personal email server during her tenure as Secretary of State. Mrs. Clinton, the presumptive Democratic nominee and former secretary of state, is the subject of two federal investigations. The meeting took place in Washington, D.C. and lasted roughly 3 hours.
A spokesman for the campaign said she was pleased to assist in bringing the "review" to a conclusion.  Clinton "is pleased to have had the opportunity to assist the Department of Justice in bringing this review to a conclusion" campaign spokesman Nick Merrill said in a statement. He also said Clinton will not make further comment about the interview. The Clinton campaign has long-sought to describe the investigation as a "security review," a claim the FBI director himself disputed.
"We're conducting an investigation. That's the bureau's business. That's what we do here at the FBI," Director Comey said in May. "I'm not familiar with the term 'security inquiry'."
Director Comey, a Republican with a strong reputation for independence and fairness, could put an end to speculation after a year-long probe by recommending to the Department of Justice whether or not to pursue an indictment. As PPD previously reported, the investigation into her use of a private server to conducted official State Department business was expanded in January to include "public corruption" relating to her activities at the Clinton Foundation.
Essentially, the FBI is looking into whether Mrs. Clinton sold access during her tenure as secretary of state, in addition to whether she mishandled classified information.
The FBI has previously interviewed several of Clinton's top aides, including her former Chief of Staff Cheryl Mills and former deputy Chief of Staff Huma Abedin. as part of their investigation into whether Clinton mishandled classified information that passed through her so-called "homebrew" server. While Director Comey has repeatedly said the Bureau doesn't operate on political timelines, sources have told People's Pundit Daily a decision is "close," though provided no timeframe.
However, ABC News reported Friday that the Justice Department hopes to complete the investigation before the two major party conventions later this month. The Republican convention begins July 18 in Cleveland while the Democratic convention begins July 25 in Philadelphia. ABC also reported that investigators want ample time to review Clinton's interview and compare her statements to the facts it has gathered in the case.
The reports come as a political firestorm erupted after it was revealed U.S. Attorney General Loretta Lynch held a secret meeting former President Bill Clinton on her government airplane at Phoenix Sky Harbor International Airport on Monday. A local affiliate learned of the meeting, which was initiated by the former president, and it sparking criticism from both parties and calls for Lynch to recuse herself.
"I certainly won't do it again," Lynch said, admitting the meeting "has cast a shadow over this."
Sources tell People's Pundit Daily the FBI agents on the case were very upset with the attorney general's decision to hold a secret meeting with the former president. Words to describe their reaction included "pissed," "fuming" and "livid." The FBI investigation, which is being handled by the "A-Team" and now includes roughly 150 agents, is in fact a criminal investigation that characterizes the former president as at least a witness.
"He is a person of interest officially to the Department of Justice," former U.S. Attorney Joseph DiGenova said.
President Clinton became a pivotal figure behind Lynch's federal career when he appointed her U.S Attorney for the Eastern District of New York in 1999. The post is not only one of the most coveted prosecutorial posts in the country, but also thought to be a launching pad to her current position. He also played a pivotal role in the potential acts of public corruption under investigation, including his relationship with Frank Giustra.
meeting secretly with U.S. Attorney General Loretta Lynch, former President Bill Clinton might have inadvertently cut his wife's political safety net. Under mounting public pressure and political fallout, Attorney General Lynch on Friday vowed to accept the recommendation from career investigators at the Department of Justice (DOJ). She said "they are acting independently," a claim few now believe to be the case.