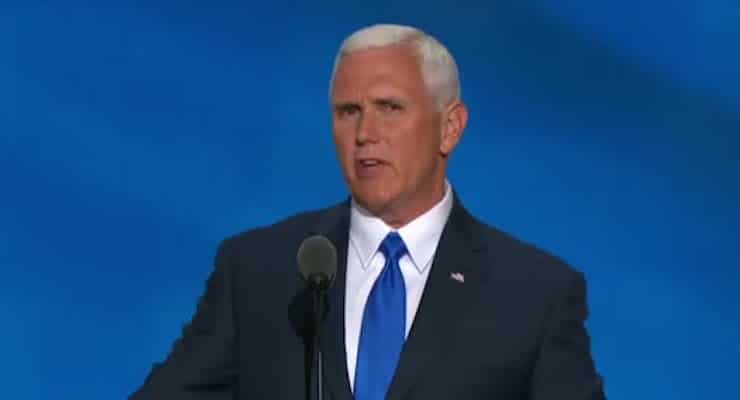 Indiana Gov. Mike Pence accepted the vice presidential nomination to cheers from the crowd at the Republican Nomination in Cleveland, Ohio. With the crowd chanting "We like Mike!" he characterized the election as a choice between radical change and keeping the status quo of a corrupt America in decline.
"I accept your nomination to run and serve as Vice President of the United States of America," Gov. Pence said at the Quicken Loans Arena. "For those of you who don't me–and that may be most of you–I'm a Christian, a conservative and a Republican, in that order."
[brid video="55425″ player="2077″ title="Mike Pence Hoosiers Play to Win"]
Gov. Pence cited his record in Indiana, one of the main reasons Donald Trump picked him as his vice presidential nominee.
"Today we have fewer state employees than when I took office and businesses, large and small, have created nearly 150,000 net new jobs, and we have more Hoosiers going to work than ever before," he said. "And that's what you can do with commonsense Republican leadership, and that's exactly what the no-nonsense leadership of Donald Trump will bring to the White House."
"Our military will have what they need and our veterans will have what they deserve."
[brid video="55427″ player="2077″ title="Pence With President Trump "The Nation Will Start Winning Again""]
In what was perhaps his most important job of the night, Gov. Pence praised his running mate and drew a clear and direct contrast with Hillary Clinton.
"This is the outsider, my running mate, who turned a long-shot campaign into a movement," he said. "And over in the other party, if the idea was to present the exact opposite of a political outsider, the exact opposite of an uncalculating truth-teller, then on that score you've really got to hand it to the Democrat establishment," he says. "They outdid themselves this time."