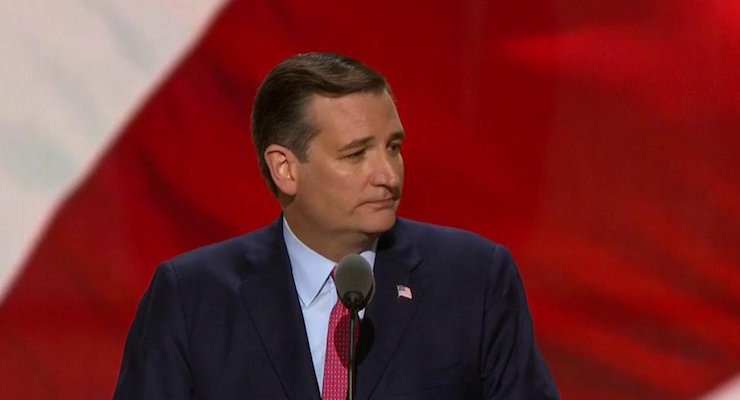 Texas Sen. Ted Cruz was giving a rousing speech at the Republican National Convention, but was booed for not endorsing Donald Trump. Instead, he encouraged voters to "vote for candidates up and down the ticket who you trust to defend our freedom and to be faithful to the Constitution."
When the crowd began to "boo" and chant "Trump! Trump! Trump!" he tried to scoff it off by saying he "appreciates the passion of the New York delegation" with a smile. It didn't work.
It was said Sen. Cruz wanted to make the speech his 1976, the year Ronald Reagan lost to Gerald Ford but paved the way for a run in 1980. But Reagan didn't even need a pledge to break, he believed in the bigger picture.
"Cruz will pay a huge price for this," PPD's senior political analyst Richard D. Baris said in response. "He was already crashing in the polls, he's shot himself in the foot. He's not Ronald Reagan."
Polls show Sen. Cruz's image was suffering badly during the primary cozying up to Trump before using the party establishment to attempt to block his path to the nomination. Republican National Committee officials were calling him classless as he left the stage.
Here are a few of his lines that were well-received before, well, it all came down.
Speaking about what makes America unique and exceptional, he said "America is more than just a land mass between two oceans. America is an idea, a simple yet powerful idea: freedom matters."
"For much of human history, government power has been the unavoidable constant in life – government decrees, and the people obey. Not here. We have no king or queen. No dictator. We the People constrain government."
"Our nation is exceptional because it was built on the five most powerful words in the English language: I want to be free," Cruz says.
Cruz now moving into a criticism of President Obama, Hillary Clinton and the Democrats.
"On education, your freedom to choose your child's education, even if you aren't as rich as Hillary Clinton or Barack Obama.
"On healthcare, your freedom to choose your own doctor, without Obamacare.
"On taxes, your freedom to provide for your family without the IRS beating down your door," he says.
"We deserve an immigration system that puts America first. And yes, builds a wall to keep America safe. We deserve trade policies that put the interests of American farmers and manufacturers over the interests of lobbyists and globalists."