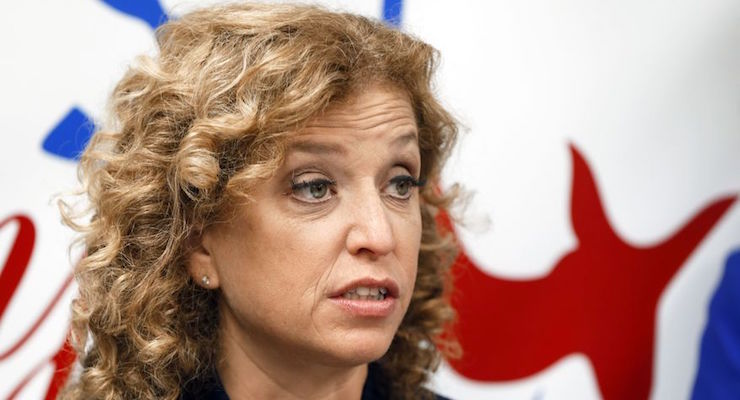 PHILADELPHIA, PA – Democratic National Committee Chair Debbie Wasserman Schultz has been ousted from her convention role after WikiLeaks released emails exposing an anti-Bernie Sanders bias and media corruption. She will not preside over the convention set to kick off Monday and a Democratic official told the PPD News Network that she had been "quarantined."
The anti-secrecy group WikiLeaks released nearly 20,000 hacked emails exposing the corrupt establishment in the Democratic Party. The leaked emails, which come from the accounts of seven key figures in the DNC, show how the party including Wasserman Schultz worked for Hillary Clinton and actively against the Vermont senator during the 2016 Democratic nomination contest.
Sen. Sanders, who recently endorsed Mrs. Clinton, is on the record stating he would not have reappointed Wasserman Schultz. He ripped the DNC and Wasserman Schultz in interviews on the Sunday talk shows, demanding her resignation.
"I think [Wasserman Schultz] should resign. Period. And I think we need a new chair who is going the lead us in a very different direction," Sanders told ABC's "This Week" on Sunday.
Sanders said "these emails reiterate that reason why she should not be chair."
The Vermont independent is himself set to speak on the opening night of the Democratic convention, securing an A-list position after a hard-fought, ideological primary battle with Hillary Clinton.
The current DNC chair was given the position in exchange for Mrs. Clinton actively campaigning to unite the party and elect Barack Obama in 2008, but has since financially run the national committee into the ground. She recently asked the Congressional Budget Office (CBO) to score a proposal that would redirect funds for children's disease research to pay for the Democratic National Convention next week in Philadelphia [correction].
The leaked emails also show numerous "mainstream" media "journalists" essentially colluding with the DNC on propaganda disguised as news. In one email dated May 17, Josh Barro, a Senior Editor at Business Insider and MSNBC contributor, is thanked by the DNC for his hit pieces. Greg Sargent, of the Washington Post, is fed numerous stories that are in some cases already pre-written by the DNC.