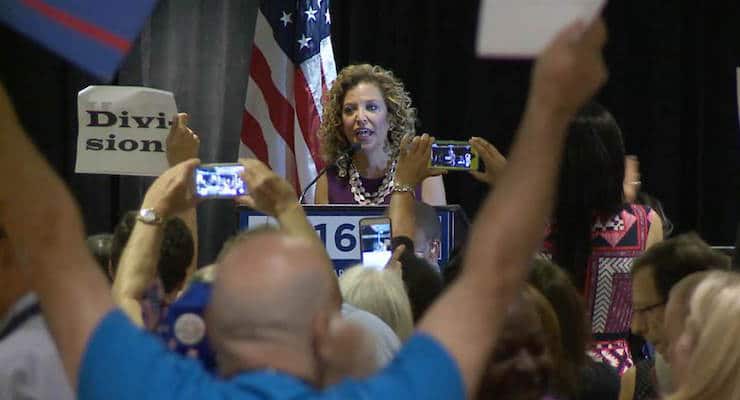 In an effort to quell chaos on the floor of the Democratic National Convention, the DNC released a statement offering a "deep and sincere apology" to Sen. Bernie Sanders and his supporters.  The statement comes after a political firestorm erupted when the anti-secrecy group WikiLeaks released nearly 20,000 hacked emails exposing the corrupt establishment in the Democratic Party.
The leaked emails, which come from the accounts of seven key figures in the DNC, show how the party including Debbie Wasserman Schultz worked for Hillary Clinton and actively against the Vermont senator during the 2016 Democratic nomination contest. The anger boiled over Monday as Wasserman Schultz was met by boos at her home state's delegate breakfast.
Schultz has been ousted from her convention role and announced she will step down effective Friday as the chair of the Democratic National Committee. However, she was hired as the honorary chair of Mrs. Clinton's 50-state campaign committee.
Later, Sen. Sanders was booed by his own supporters after he spoke supporting his Mrs. Clinton. At the breakfast, dozens of people sporting "Lock Her Up" shirts and pins in support of Sanders booed, yelled and waved signs as Wasserman Schultz attempted to speak to the Florida Delegation at Philadelphia's Downtown Marriott hotel.
"Tim Canova!" some chanted, referring to the chairwoman's congressional Democratic primary challenger in her Florida district.
Outside, a large anti-Hillary Clinton protest erupted and still continues, with a crowd of Sanders supporters chanting "Hell no DNC, we won't vote for Hillary!"
Inside, delegate chants of "Lock her up" and "Hillary cheated" are getting louder and angrier.