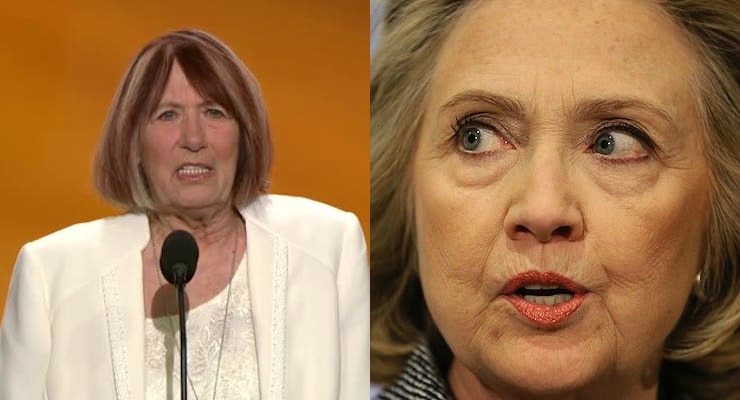 The parents of two of the four Americans who died in the 2012 Benghazi terror attack filed a lawsuit against Democratic presidential nominee Hillary Clinton.
The case, which was was filed in the U.S. District Court for the District of Columbia by Larry Klayman of Freedom Watch USA on behalf of Patricia Smith, the mother of Sean Smith, and Charles Woods, the father of Tyrone Woods, alleges Mrs. Clinton wrongfully caused the death of their sons. It also states the former secretary of state engaged in defamation, as well as intentional and negligent infliction of emotional distress.
The lawsuit alleges Mrs. Clinton's "extremely careless" handling of classified information contributed to their deaths, a reference to the words used by FBI Director James Comey. In his statement, which came after the Bureau's investigation into her use of a private email server during her tenure at the State Department, Director Comey said Mrs. Clinton was "extremely careless" in handling confidential and classified information and, though he refused to prosecute her for it, "there is evidence of potential violations of the statutes regarding the handling of classified information."
In the complaint, the plaintiffs wrote "as  a direct result of Defendant Clinton's reckless handling of this classified, sensitive information, that terrorists were able to obtain the whereabouts of Ambassador Christopher Stevens and thus the U.S. State Department and covert and other government operations in Benghazi, Libya and subsequently orchestrate, plan, and execute the now infamous September 11, 2012 attack."
"Having used a secret private email server that we now know was used to communicate with Ambassador Christopher Stevens with confidential and classified government information, and which we also now know was likely hacked by hostile adversaries such as Iran, Russia, China and North Korea aligning with terrorist groups, it is clear that Hillary Clinton allegedly negligently and recklessly gave up the classified location of the plaintiffs' sons, resulting in a deadly terrorist attack that took their lives," Mr. Klayman said in a statement announcing the suit.
The parents, now the plaintiffs, also alleged that Mrs. Clinton defamed them in statements to the media.The families of the victims have been publicly criticizing Mrs. Clinton, among other administration officials, for lying to them about the cause of the attack (the YouTube video) and the events that transpired over the 13 hours. She said during an interview with her former employee-turned-journalist George Stephanopolous that the families were lying about her statements in the days after the attack. She later walked back her claims, instead blaming the "fog of war" for her statements, which she now again denies making.
[brid video="21739″ player="2077″ title="WATCH Hillary Blames Lying to Benghazi Victims on "Fog of War""]
Ms. Smith has been an outspoken critic of Mrs. Clinton, most recently at the Republican National Convention in July, after which she was trashed by Clinton surrogates.
"During her campaign for President, Defendant Clinton has negligently, recklessly, and/or maliciously defamed Plaintiffs by either directly calling them liars, or by strongly implying that they are liars, in order to protect and enhance her public image and intimidate and emotionally harm and silence them to not speak up about the Benghazi attack on at least four separate occasions," Mr. Klayman wrote in his complaint.
The Clinton campaign has not yet responded to mutliple requests for comment regarding the lawsuit.
The House Select Committee on Benghazi released its final report on the Benghazi terrorist attack in June, which faulted with the Obama administration, including Hillary Clinton. U.S. Ambassador Christopher Stevens and three other Americans–foreign service officer Sean Smith and former Navy Seals Ty Woods and Glen Doherty–were killed in the attacks.
The report interviewed more than 80 witnesses not previously called before Congress to testify or the State Department Accountability Review Board, including Ben Rhodes, the president's deputy national security adviser for strategic communications. Rhodes, who with political adviser David Plouffe, prepped then-U.N. Ambassador Susan Rice for her shameful national TV appearances claiming the YouTube video was responsible for the terrorist attack.
As PPD previously reported, a Sept. 14, 2012 memo from Rhodes included the subject line: "RE: PREP Call with Susan: Saturday at 4:00 pm ET."
The Rhodes email served as a catalyst for the House Select Committee on Benghazi. It was first obtained by Judicial Watch through a federal court lawsuit under the Freedom of Information Act, but withheld when requested by Congress outside a federal judge's power and jurisdiction.
[brid video="43806″ player="2077″ title="Rep. Jim Jordan (ROH) explains what happened in Benghazi"]
"Immediately after the attack, Defendant Clinton, in an effort to save the re-election chances of President Barack Obama, and in turn, her own chances at the 2016 Presidency, lied to Plaintiffs and the public at large that the Benghazi Attacks were caused by Islamic reaction over an anti-Muslim YouTube video that had been posted on the internet," Mr. Klayman wrote in his complaint. "These lies were perpetrated despite the fact that she knew immediately that this video was actually not the cause of the attack—information that she shared with the Prime Minister of Egypt and her own daughter, Chelsea Clinton, but hid from Plaintiffs and the public at large."
As PPD also previously reported, the journal entry made by Mr. Woods following his conversation with Mrs. Clinton is in fact admissible in a court of law. That was not lost on the plaintiffs' attorneys.
"Defendant Clinton even promised Plaintiffs that the person responsible for the video would be arrested," the complaint reads. "Plaintiff Woods recorded the conversation with Defendant Clinton contemporaneously in his diary, which he has recorded in for many years."