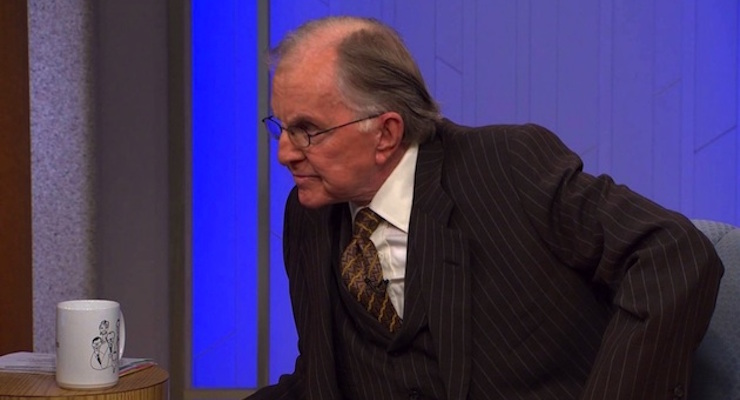 John McLaughlin, the former jesuit priest who went on to host the weekly political talk show "The McLaughlin Group" for 34 years, died at 89. The show announced on its Facebook page that the talk show legend and former speechwriter for President Richard Nixon had passed, though no specific reason was given.
"For 34 years, The McLaughlin Group informed millions of Americans," the statement read. "Now he has said bye bye for the last time, to rejoin his beloved dog, Oliver, in heaven."
"The McLaughlin Group" entertained weekly viewers for more than 3 decades by featuring the host moderating a panel of mediates and pundits. Unlike the blatantly bias charade panels that mire modern political talk shows, most of which air on Sunday, Mr. McLaughlin truly pioneered the idea of fair and balanced journalism. Guests were typically two liberals and two conservatives, who often fought and insulted each other with the moderator in the middle of it all.
The show was born in 1982 when he sold his wealthy friend Robert Moore, a former aide in the Nixon White House, on the idea to fund a new form of public affairs television. The pilot featured syndicated columnists Jack Germond and Robert Novak as well as Chuck Stone of the Philadelphia Daily News and Judith Miller of The New York Times. Stone and Miller were quickly replaced by Patrick Buchanan and Morton Kondracke. The early episodes exposed the faux outrage of its critics, who characterized the talk show as barbaric and its host as an insult thrower with no class.
It was great television and even greater political debate because it was honest and raw. In its heyday, it was frequently mocked by Saturday Night Live, with Dana Carvey playing Mr. McLaughlin. He nailed it.
On Sunday, Mr. McLaughlin missed the edition of "The McLaughlin Group," marking the first time since the syndicated show debuted in April 1982. A note from McLaughlin informed viewers, "I am under the weather … Yet my spirit is strong and my dedication to this show remains absolute!"
John McLaughlin was born on March 29, 1927,and grew up in a working class neighborhood in Providence, Rhode Island, where his father was a furniture salesman. He trained for the priesthood at Shadowbrook, a small Jesuit seminary in western Massachusetts, earned master's degrees in philosophy and English at Boston College and a doctorate in communications at Columbia University.
After his education, he worked as an editor at a Jesuit weekly and lectured on sex. In 1970, he would surprise everyone, including his friends by switching parties to run unsuccessfully as an anti-war Republican against Rhode Island's hawkish incumbent Democratic U.S. senator. In 1975, he retired his Roman Catholic collar to marry longtime friend and former Labor Secretary Ann Dore. They were married for 16 years. In 1997, at age 70, Mr. McLaughlin married 36-year-old Cristina Vidal, the vice president of his production company. But they divorced in 2010.
[brid playlist="384″ player="2077″ title="McLaughlin Group"]