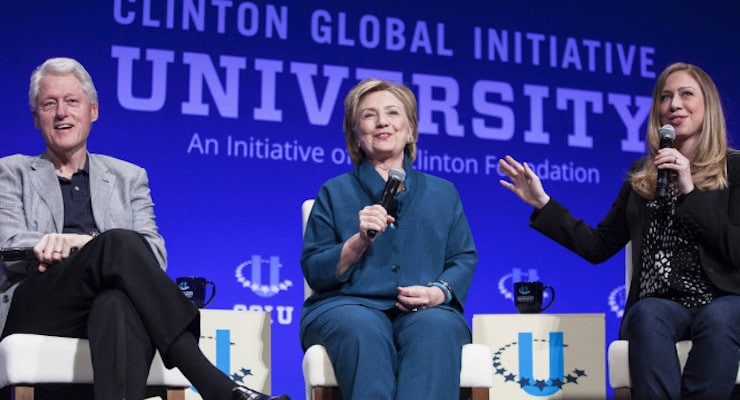 The Clinton campaign is on the defensive following two bombshell reports on Tuesday further revealing the secretary of state gave special access to Clinton Foundation donors. The latest bombshell, which was a review of the State Department calendars dropped by the Associated Press (AP) Tuesday night, found at least 85 of 154 people (or 55%) with private interests who either met or had phone conversations with Mrs. Clinton also gave to her family's charities.
"It's an extraordinary proportion indicating her possible ethics challenges if elected president," AP staffers Stephen Braun and Eileen Sullivan said. In total, the 85 donors reviewed by the AP contributed roughly $156 million to the Clinton Foundation, which does not include U.S. federal employees or foreign government representatives. At least 40 donated more than $100,000 each, and 20 gave more than $1 million.
The AP report marks the first "systematic effort" to "calculate the scope of the intersecting interests of Clinton foundation donors and people who met personally with Clinton or spoke to her by phone about their needs," they added.
A spokesman for Hillary Clinton pushed back hard on the AP following the bombshell report, even going so far as to tweeting out a demand for an editorial correction.
Hey @AP, this tweet is 100 percent factually inaccurate and remains uncorrected hours later. https://t.co/2wTLTRibnd

— Brian Fallon (@brianefallon) August 24, 2016
"The story relies on utterly flawed data. It cherry-picked a limited subset of Secretary Clinton's schedule to give a distorted portrayal of how often she crossed paths with individuals connected to charitable donations to the Clinton Foundation," Brian Fallon said in a lengthy statement. "The data does not account for more than half of her tenure as Secretary. And it omits more than 1700 meetings she took with other U.S. government officials, while serving as Secretary of State."
Of course, there is simply no way to fact-check Mr. Fallon because the AP only reviewed the documents they were able to obtain, which they had been requesting from a stonewalling State Department.
Meanwhile, James Rosen, the chief Washington correspondent at Fox News, reported on Tuesday a review of State Department call logs revealed a senior executive at the Clinton Foundation left nearly 150 telephone messages for Mrs. Clinton's top aide at the State Department during a two-year period. Cheryl Mills, the longtime Clinton confidant who served as chief of staff for the entirety of Clinton's four-year tenure as America's top diplomat, received at least 148 messages from Laura Graham–then the Clinton Foundation's chief operating officer–between 2010 and 2012.
"No other individual or non-profit appears in the logs with anything like that frequency or volume," Mr. Rosen's review found.
One of the messages Graham left for Mills, in August 2011, referenced "our boss" – without further identifying that individual. Another, from January 2012, appeared to reference former President Clinton, using his initials: "Please call. WJC is looking for her [Graham] and she wants to talk to you before she talks to him."
State Department spokesman Mark Toner added that Ms. Mills and Ms. Graham never shared the same boss but insisted to Mrs. Rosen they "always" acted under Mrs. Clinton to advance U.S. foreign policy interests, "with no other intent in mind beyond that." The telephone records were finally released by the State Department as a result of an outstanding Freedom of Information Act lawsuit filed by the conservative advocacy group Citizens United.
"It's an amazing thing that the State Department spokesperson would actually make an argument that Hillary Clinton would be obligated under an ethics agreement that the White House made her sign with the foundation but her top employees would not be under that same agreement," Citizens United President David Bossie said in a statement. "I find it's just very Clintonesque."
Mrs. Clinton's opponent, Republican presidential candidate Donald Trump, called for a special prosecutor to investigate the former secretary and the Clinton Foundation. Speaking in Akron, Ohio earlier this week, Mr. Trump was commenting on separate documents obtained by Judicial Watch that revealed special access was granted to Clinton Foundation donors, including the crown prince of Bahrain. Mr. Trump followed up on his criticism of his opponent at a rally Tuesday night in Austin, Texas.
"Hillary Clinton is totally unfit to hold public office," he said. "It is impossible to figure out where the Clinton Foundation ends and the State Department begins. It is now abundantly clear that the Clintons set up a business to profit from public office."