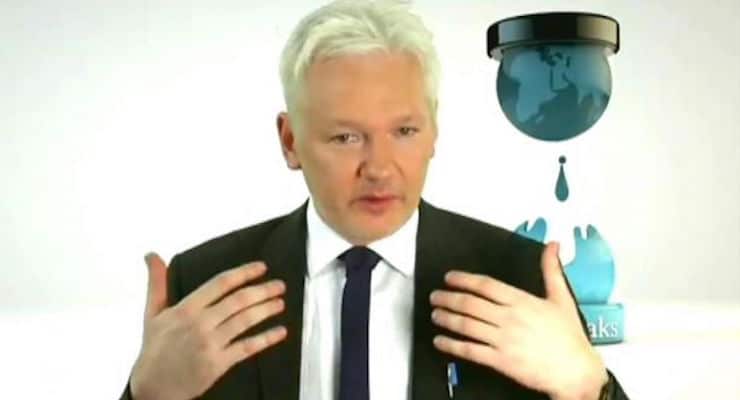 WikiLeaks founder Julian Assange said Friday morning that the worst and "most serious" leak about Hillary Clinton, the Clinton Foundation and Benghazi is yet to come.
"The most serious relates to upcoming publications," the controversial editor-in-chief of the anti-secrecy group said on on Fox and Friends. Mr. Assange, in response to a viewer's question, also stated that the corruption in Washington D.C. "goes all the way to the top," a reference to President Barack Obama.
[brid video="60547″ player="2077″ title="WikiLeaks Julian Assange "The Most Serious Relates to Upcoming Publications""]
On Thursday, a federal judge ordered the State Department to release roughly 15,000 additional emails from Mrs. Clinton beginning on September 13. The emails, which will now be public as the result of a Freedom of Information Act lawsuit by the conservative watchdog group Judicial Watch, were uncovered by the Federal Bureau of Investigation during their probe into the former secretary of state's use of a private server. Mrs. Clinton did not initially turn over the emails, despite saying she had turned over all material.
[brid video="60546″ player="2077″ title="WikiLeaks Julian Assange Emails Show Corruption in D.C. "Goes All the Way to the Top""]
He also addressed the Clinton campaign's claims, which have been echoed by speculation in the media, that the Republican presidential nominee is a Russian sympathizer. Mr. Assange said that narrative is a false Clinton-constructed narrative meant to distract Americans because they know the upcoming information yet to be leaked is extremely damaging.
"The Trump campaign has a lot of things wrong with it," Assange said, "but as far as we can see being Russian agents is not one of them."
WikiLeaks first began to make headlines regarding the U.S. presidential election when they dumped emails showing the Democratic National Committee (DNC) collaborated with the Clinton campaign to harm Sen. Bernie Sanders politically. However, the media corruption and collaboration was perhaps the most concerning revelation in the emails. Reporters at the Washington Post, such as Greg Sargent, and Politico were literally writing whatever they were told to write by the DNC.