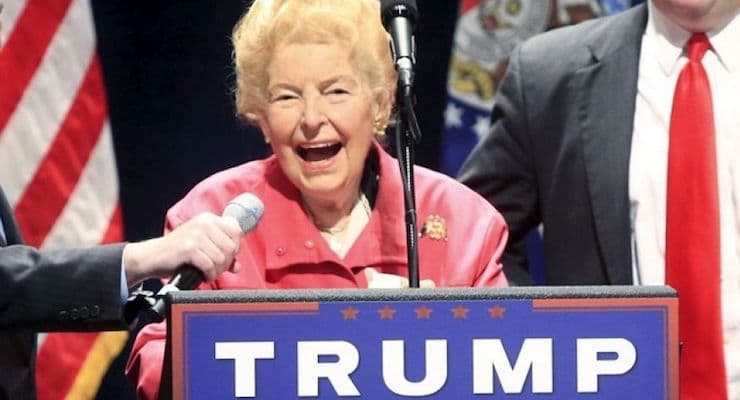 Phyllis Schlafly, a conservative icon and one of the most influential pro-family activists in the 1980s and 1990s, has died at 92 from cancer. While Schlafly had been a conservative activist since the early Cold War, she gained national attention and rose to prominence by leading traditional-religious women in the movement against the Equal Rights Amendment.
"A Choice Not an Echo," her self-published book that sold three million copies, became a manifesto for the pro-life right chronicled the history of the Republican National Convention. It is credited for helping conservative Arizona Sen. Barry Goldwater, who went on to defeat against Lyndon Johnson, win the 1964 Republican nomination. However, President Ronald Reagan, who took up the conservative torch for his former mentor, praised her campaign against ERA as "brilliant" and called Schalfly "an example to all those who would struggle for an America that is prosperous and free."
"An iconic American leader whose love for America was surpassed only by her love of God and her family, Phyllis Schlafly, an indomitable pro-family grassroots advocate and organizer, was 92 years old," read a statement from the Eagle Forum, the conservative group she founded. "Mrs. Schlafly was preceded in death by her beloved husband Fred and is survived by six children along with 16 grand and 3 great grandchildren."
Schlafly, though she didn't endorse until March, was vocally supportive of Republican nominee Donald Trump during the primary and wrote in support of his immigration policy, among other economic policies.
"Phyllis Schlafly is a conservative icon who led millions to action, reshaped the conservative movement, and fearlessly battled globalism and the 'kingmakers' on behalf of America's workers and families. I was honored to spend time with her during this campaign as she waged one more great battle for national sovereignty," Mr. Trump said in a statement. "I was able to speak with her by phone only a few weeks ago, and she sounded as resilient as ever. Our deepest prayers go out to her family and all her loved ones. She was a patriot, a champion for women, and a symbol of strength. She fought every day right to the end for America First. Her legacy will live on in the movement she led and the millions she inspired."
While Schlafly didn't endorsed Mr. Trump publicly until a rally in St. Louis back in March, she co-authored a book called "The Conservative Case for Trump" that is being released Tuesday. Schlafly was born on August 15, 1924, and grew up in St. Louis during the Great Depression in a Republican household. However, her parents were not political activists. She would go on to earn a master's degree in government from Harvard in 1945 and was enrolled in Washington University School of Law in 1976. At age 51, Schlafly graduated 27th in a class of 204 and would also receive an honorary degree at Washington University's commencement in 2008.
In April, before the endorsement, her support of Trump caused a split among the Eagle Forum board of directors, some of whom supported Texas Sen. Ted Cruz. Republican National Committee chairman Reince Priebus said in a statement that Schlafly was "an unflinching champion of many ideas Republicans have long held dear."
"Through her tireless activism that continued even into her 90s, Phyllis Schlafly never wavered in giving a voice to millions of Americans concerned about preserving constitutional rights, strong families, and American greatness. Her influence will continue to be felt for years to come, and as we celebrate an iconic figure in the conservative cause, our thoughts and prayers go out to her family, friends, and many admirers."