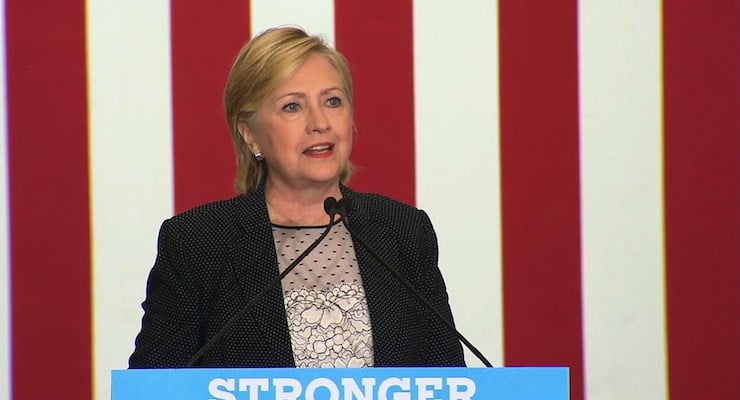 Democrat Hillary Clinton said in a leaked paid speech to Brazilian bankers that her "dream is a hemispheric common market, with open trade and open markets." The comments were made to Banco Itaú was a former Brazilian bank that merged with Unibanco on November 4, 2008, to form Itaú Unibanco.
"My dream is a hemispheric common market, with open trade and open borders," Mrs. Clinton told the Latin American bankers.
The transcripts of Mrs. Clinton's paid speeches were made public for the first time on Friday when WikiLeaks published thousands of hacked emails from John Podesta, the Clinton campaign chairman, revealing her comments to big banks after she left the State Department in 2013. The email below was to Mr. Podesta and other senior officials from research director Tony Carrk. They cite the "flags" to the Harry Walker Agency and note how they need to be scrubbed.
They are in direct conflict with her newfound opposition to the Trans-Pacific Partnership (TPP). Republican nominee Donald Trump has repeatedly accused Mrs. Clinton of wanting open borders and lying about her opposition to TPP, which she called "the gold standard" of trade deals. Further, during the Democratic primary, Vermont Sen. Bernie Sanders on several occasions asked Mrs. Clinton to release the transcripts of the speeches, which were delivered to investment banks like Goldman Sachs.
Mrs. Clinton said on the campaign trail and in debates she would "look into" releasing the transcripts, though she never did. She also told the National Multi-Housing Council that she has two different positions on policy, a public and private position.
"I mean, politics is like sausage being made. It is unsavory, and it always has been that way, but we usually end up where we need to be," she said. "But if everybody's watching, you know, all of the back room discussions and the deals, you know, then people get a little nervous, to say the least. So, you need both a public and a private position."
*CLINTON REMARKS ARE PRO KEYSTONE AND PRO TRADE*
*Clinton: "So I Think That Keystone Is A Contentious Issue, And Of Course It Is Important On Both Sides Of The Border For Different And Sometimes Opposing Reasons…"
*"So I think that Keystone is a contentious issue, and of course it is important on both sides of the border for different and sometimes opposing reasons, but that is not our relationship. And I think our relationship will get deeper and stronger and put us in a position to really be global leaders in energy and climate change if we worked more closely together. And that's what I would like to see us do." [Remarks at tinePublic, 6/18/14] *Hillary Clinton Said Her Dream Is A Hemispheric Common Market, With Open Trade And Open Markets.
*"My dream is a hemispheric common market, with open trade and open borders, some time in the future with energy that is as green and sustainable as we can get it, powering growth and opportunity for every person in the hemisphere." [05162013 Remarks to Banco Itau.doc, p. 28]
*Hillary Clinton Said We Have To Have A Concerted Plan To Increase Trade; We Have To Resist Protectionism And Other Kinds Of Barriers To Trade.
*"Secondly, I think we have to have a concerted plan to increase trade already under the current circumstances, you know, that Inter-American Development Bank figure is pretty surprising. There is so much more we can do, there is a lot of low hanging fruit but businesses on both sides have to make it a priority and it's not for governments to do but governments can either make it easy or make it hard and we have to resist, protectionism, other kinds of barriers to market access and to trade and I would like to see this get much more attention and be not just a policy for a year under president X or president Y but a consistent one." [05162013 Remarks to Banco Itau.doc, p. 32]