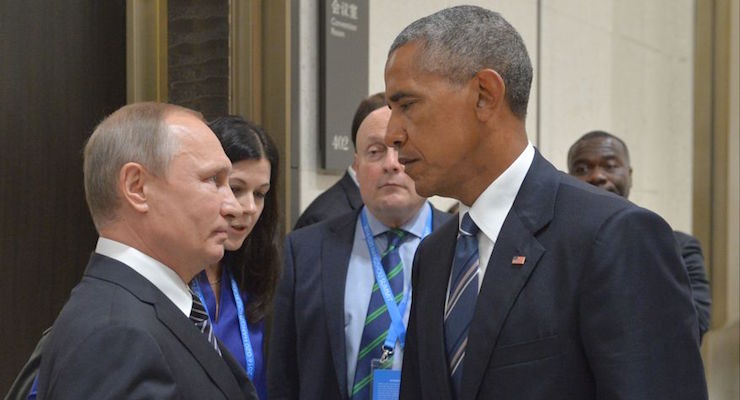 We are used to Friday document dumps and the follow-on attempts to minimize the political damage. However, the Obama administration has taken the manipulation of the election news cycle to a whole new global level.
Obviously the release of the Trump hot-mic tape was designed to counter the horrendous damage the WikiLeaks email dump would inflict on Hillary, that is if anyone now reads the emails. I had to listen to CNN for an hour this morning and they didn't mention them once. Not surprising.
However, the Trump tape was not the only White House chicanery designed to counter the Crooked Hillary news cycle. The administration formerly accused Russia of interfering in the U.S. election, coincidentally within a few hours of the WikiLeaks release.
The Kremlin was not amused. A statement on Saturday released by Deputy Foreign Minister Sergei Ryabkov read, "This whipping up of emotions regarding 'Russian hackers' is used in the U.S. election campaign, and the current U.S. administration, taking part in this fight, is not averse to using dirty tricks," reported Reuters.
I have no doubt Russia is involved in cyber attacks against the United States, as I am sure the NSA is against Russia. However, in this instance, it seems the Kremlin may have a point. It was the White House that released this accusation publicly in order to attempt to alter the election outcome.
It seems to me the DNC and the White House, if they had any honor, would be embarrassed at how easily American critical infrastructure was compromised eight years into the Obama presidency. You can't blame this one on George W. Bush, but that doesn't stop them from trying. The problem is not that the Russians are hacking, of course they are, the problem is that due to the Obama administration's extreme incompetence, they can.
Copyright © 2016 The Washington Times, LLC. Click here for reprint permission.
[mybooktable book="motherland" display="summary" buybutton_shadowbox="true"]