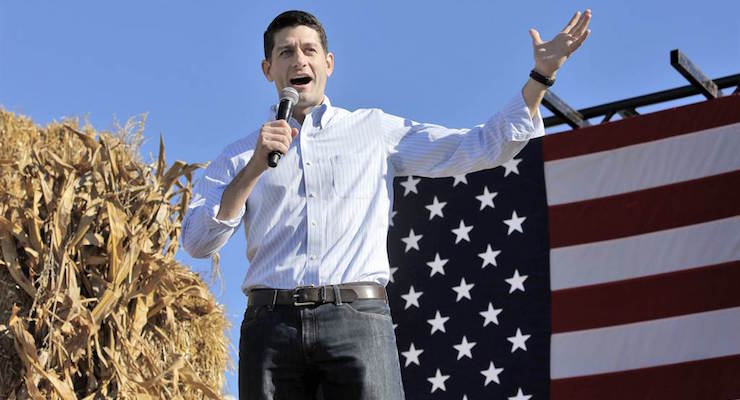 [brid video="68084″ player="2077″ title="Paul Ryan Fall Fest FULL Speech From Elkhorn Wisconsin 10816″]
House Speaker Paul Ryan was berated and shouted down by chants of "Trump" at the Fall Fest event Saturday in Wisconsin after he abandoned the nominee amid controversy. Speaker Ryan began his speech by addressing the "elephant in the room" and said that Donald Trump's comments with Billy Bush in a leaked audio from 2005 taping an Access Hollywood segment were "a troubling situation."
But the chants for "Trump" start at about the 6:40 mark in the video above.
Ryan was joined onstage by Sen. Ron Johnson, who will likely lose his senate race to Russ Feingold, and Gov. Scott Walker after the "Trump" shouts began, at the end of Ryan's speech. Some also shouted, "God bless Trump," and "See ya, Paul! Jackass!"
While Speaker Ryan has struggled to reconcile Trump's nomination, the two men eventually came to endorse each other before Mr. Ryan's challenging primary. He received The Donald's coveted endorsement ahead of the vote and easily defeated his challenger. But now there is real talk about Trump voters either not voting for the cut-and-run Republicans or even voting for their rivals.
On Saturday, Sen. John McCain, who was in the tightest race of his political career before getting Trump's nod, also withdrew his endorsement and said he and his wife Cindy "will write in the name of some good conservative Republican who is qualified to be President."
Trump has fired back at the political establishment for not giving him a chance to address the controversy at the debate. He tweeted on Sunday that the "self-righteous hypocrites" will get a front-row seat to their defeat.
So many self-righteous hypocrites. Watch their poll numbers – and elections – go down!

— Donald J. Trump (@realDonaldTrump) October 9, 2016
While nothing can be said of Speaker Ryan being known to use the language Trump was heard using on the leaked audio, Sen. McCain was quoted by reporters calling his wife a c&@t. He had made the comment during an campaign event in 1992 where he was joined by his wife, Cindy, as well as campaign aide Doug Cole and consultant Wes Gullett.
"You're getting a little thin up there." Sen. McCain, who has well-documented temper fits, said as his face reddened. "At least I don't plaster on the makeup like a trollop, you cunt."