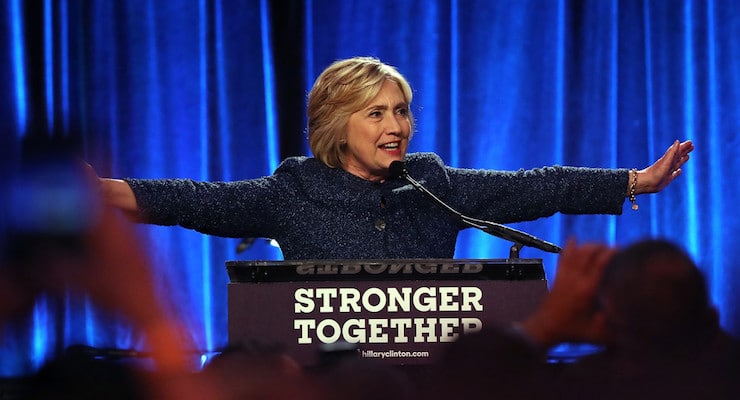 In an email released by the anti-secrecy group WikiLeaks, Clinton campaign chairman John Podesta admits Hillary Clinton "has begun to hate everyday Americans" but stresses she must say the phrase during a speech she was set to deliver in New Hampshire. The email, which was dated April 19, 2015, was sent from Clinton campaign chairman John Podesta, to Jennifer Palmieri, the communications director.
"I know she has begun to hate everyday Americans," Podesta wrote, "but I think we should use it once the first time she says I'm running for president because you and everyday Americans need a champion."
The conversation was relating to the content of a speech Mrs. Clinton would give to Whitney Brothers, a family-owned and operated small business in Keene, New Hampshire. Whitney Brothers is a children's furniture store in a town with a population of just 23,409, according to the U.S. Census Bureau. It is unclear why the candidate didn't want the actual phrase, but she has used that language repeatedly.
"Everyday Americans need a champion," Clinton says in the campaign starter video, "and I'm going to be that champion."
Palmieri simply responded to Podesta with "Truth." She and Podesta were clearly worried about Mrs. Clinton's authenticity issue and her feelings toward middle America in the key battleground state.
"I think if she doesn't say it once, people will notice and say we false started in Iowa," Podesta added. Mrs. Clinton was running against Vermont socialist Sen. Bernie Sanders in the Democratic primary, who eventually crushed her in the Granite State. But she suffered with authenticity issues throughout the contest, particularly up against a man voters believed was more honest and trustworthy.
The email comes amid a series of leaked documents show Mrs. Clinton admits to big bankers and donors that she has two positions on every issue–a public and private position. Yet another revealed Mrs. Clinton's "dream is a hemispheric common market, with open trade and open markets."
The comment casts doubt on her promise to oppose the Trans-Pacific Partnership, a newfound position she claims to have after calling it the "Gold Standard" of trade deals.
But the latest revelation adds to the underlying narrative that the Democratic nominee doesn't think too highly of the American people, a charge Republican nominee Donald Trump has repeatedly leveled. Mrs. Clinton told big donors at a fundraiser in New York City that she thinks half of Trump supporters are "irredeemable" and she puts them in a "basket of deplorables."