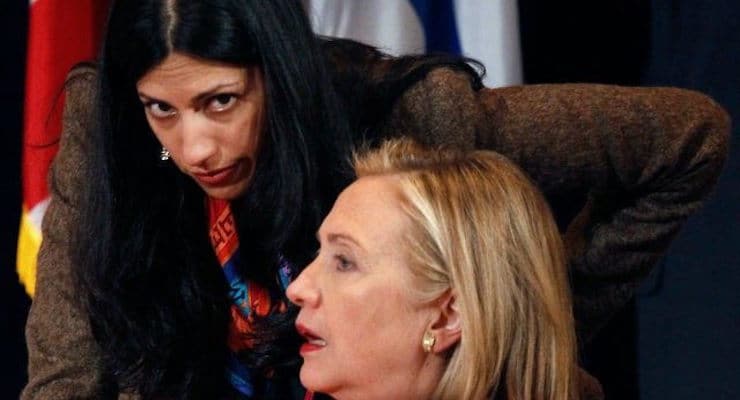 A series of emails released by the anti-secrecy group WikiLeaks reveal the Clinton campaign deciding to take money from "foreign registered agents." Dennis Cheng, the National Finance Director at Hillary for America, asked Clinton's top handlers "whether we are allowing those lobbying on behalf of foreign governments to raise $ for the campaign."
"We really need make a policy decision on this soon – whether we are allowing those lobbying on behalf of foreign governments to raise $ for the campaign," Cheng wrote in email chain with the subject, "Re: Foreign registered agents" on Monday, April 13, 2015. "Or case by case."
The revelations come after critics on both the Right and Left raised serious concerns about whether Mrs. Clinton used her role as secretary of state to enrich herself and her political future. Several in the Clinton campaign enthusiastically indicated they wanted to take the money, despite the political fallout and implications, and even proposed splitting up the donors into separate categories.
"This is really a straight up political call," wrote Marc Elias. "One middle option is to take case by case. If, for example, they are FARA registered for Canada, we may not case. If for N. Korea we would."
The email exchange makes clear everyone understood the idea of taking foreign money was a political bomb and unethical. But before "throwing away" good money from even agents associated with North Korea, the campaign finance team wanted to run a cost benefit analysis.
"Is there anyway to ballpark what percent of our donor base this would apply to (aka how much money we're throwing away)," Jesse Ferguson, the Deputy National Press Secretary and Senior Spokesman wrote in response. "Cost benefits are easier to analyze with the costs. :)"
The campaign floated names including Al-Hamar Trading Group, which is a national security firm not for the United States, but for the "United Arab Emirates and the region as a whole." The list also includes Colombian Foreign Investment and Export Promotion Agency, which favors the Trans-Pacific Partnership Trade Pact and the Hong kong Trade Development Council.
The Clinton campaign also had foreign agents from the Socialist Party of Albania and the Democratic Socialist Republic of Sri Lanka raising money for them.
Unbelievably, another email reveals Clinton herself read about the revelation in a news article. In other words, they made the decision without telling her, though she ultimately didn't object.
"HRC read in paper that we are taking FARA money," Abedin wrote in an email on April 23, 2015. "We are going to discuss today in Elias meeting."
Mook responded to Abedin, "She doesn't want to?," to which she responded, "she just didnt [sic] know that we had decided to accept it."
After a series of threads from various campaign officials weighing the risks and rewards, Cheng pressed the group for a decision because the ball was already rolling and the bundlers were already bundling.
"Hi all – we really need to make a final decision on this," he wrote. "We're getting to the point of no return…"
Mook, who had reservations, replied first and, presumably after thinking about the amount of money, had a change of heart.
"So…in a complete U-turn, I'm ok just taking the money and dealing with any attacks," Mook wrote. "Are you guys ok with that?"
"Take the money!!" Jennifer Palmieri, the Communication Director for the Clinton campaign chimed in.
ATTACHED FOREIGN REGISTERED AGENTS LIST
Yes, it's attached and also copied/pasted below. This is only 23 names of the first 350 prospective bundlers we looked at pre-launch. I anticipate more coming down the pipeline.
*First Name* *Last Name* *FARA Registered Agent* *Client (if listed)*
Imaad Zuberi Beltway Government Strategies Inc (Zuberi is a Partner) Office of the Monitoring MP for the Ministry of External Affairs,
Democratic Socialist Republic of Sri Lanka (8/14/14 – Current)
Anthony "Tony" Podesta The Podesta Group
Republic of Iraq (2/28/13 – Current);
Embassy of the Republic of Azerbaijan (1/31/13 Current);
Republic of Cyprus (11/13/12 – Current);
Republic of Kosovo (3/13/12 – Current);
Republic of Albania (4/15/11 – Current);
Republic of India (10/8/10 – Current);
National Security Council of Georgia (2/3/10 – Current);
Hong Kong Trade Dvelopment Council (4/20/09 – Current);
The Government of the Arab republic of egypt (4/1/09 – Current, previously 5/18/07- 6/30/07)
PLM Group, LLC (9/27/07- 3/1/09);
Podesta Associates, Inc (2/17/94- 2/10/95)
Ben Barnes Ben Barnes Group for National Board
The Following Up and Recovering of the Libyan Looted and Disguised Funds of the Transitional Government of Libya, through Washington African Consulting Group, Inc (12/3/14 – Current);
and Sharp & Barnes LLP for The Republic of Colombia Federacion Nacional de Departamentos (8/31/10 – Current);
and Alcalde & Fay (10/21/94- 2/12/96) Heather Podesta Heather Podesta Taipei Economic and Cultural representative Office in the U.S. (5/15/12 – Current) Hon.
Ronnie Shows AUX Initiatives LLC Dr Bashir Musa (8/18/14- Current)
John Breaux Patton Boggs The Kurdistan regional Government (5/18/14 – Current),
Government of the Republic of Cyprus (8/4/09 -10/31/11),
Embassy of India, Embassy of the Republic of Peru, Government of the Republic of Cyprus (10/20/08- 10/31/11), (9/25/07- 10/31/11), (2/27/07- 10/31/11); and
Breaux Lott Leadership Group for Government of Taiwan, Taipei Economic and Cultural Representative Office (5/21/09- 5/11/10) John Merrigan DLA Piper LLP Presidential Campaign of Hipolito Mejia;
Embassy of the UAE (1/30/12 – Current), Embassy of the UAE; Executive Office of Dubai; Government of Turkey;
Government of Ethiopia; Senado de Maxico;
Sheikh Mohammed Bin Rashid Al Maktoum, Prime Minister and Vice President of the UAE, Sheikh Hamdan Bin Rashid AL Maktoum, Minister of Finance and Industry of the UAE, the Executive Office (12/15/08 – Current), Executive Office of Dubai; Government of Turkey;
Government of Ethiopia; Senado de Maxico;
Borse Dubai Limited; Sheikh Mohammed Bin Rashid Al Maktoum, Prime Minister and Vice President of the UAE, Sheikh Hamdan Bin Rashid AL Maktoum, Minister of Finance and Industry of the UAE, the Executive Office (6/26/08 – Current), (11/2/07, 5/10/07, 12/8/06, 11/20/06, 5/4/06); and
Verner, Liipfert, Bernhard, McPherson & Hand, Chartered for (3/6/02, 4/26/01, 12/16/98, 10/3/97, 12/5/95, 6/2/95, 9/19/88, 8/5/85- 6/3/94) Jonathon Jones Peck Madigan Jones Embassy of New Zealand (6/10/13 – Current), ProExport Colombia (4/22/11- 10/31/11) Michael Smith Cornerstone Governmen Affairs, LLC
Justice Equality Movement Embassy of the Republic of Korea (1/16/15 – Current), LNG Allies Inc (7/2/14 – Current),
Embassy of the Republic of Korea (3/7/14 – Current) Paul Brathwaite Podesta Group Embassy of Japan,
Federal Republic of Somalia (9/16/13 – Current),
Republic of Albania; National Security Council of georgia; Embassy of Japan (7/29/11- 6/30/12),
Government of the Arab Republic of Egypt (4/1/09- 12/31/10) and PLM Group for Government of the Arab Republic of Egypt (4/24/08- 3/1/09) Thomas Daschle Daschle Group Taipei Economic and cultural representative Office (*3/16/15 – Current)*
Wyeth Wiedeman Ben Barnes Group National Board for the Following Up and Recovering of the Libyan Looted and Disguised Funds of the Transitional Government of Libya, through Washington African Consulting Group, Inc (12/3/14 – Current); and
Sharp & Barnes LLP for The Republic of Colombia Federacion Nacional de Departamentos (2/2/11- 11/1/11) Larry Rasky Rasky Baerlein Strategic Communications Socialist Party of Albania (3/29/2010 – 9/22/2010) and Serbia Investment and Export Promotion Agency (10/26/2008 – 9/22/2010) David Castagnetti Mehlman Vogel Castagnetti Embassy of Panama (5/24/11 – 5/15/12);
Province of Alberta Canada (3/20/13- 6/1/13) Gerald Cassidy Cassidy & Associates (10/4/07- 12/31/10; 8/27/91- 12/1/00; 6/4/84- 11/2/84) Gov. Jim Blanchard DLA Piper US LLP (11/25/1991- 12/09/1992; 4/14/2009- 9/15/2010) James "Jimmy" Ryan Elmendorf Ryan Colombian Foreign Investment and Export Promotion Agency (4/21/11 -10/13/11) John Quinn Quinn Gillespie & Associates Japan External Trade Organization;
Shining Prospect; Government of Macedonia; Government of Republika Srpska (3/17/09 – 10/1/11);
Shining Prospect, Government of Macedonia, Government of Republika Srpska (2/19/09); (6/20/07, 6/1/06, 12/22/04- 6/30/05) Kelly Bingel Mehlman Vogel Castagnetti) Embassy of Panama (5/24/11- 5/15/12), Province of Alberta Canada (3/20/13- 6/1/13 Mike Driver Squire Patton Boggs Al-Hamar Trading Group (6/21/12- 6/26/13); (6/16/03- 12/31/05) Norm Brownstein Brownstwin Hyatt Farber Schreck (7/2/07- 10/17/07) Steve Elmendorf Elmendorf Ryan Colombian Foreign Investment and Export Promotion Agency (4/21/11- 10/13/11) Vic Fazio Akin Gump Strauss Hauer & Feld