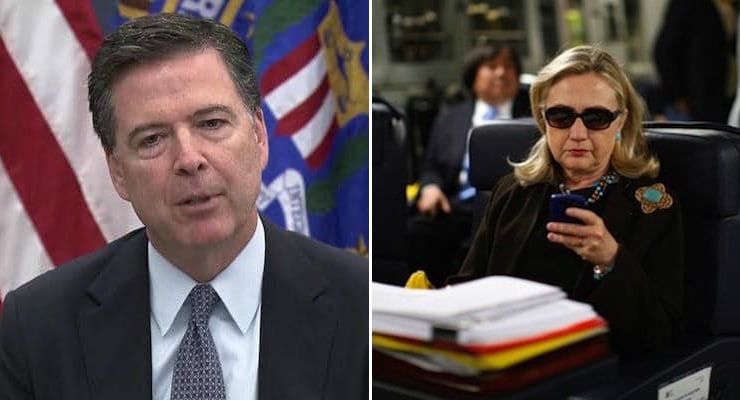 FBI documents released confirm a State Department official proposed a "quid pro quo" aimed at getting the FBI to cover up classified emails on Hillary Clinton's server. In return, an unnamed FBI agent said it might be open to a deal if the State Department could agree to boosting the FBI's presence in Iraq.
The FBI notes released Monday confirm Undersecretary for Management Patrick Kennedy pressured the FBI to change the classified markings on an email that had been upgraded to "secret." As PPD previously reported, interviews released earlier this month, known as 302s, revealed the serious allegation that Kennedy pressured subordinates to change classified email codes so they would be shielded from Congress and the public.
An unnamed witness told investigators that Kennedy attempted "to influence the FBI to change its markings" and asked FBI agents if they could "see their way to marking the email unclassified." Under a proposed deal between the unnamed FBI official and the State Department, Kennedy would "reciprocate by allowing the FBI to place more Agents in countries where they are presently forbidden."

That FBI claimed the deal never happened in a lengthy statement last week, which is located below in full. Republican Rep. Jason Chaffetz of Utah, who had been briefed on the FBI interviews, said "there was an alleged quid pro quo" involving Undersecretary Kennedy and the FBI "over at least one classified email."
"Both myself and Chairman Devin Nunes of the House Permanent Select Committee on Intelligence are infuriated by what we have heard," Chairman Chaffetz said. "Left to their own devices the FBI would never have provided these [records] to Congress and waited until the last minute. This is the third batch because [the FBI] didn't think they were relevant."
The email remained classified at the "secret" level, according to the FBI. But the Bureau also said the agent who requested Kennedy's help securing additional personnel in Iraq has now retired.
According to the latest batch of investigative notes, the retired official said he would "look into the e-mail matter if KENNEDY would provide authority concerning the FBI's request to increase its personnel in Iraq."
Kennedy, in return, wanted a classification change to "B9," a Freedom of Information act redaction that he hoped would allow him to "archive the document in the basement of [the State Department] never to be seen again."

Yet another witness unidentified in the FBI documents told agents during their investigation that he "believes STATE has an agenda which involves minimizing the classified nature of the CLINTON emails in order to protect STATE interests and those of CLINTON."

The FBI's full statement is below:
"Prior to the initiation of the FBI's investigation of former Secretary Clinton's personal email server, the FBI was asked to review and make classification determinations on FBI emails and information which were being produced by the State Department pursuant to FOIA. The FBI determined that one such email was classified at the Secret level. A senior State Department official requested the FBI re-review that email to determine whether it was in fact classified or whether it might be protected from release under a different FOIA exemption. A now-retired FBI official, who was not part of the subsequent Clinton investigation, told the State Department official that they would look into the matter. Having been previously unsuccessful in attempts to speak with the senior State official, during the same conversation, the FBI official asked the State Department official if they would address a pending, unaddressed FBI request for space for additional FBI employees assigned abroad. Following the call, the FBI official consulted with a senior FBI executive responsible for determining the classification of the material and determined the email was in fact appropriately classified at the Secret level. The FBI official subsequently told the senior State official that the email was appropriately classified at the Secret level and that the FBI would not change the classification of the email. The classification of the email was not changed, and it remains classified today. Although there was never a quid pro quo, these allegations were nonetheless referred to the appropriate officials for review."