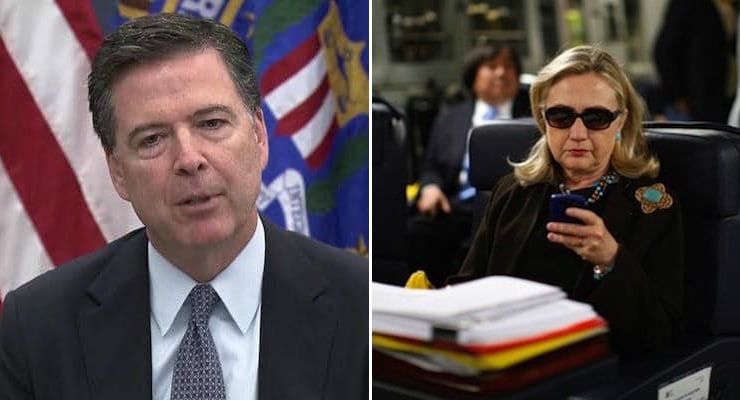 On Sunday, the Federal Bureau of Investigation (FBI) obtained a warrant to review newly found emails "pertinent" to the Hillary Clinton email server investigation. A law enforcement official told People's Pundit Daily on Sunday they include but are not limited to a laptop top Clinton aide Huma Abedin shared with her husband, now the disgraced New York Democratic congressnman Anthony Weiner.
While FBI investigators found the emails on a device seized during an unrelated investigation of Mr. Weiner, who was sexting with a 15-year old girl, sources tell PPD the laptop was used to make multiple back ups for Abedin, a revelation indicating she lied to the FBI and under oath during a deposition for the watchdog group Judicial Watch.
In February 2013, Abedin signed a routine State Department document under penalty of perjury in which she promised to "turn over all classified or administratively controlled documents and materials" before she left her government job, and promised that she was not retaining copies, "including any diaries, memorandums of conversation or other documents of a personal nature."
The source, who has knowledge of the probe, said investigators would complete the review of Abedin's emails expeditiously, but it was unclear whether developments would come before the election on on Tuesday, November 8.
The Clinton email investigation, which closed without charges in July, was confirmed reopened Friday when FBI Director James Comey alerted lawmakers in a letter.
Just hours after Mrs. Clinton called on the FBI to release "all the information that it has" sparking a new investigation, an internal FBI memo surfaced. In the internal memo obtained by Fox News, Director Comey told agents he alerted Congress about reopening the investigation into Mrs. Clinton's private email server because it "would be misleading to the American people" not to do so before the election.
Mr. Comey said he typically would not communicate with the public when reopening a case, but that he had to alert Republican and Democrats in Congress to this case because Mrs. Clinton is seeking the White House in an election on Nov. 8.
"Of course we don't ordinarily tell Congress about ongoing investigations, but here I feel an obligation to do so given that I testified repeatedly in recent months that our investigation was completed," Director Comey wrote. "I also think it would be misleading to the American people were we not to supplement the record.
James Kallstrom, the former assistant director of the FBI, said he thinks "something big is going to happen."
"I think there's something happening. People are asking me what is this about. I think something big is going to happen," Kallstrom said over the weekend. "I don't know what it is. It's just my gut feeling. I think so."