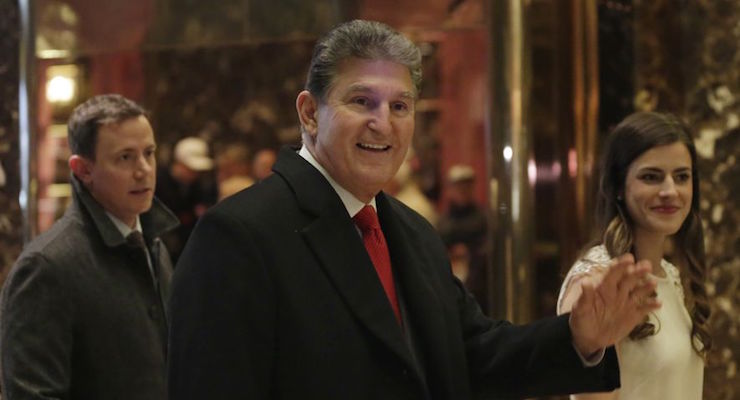 Sen. Joe Manchin, D-W.Va., said Thursday that he will vote to confirm Sen. Jeff Sessions, R-Ala., as the next Attorney General of the United States.
"Jeff Sessions has my vote. He's my friend. I've made relationships and friendships here and I don't care if they are Democrats or Republicans," Manchin. "I have never detected, never one ounce of detection that he is what they've said."
Sen. Manchin is referring to the accusations of racism that sunk his 1980s bid for a judgeship and have since been widely debunked. The announcement comes as Senate Minority Leader Chuck Schumer announced he would oppose the nomination and has been trying to twist arms to fall in line.
"I will oppose Senator Sessions' nomination to serve as the next Attorney General," he said. "I am not confident in Sen Sessions' ability to defend the rights of all Americans, or to serve as an independent check on the next administration."
Democrats paraded out a series of leftwing civil rights leaders to testify at the hearings on Wednesday who expressed similiar concerns in almost identical language. However, it is not an unfair characterizing of their opposition to describe that opposition as one based on him being white, conservative and from Alabama.
"It doesn't matter how much he smiles or how nice he is," Rep. John Lewis said in his testimony, making repeated references to the state's history on race relations, not the record of Sen. Sessions the man.
As U.S. attorney for the state of Alabama, Mr. Sessions prosecuted and put to death the leader of the Ku Klux Klan and led the legal battle to desegregate the schools. Yet, Democratic senators have insinuated that he is harboring well-hidden racism and, as Sen. Cory Booker said Wednesday, "nothing in his record" since the 1980s indicates he has changed.
Of course, Sen. Booker was praising Sen. Sessions on the issue of race just a little over a year ago before he decided he wanted to run for president in 2020. Sen. Manchin commented that "it wasn't the Cory Booker I know" in front of the committee.
Columnist Quin Hillyer, who has followed Sessions' career, dismissed the criticism and charges of racism.
"Mr. Sessions has now served 20 years in the Senate," Hillyer said. "No racist could keep bigotry closeted for so long."
Ken Blackwell, the former Ohio secretary of state and an African American, recently wrote an op-ed calling on senators to confirm Sen. Sessions without delay.
"Of course, Democrats fear government rooted in law, but they can't admit that in public. So they are resorting to their usual smear tactics, branding Sessions as a racist," Mr. Blackwell wrote. "What really scares Sessions' opponents is that the former U.S. Attorney and Alabama Attorney General really knows the issues and what is necessary to fix the DOJ, a department badly politicized by the Obama administration. Sessions also knows where the bodies are buried there, including the ones that have been moved.—and how often they vote."
The nomination of Sen. Jeff Sessions for U.S. Attorney General is supported by every major law enforcement representative group in the nation.