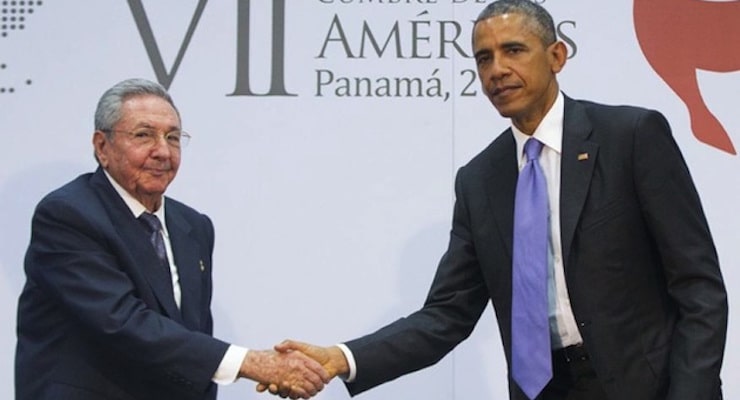 With only one week to go in his presidency, President Barack Obama announced he is ending the longstanding "wet-foot/dry foot" policy for Cuban immigrants. In a statement, the president said it was "put in place more than twenty years ago and was designed for a different era."
"Today, the United States is taking important steps forward to normalize relations with Cuba and to bring greater consistency to our immigration policy," Mr. Obama said. "Effective immediately, Cuban nationals who attempt to enter the United States illegally and do not qualify for humanitarian relief will be subject to removal, consistent with U.S. law and enforcement priorities."
The announcement comes as the U.S. Border Patrol tells People's Pundit Daily that scores of illegal immigrants are pouring across the Southern border in anticipation President-elect Donald J. Trump will build a wall and beef up security, effectively rolling up the red carpet that was rolled out for them under Mr. Obama's tenure.
Cuban-Americans were a key voting bloc behind President-elect Trump's victory in Florida, the nation's largest battleground state. Younger Cubans, who are less likely to vote, tend vote more like immigrants from Latin America rather than older Cuban voters who remember the oppression of the Castro regime. Newly naturalized Cuban immigrants also vote more Republican than U.S.-born Cuban children, as well as the new arrivals who hold more conservative political views.
"The Cuban government has agreed to accept the return of Cuban nationals who have been ordered removed, just as it has been accepting the return of migrants interdicted at sea," Mr. Obama added. "With this change we will continue to welcome Cubans as we welcome immigrants from other nations, consistent with our laws."
But Mr. Obama's record on immigration isn't consistent with a belief in the preservation of the rule of law. A recent review by the Center for Immigration Studies (CIS) of new data from the U.S. Census Bureau shows that 1.5 million new immigrants are settling in the country each year. While between three-fourths and two-thirds of the 1.5 million arrivals in 2015 were legal immigrants, the remainder are illegal immigrants.
With unfettered immigration levels booming, Mr. Obama ordered bureaucrats at the Houston field office of U.S. Customs and Immigration Services—a sub-agency of DHS—"to take advantage of the OT [overtime] if you can" in order to naturalize immigrants so that they could vote in the 2016 U.S. presidential election.