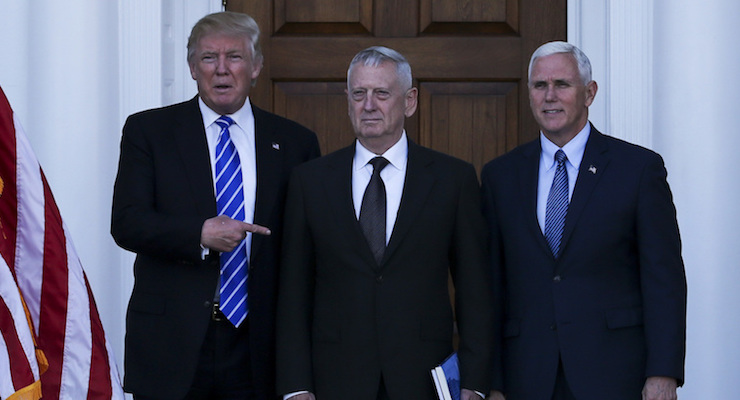 General James Mattis was overwhelmingly confirmed as Secretary of Defense on Friday in a 91 to 1 vote, making him the first confirmed Trump Cabinet member.
Sen. Kirsten Gillibrand, D-N.Y., was the sole "No" vote.
Gen. Mattis, born in Washington State, served in combat in Iraq and Afghanistan before he left the Marines in 2013 after a 41-year career in uniform. He was the highest-ranking officer to lose a child in combat in Iraq or Afghanistan. Marine 1st Lt. Robert Kelly was killed in Afghanistan in November 2010.
He has since been a think-tank scholar at Stanford's prestigious Hoover Institution and serves on the board of several private companies. He was and still remains a critic of President Barack Obama on Iran, which undoubtedly cost him his position as commander of U.S. Central Command.
Despite Republicans helping to confirm 7 nominations for Barack Obama on his Inauguration Day, Democrats have been trying to slow walk and stall President Donald J. Trump's Cabinet nominees. Sen. John McCain, R-Az., slammed Democrats and noted the need to deal with one crisis after another, including Syrian refugees and Russia.
"We need a new Director of the CIA more than ever," Sen. McCain said, adding the only difference between 2009 and 2017 is that now "we've got a world on fire."
Senate Majority Leader Mitch McConnell, R-Kty., also announced his intention to begin debate on Rep. Mike Pompeo, who was nominated to be the new Director of the Central Intelligence Agency (CIA). Rep. Pompeo received widespread praise for his performance at the Senate confirmation hearing.
Sen. McConnell said he hoped they would finish the debate "at some point tonight."
Meanwhile, the Senate also voted 88-11 to confirm retired General John Kelly as Secretary of Homeland Security, the second of President Donald Trump's Cabinet nominees to be confirmed Friday.
#Mattisisms for Your Reading Pleasure
"Be polite, be professional, but have a plan to kill everybody you meet." — Iraq, 2003
"No war is over until the enemy says it's over. We may think it over, we may declare it over, but in fact, the enemy gets a vote." — Defense News
"I'm going to plead with you, do not cross us. Because if you do, the survivors will write about what we do here for 10,000 years." — San Diego Union-Tribune