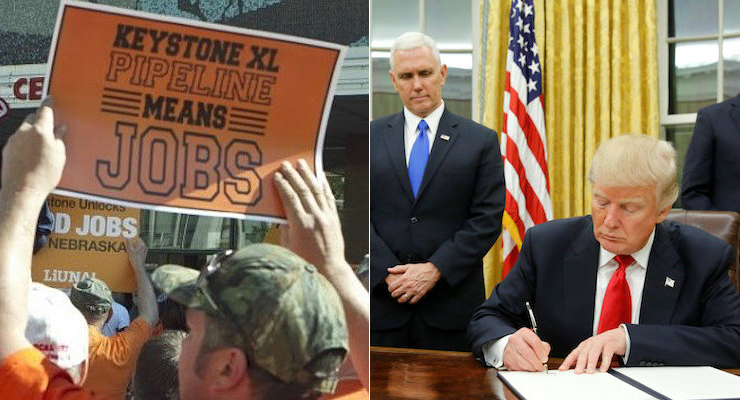 President Donald J. Trump Tuesday effectively reversed his predecessor's rejection of the Keystone XL pipeline and the Dakota Access pipeline. Keystone would bring in oil from Canada's tar sands through Montana, South Dakota and Nebraska, then connect with existing pipelines to carry more than 800,000 barrels a day to refineries along the Texas Gulf Coast.
"Today's executive orders affirm President Trump's respect for the rule of law and his support for responsible infrastructure development, energy production and job creation," Rep. Kevin Cramer, R-N.D., said.
In 2015, former President Barack Obama vetoed the bipartisan Keystone Jobs bill, marking his first veto of the Republican-led Congress and only the third of his presidency. TransCanada, the Alberta-based company that applied for permits to build the Keystone XL pipeline, filed a federal lawsuit in response at the beginning of 2016. The Canadian company claimed the White House arbitrarily, illegally and unconstitutionally rejected the project after multiple reviews gave the green light.
Republican House Speaker Paul Ryan, R-Wis., released a statement praising the decision, saying "It's about time."
"Thanks to President Trump's executive order, the Keystone pipeline and the Dakota Access pipeline can finally be built. It's about time," Speaker Ryan said. "The unfortunate reality is that these important infrastructure projects were used by special interests to advance their radical anti-energy agenda and were therefore needlessly halted by the last administration—to the detriment of America's national interest."
President Trump said both the pipeline projects would be subject to a "renegotiation of the terms" and, though he is environmentally sensitive, he made clear his administration would not pass up a potential job boon.
"We're going to put a lot of steel workers back to work," President Trump said. "We'll build our own pipelines, we will build our own pipes."
Of the three executive orders the president signed related to pipeline construction projects, one aimed to expedite the environmental permitting process for infrastructure projects and another directed the Commerce Department to maximize the use of U.S. steel.
According to multiple State Department reviews under both Hillary Clinton and John Kerry, the Keystone pipeline would've actually benefited the environment by reducing the amount of emissions from transporting oil via rail and other methods currently in place. Further, the resources would've gone to foreign nations such as China, which have far more lax emission standards.
Americans overwhelmingly support construction of the Keystone XL pipeline, including a majority of Democrats (53%), over two-thirds of independents (68%) and nearly 9 in 10 Republicans (88%). According to a recent poll, 69% support the pipeline outright, up from 65% measured last year. However, 72% support its construction when respondents are told of the Obama administration's own findings.