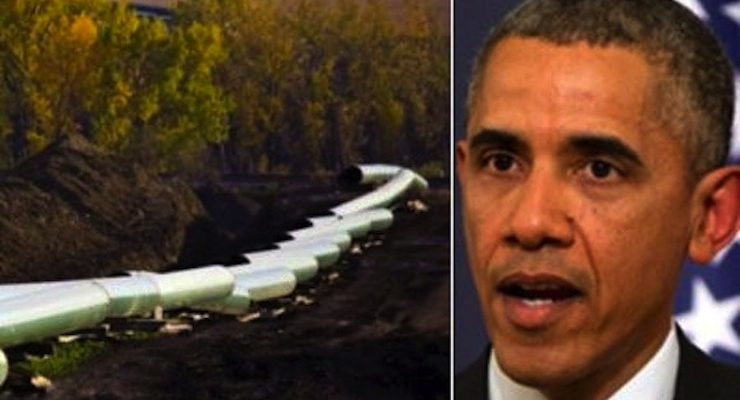 President Obama rejected the long-delayed Keystone XL pipeline project on Friday, despite multiple State Department reviews and widespread public approval, PPD confirmed. The White House has scheduled an announcement for Friday with Obama and Secretary of State John F. Kerry, whose department had previously given the thumbs up on the proposal from TransCanada.
After seven years of waiting for the U.S. government to make a decision, TransCanada, sensing a political play and hoping for a Republican in 2016, this week asked the Obama Administration to suspend their decision. But, under President Obama's direction, the State Department said it would proceed with its review.
The project has exposed a deep division in the Democratic Party between exceedingly left-moving environmentalists and pro-union wings. Senate Democrats urged President Obama to sign the bill approving the pipeline after the bill passed 62-36 in the Senate in January, but they were ignored. In February, Obama vetoed the bipartisan Keystone Jobs Bill.
Democratic frontrunner Hillary Clinton, who was previously in favor of the project and head of the State Department during previous reviews, told a relatively small crowd of supporters in Iowa during the historic visit by Pope Francis that she now opposes the Keystone pipeline.
According to multiple State Department reviews and findings, both from reports conducted during her tenure and now-Secretary John Kerry, the Keystone pipeline would actually benefit the environment as it would reduce emissions from transporting oil via rail and other methods already in place. The decision will no doubt enrage already unexcited labor unions, who support the project and have grown increasing frustrated with the Obama administration.
While lawmakers and Obama grappled with lobbyists in their decision-making processes, the American people said it was a no-brainer, including a majority of Democrats (53 percent), over two-thirds of independents (68 percent) and nearly 9 in 10 Republicans (88 percent). According to a recent poll, 69 percent support the pipeline outright, up from 65 percent measured last year. However, 72 percent support its construction when respondents are told of the administration's own findings.
Obama's decision comes ahead of a gathering of world leaders to finalize a major global climate pact next month in Paris, which the president hopes will be a crowning jewel for his legacy. Alberta-based TransCanada first applied for Keystone permits in September 2008, just before Obama was elected. Keystone would've brought in oil from Canada's tar sands through Montana, South Dakota and Nebraska, then connect with existing pipelines to carry more than 800,000 barrels a day to refineries along the Texas Gulf Coast.
Now, according to multiple reports, the energy is likely to go to China.