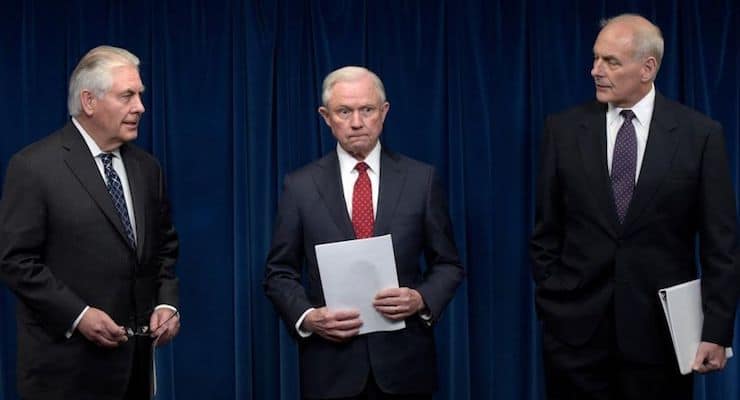 Attorney General Jeff Sessions announced a crackdown on so-called sanctuary cities, saying they "cannot continue" and federal funds will be withheld. After years of violating federal law, the attorney general said communities not working with federal authorities to ensure illegal immigrants detained by law enforcement are deported will suffer consequences.
"Some states and cities have adopted policies designed to frustrate the enforcement of our immigration laws. This includes refusing to detain known felons under federal detainer requests, or otherwise failing to comply with these laws," Attorney General Sessions said. "For example, the Department of Homeland Security recently issued a report showing that in a single week, there were more than 200 instances of jurisdictions refusing to honor Immigration and Customs Enforcement (ICE) detainer requests with respect to individuals charged or convicted of a serious crime. The charges and convictions against these aliens include drug trafficking, hit and run, rape, sex offenses against a child and even murder. Such policies cannot continue."
The announcement comes after President Donald J. Trump signed an executive order–Enhancing Public Safety in the Interior of the United States–which aims to put an end sanctuary cities. Polling shows voters overwhelmingly support the order and the latest decision to withhold funding from cities who do not cooperate with federal authorities and follow federal law.
A recent survey found 62% of likely voters wanted the Department of Justice (DOJ) to punish cities that provide sanctuary for illegal immigrants. Another recent Harvard-Harris poll found 80% of Americans believe local authorities should comply with federal immigration authorities.
"They make our nation less safe by putting dangerous criminals back on our streets," Attorney General Sessions added.
New York Attorney General Eric Schneiderman, known widely as someone who is motivated more by political allegiance than the law, responded to Sessions' announcement. For years, Mr. Schneiderman allowed the Clinton family charities to violate New York state law governing contributions from foreign agents.
Despite what AG Sessions implied today, local gov'ts have broad authority to not participate in federal immigration enforcement. pic.twitter.com/cTbUzuBmpY

— Eric Schneiderman (@AGSchneiderman) March 27, 2017
The actions both represent the fulfillment of major promises the president made to voters on the campaign trail and in his Contract with the American Voter. President Trump was the first political candidate ever of any major political party to receive the endorsement of the U.S. Border Patrol Union and frequently visited the families of those who's loved ones were killed by illegal immigrants.
"Today I am urging all states and local jurisdictions to comply with all federal laws, including 8 U.S.C. Section 1373. Moreover, the Department of Justice will require jurisdictions seeking or applying for Department grants to certify compliance with Section 1373 as a condition for receiving these awards," Attorney General Sessions said. "This policy is entirely consistent with the Department of Justice's Office of Justice Programs (OJP) guidance issued last July under the previous administration. This guidance requires state and local jurisdictions to comply and certify compliance with Section 1373 in order to be eligible for OJP grants. It also made clear that failure to remedy violations could result in withholding of grants, termination of grants, and disbarment or ineligibility for future grants."