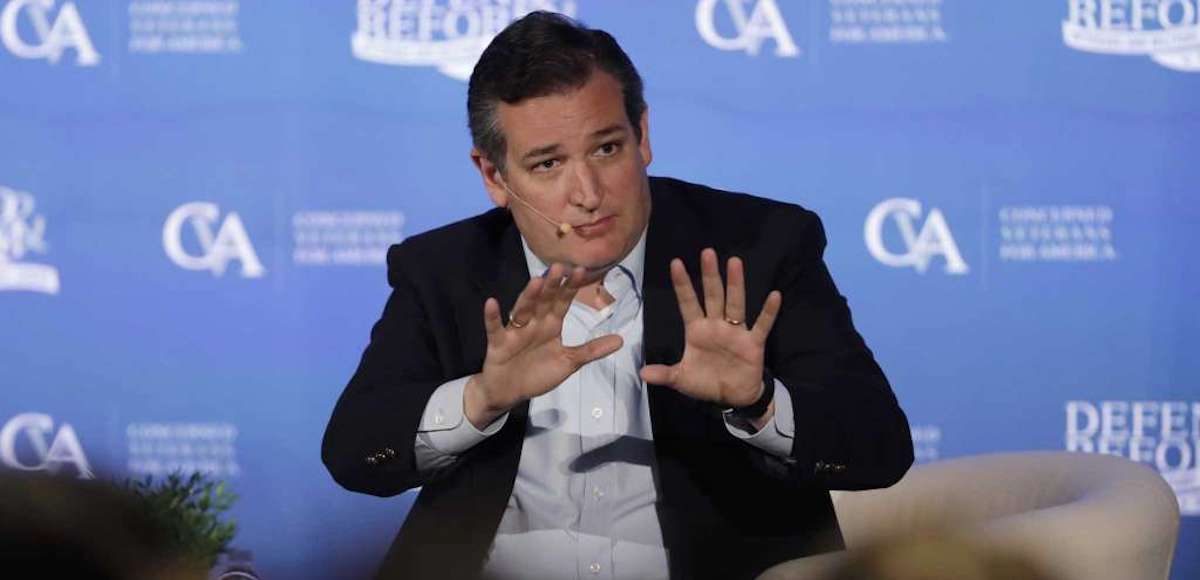 Senate Republicans hope to reintroduced the ObamaCare repeal bill with the added Cruz Amendment, the Consumer Freedom Option. Sen. Ted Cruz, R-Texas, along with Sen. Mike Lee, R-Utah, proposed an amendment permitting insurers to sell any policies they wish, so long as they also offer polices that cover a list of services required by ObamaCare.
Vice President Mike Pence endorsed the amendment during an interview Monday with Rush Limbaugh, while Sens. Cruz and Lee joined a chorus of Republican voices calling on leadership to cancel the August recess to work on legislation to replace ObamaCare.
"It's crazy that we would be taking a recess," Sen. Cruz told Fox News' "Hannity" Monday night. "There are a bunch of us, myself included, that have been urging leadership back from January [to] not take any recesses."
"We have a job to do and a short window of time, and so we ought to stop taking recesses, stop taking time off and just keep going until we get it done."
Six Republicans–Sens. David Perdue, Ga., Steve Daines, Mont., Neely Kennedy, La., Mike Rounds, S.D., Luther Strange, Ala., and Lee–are expected to hold a news conference Tuesday afternoon calling on Senate Majority Leader Mitch McConnell, R-Kty., to cancel the August recess.
The repeal and/or replace of ObamaCare represents no less than a do-or-die test for Majority Leader McConnell, who infuriated conservatives last week by insinuating Republicans may not be able to fulfill their 7-year promise.
President Donald Trump warned of a midterm election "bloodbath" if Republicans don't make good on repeal. The President has been eager to move forward on tax reform to boost economic growth.
"With costs out of control and choices continuing to dwindle, now is the time for Congress to act," the White House said in a statement.
The Centers for Medicare & Medicaid Services (CMS) announced Monday there was a 38% drop in filings for qualified health plan (QHP) issuers. Only 141 individual market issuers submitted initial applications to offer coverage using the Federally-facilitated Exchange eligibility and enrollment platform in 2018.
That's down from 227 submitted at this point during the previous year.
"This is further proof that the Affordable Care Act is failing," said CMS Administrator Seema Verma. "Insurers continue to flee the Exchanges, causing Americans to lose their choice for health insurance or lose their coverage all together. These numbers are clear: the status quo is not working. The American people deserve healthcare choices and access to quality, affordable healthcare coverage."
While there are signs of significant progress with the addition of the Cruz Amendment, it's unclear how many votes Republicans are currently shy after 10 declared their opposition last week. That included Sens. Cruz and Lee, who are in favor of the bill with the amendment.
On Monday, Sen. Jeff Flake, R-Ariz., confirmed he backs the Cruz Amendment. He has faced significant pressure from leftwing activists in his home state. Two men were arrested at a health care protest in front of his Tucson office last week, one for allegedly threatening to kill Republicans.
The Pima County Sheriff's office confirmed that Mark Prichard, 59, was arrested after he made threatening comments that referenced the shooting of House Majority Whip Steve Scalise.
"You know how liberals are going to solve the Republican problem?" Prichard reportedly asked an aide. "They are going to get better aim. That last guy tried, but he needed better aim. We will get better aim."
Sen. Flake, who was at the Scalise shooting, is seeking a second term in 2018 and already has a Republican primary challenger, former state Sen. Kelli Ward of Lake Havasu City.