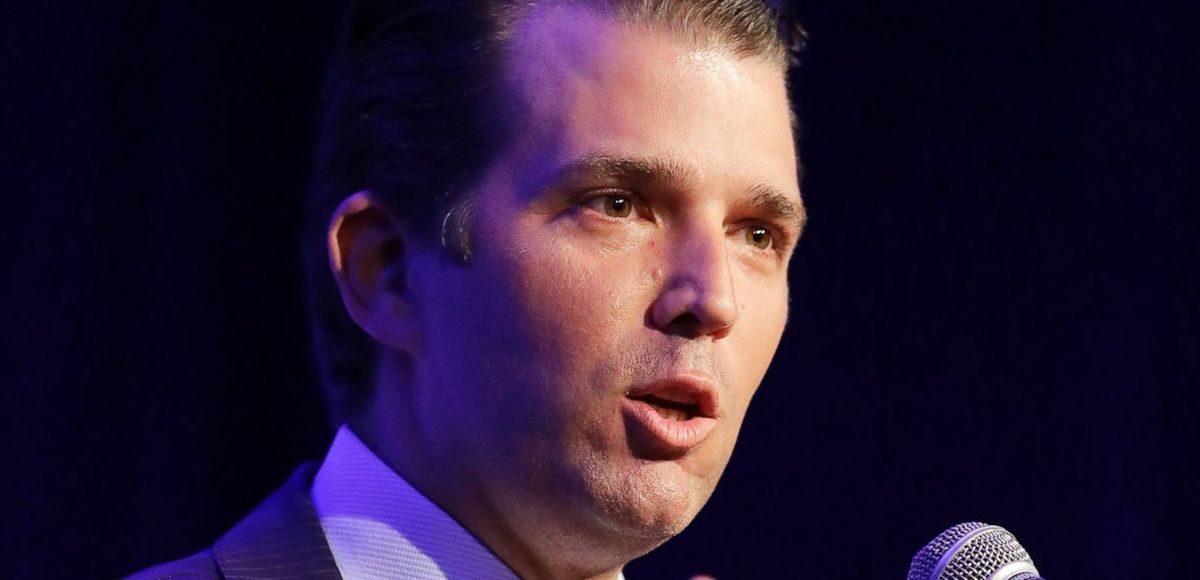 Donald Trump Jr. on Tuesday tweeted out the email thread setting up his June 2016 meeting with Russian attorney Natalia Veselnitskaya. Through a third-party, Trump Jr. agreed to the meeting that included his brother-in-law Jared Kushner, as well as then-presidential campaign manager Paul Manafort.
"To everyone, in order to be fully transparent, I am releasing the entire email chain of my emails with Rob Goldstone, about the meeting on June 9, 2016," Donald Trump Jr. said in a statement that accompanied the release. "The information they suggested they had about Hillary Clinton I thought was Political Opposition Research."
In a statement on Sunday, Trump Jr. acknowledged having the meeting, but claimed that Ms. Veselnitskaya's allegations were "vague, ambiguous and made no sense." He ended the meeting when it "became clear that she had no meaningful information."
"The woman, as she has said publicly, was not a government official. And, as we have said, she had no information to provide and wanted to talk about adoption policy and the Magnitsky Act," he added. "To put this in context, this occurred before the current Russian fever was in vogue."
[pdfviewer width="740px" height="849px" beta="true/false"]https://www.peoplespunditdaily.com/wp-content/uploads/2017/07/Donald-Trump-Jr-Emails.pdf[/pdfviewer]
"In my view, this is much ado about nothing," said attorney Alan Futerfas, who said that Mr. Goldstone contacted Trump Jr. late in the Republican primary campaign and "suggested that people had information concerning alleged wrongdoing" by Hillary Clinton.
"The meeting [with Veselnitskaya] lasted about 20-30 minutes and nothing came of it," Mr. Futerfas went on. "His father knew nothing about it. The bottom line is that Don Jr. did nothing wrong."
Prior to the release, the President's son also tweeted that the story originally published by the New York Times was overblown based on media "desperation." He followed up that tweet with another story from The Daily Caller reminding the media about the Clinton campaign colluding with the Ukrainian government.
"Media & Dems are extremely invested in the Russia story," Trump Jr. tweeted. "If this nonsense meeting is all they have after a yr, I understand the desperation!"
The Daily Caller cited a report by Politico, Ukrainian efforts to sabotage Trump backfire, which reveals how a veteran DNC operative who previously worked in the Clinton White House, Alexandra Chalupa, worked with Ukrainian government officials and journalists from both Ukraine and America to dig up Russia-related opposition research on Trump and Manafort.
Ms. Chalupa met with Ukrainian Ambassador Valeriy Chaly and an aide, Oksara Shulyar, at the Ukrainian Embassy in March 2016. Their conversation surrounded talking points about Russian connections. Ukraine disseminated documents implicating Manafort in a corruption scandal and suggested they were investigating the matter. As People's Pundit Daily reported at the time, it was an intentional effort to mislead and Ukraine abandoned the allegation after the election.
Enter Fusion GPS, a political research firm led by Glenn Simpson. They were hired by Democrats and commissioned former British intelligence agent Christopher Steele, the man who put together the now-discredited Trump intelligence dossier. Ms. Veselnitskaya was tied to Fusion GPS when the Senate Judiciary Committee Chairman Charles Grassley, R-Ia., disclosed they were also players in the case involving Prevezon Holdings.
Prevezon Holdings is run by Russian businessman Denis Katsyv, who retained Ms. Veselnitskaya after he became the target of the U.S. Department of Justice in a civil asset forfeiture case. The Justice Department alleged Prevezon benefited from a money-laundering scheme in Russia that was uncovered in 2008 by a Russian attorney and auditor named Sergei Magnitsky.
He was tortured and murdered. In response, the U.S. Congress passed into law the Magnitsky Act, which Trump Jr. claims Ms. Veselnitskaya made the topic of their conversation during the meeting in June 2016.