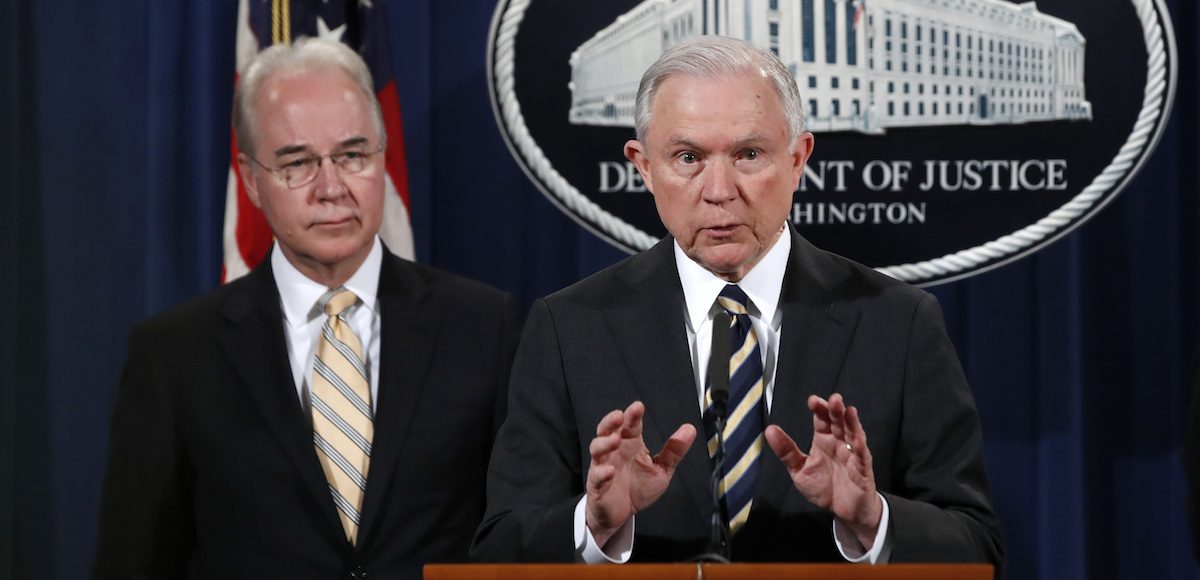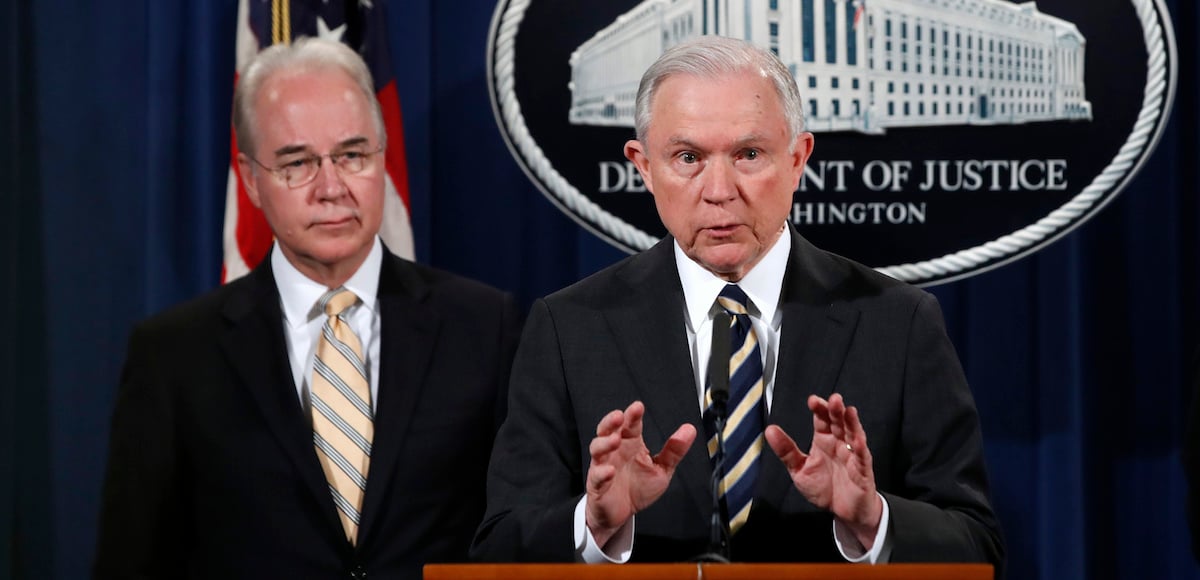 The Trump Administration on Thursday announced the biggest health care fraud bust in U.S. history, charging more than 400 defendants in federal 41 districts. The massive operation was a partnership between the DOJ's Criminal Division, U.S. Attorney's Offices, the Federal Bureau of Investigation (FBI), the Department of Health and Human Services (HHS)-OIG and Medicare Fraud Strike Force (MFSF).
In a joint press conference, Attorney General Jeff Sessions and HHS Secretary Tom Price said 412 were charged in health care fraud schemes amounting to roughly $1.3 billion in false billings, including 115 doctors, nurses and other licensed medical professionals.
"Too many trusted medical professionals like doctors, nurses, and pharmacists have chosen to violate their oaths and put greed ahead of their patients," said Attorney General Sessions. "Amazingly, some have made their practices into multimillion dollar criminal enterprises. They seem oblivious to the disastrous consequences of their greed."
The DOJ said the bust, which represents a major campaign promise kept by President Donald J. Trump to find and prosecute abuse, underscores "the enormity of the fraud" that plagues these government programs. It directly impacts the nation's drug crisis, which currently claims the life of one American through overdose every 11 minutes.
"Their actions not only enrich themselves often at the expense of taxpayers but also feed addictions and cause addictions to start," Attorney General Sessions added. "The consequences are real: emergency rooms, jail cells, futures lost, and graveyards."
The operation also included the participation of the Drug Enforcement Agency (DEA), DCIS, and State Medicaid Fraud Control Units. In 2016, an estimated 59,000 Americans died from a drug overdose, and the abuse of prescription drugs.
"This is, quite simply, an epidemic," DEA Acting Administrator Chuck Rosenberg said. "There is a great responsibility that goes along with handling controlled prescription drugs, and DEA and its partners remain absolutely committed to fighting the opioid epidemic using all the tools at our disposal."
The Attorney General made it clear that the Trump Administration views the historic bust as the tip of the iceberg, vowing to make it a major and continued priority.
"While today is a historic day, the Department's work is not finished. In fact, it is just beginning," he said. "We will continue to find, arrest, prosecute, convict, and incarcerate fraudsters and drug dealers wherever they are."
Of those charged, over 120 defendants, including doctors, were charged for their roles in prescribing and distributing opioids and other dangerous narcotics. More than 2 million Americans suffer from an addiction to prescription painkillers. The DOJ said 30 state Medicaid Fraud Control Units also participated in today's arrests.
In addition, HHS has initiated suspension actions against 295 providers, including doctors, nurses and pharmacists.
"Health care fraud is not only a criminal act that costs billions of taxpayer dollars – it is an affront to all Americans who rely on our national healthcare programs for access to critical healthcare services and a violation of trust," said Secretary Price. "The United States is home to the world's best medical professionals, but their ability to provide affordable, high-quality care to their patients is jeopardized every time a criminal commits healthcare fraud."
The charges also targeted schemes billing Medicare, Medicaid, and TRICARE for what the DOJ identified as medically unnecessary prescriptions, as well as compounded medications that were often or never purchased and/or received.
"Our enforcement actions underscore the commitment of the Defense Criminal Investigative Service and our partners to vigorously investigate fraud perpetrated against the DoD's TRICARE Program," said Kelly P. Mayo, the Deputy Director of the Centers for Medicare and Medicaid Services (CMS). "We will continue to relentlessly investigate health care fraud, ensure the taxpayers' health care dollars are properly spent, and endeavor to guarantee our service members, military retirees, and their dependents receive the high standard of care they deserve."
TRICARE is a health insurance program for members and veterans of the armed forces and their families. But it is also riddled with fraud, waste and abuse, which drives up cost and reduces standards of care.
"That is why this Administration is committed to bringing these criminals to justice, as President Trump demonstrated in his 2017 budget request calling for a new $70 million investment in the Health Care Fraud and Abuse Control Program. The historic results of this year's national takedown represent significant progress toward protecting the integrity and sustainability of Medicare and Medicaid, which we will continue to build upon in the years to come."