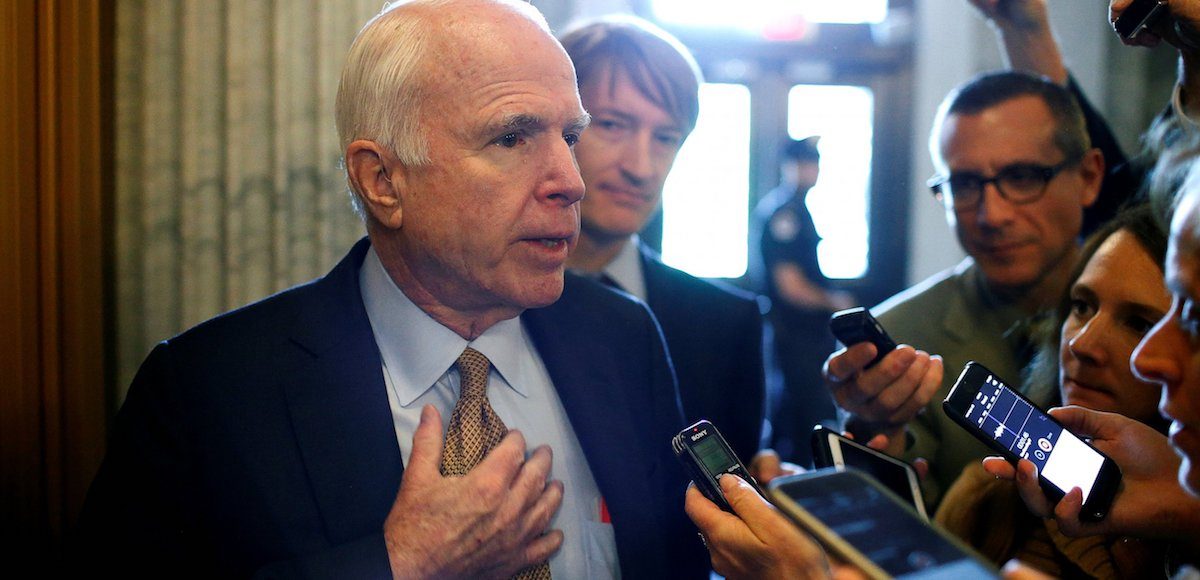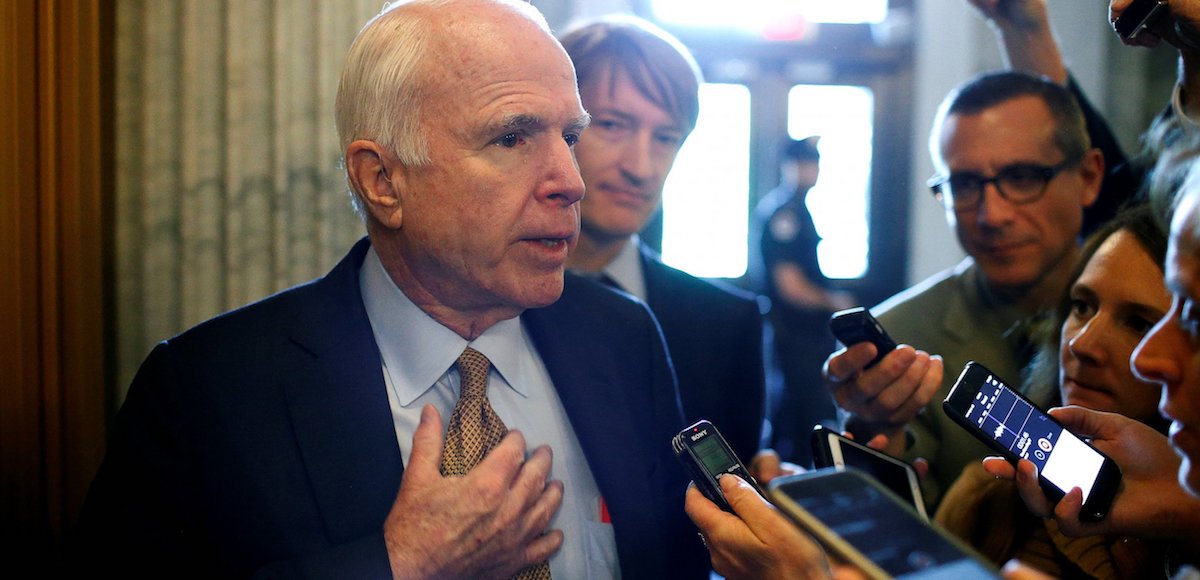 Sen. John McCain, R-Ariz., was diagnosed with cancer after doctors at the Mayo Clinic Hospital in Phoenix found a brain tumor during surgery. On Friday, July 14, the 80-year-old senator had a nearly 2-inch blood clot removed from his left eye.
"Subsequent tissue pathology revealed that a primary brain tumor known as a glioblastoma was associated with the blood clot," the hospital said in a statement. "The Senator and his family are reviewing further treatment options with his Mayo Clinic care team. Treatment options may include a combination of chemotherapy and radiation."
According to his office, Sen. McCain is "in good spirits as he continues to recover at home with his family in Arizona." Senate Majority Leader Mitch McConnell said a vote on health care would be delayed until Mr. McCain recovered, but now it's unclear when that will be.
"Further consultations with Senator McCain's Mayo Clinic care team will indicate when he will return to the United States Senate," his office said in a statement.
Scans done since the procedure–a minimally invasive craniotomy with an eyebrow incision–show that the tissue of concern was completely resected by imaging criteria.
"The news of my father's illness has affected every one of us in the McCain family," Meghan McCain, the senator's daughter and media personality said in a statement. "My grandmother, mother, brothers, sisters, and I have endured the shock of the news, and now we live with the anxiety about what comes next."
Republican leaders commented on the news shortly after it broke.
"Senator John McCain has always been a fighter," President Donald J. Trump said in a statement. "Melania and I send our thoughts and prayers to Senator McCain, Cindy and their entire family. Get well soon."
Sen. McCain ran for president twice, unsuccessfully. He ran for but lost the Republican nomination in 2000, when George W. Bush went on to defeat Al Gore. He ran again in 2008, capturing the nomination in 2008 only to lose to Barack Obama in the general election.
"John McCain is a hero to our Conference and a hero to our country," Senate Majority Leader McConnell said in a statement. "He has never shied from a fight and I know that he will face this challenge with the same extraordinary courage that has characterized his life. The entire Senate family's prayers are with John, Cindy and his family, his staff, and the people of Arizona he represents so well."
Meghan, who is also a Fox News co-host for the afternoon show "Outnumbered," said the senator
"It won't surprise you to learn that in all this, the one of us who is most confident and calm is my father," she wrote on Twitter. "He is the toughest person I know. The cruelest enemy could not break him. The aggressions of political life could not bend him. So he is meeting this challenge as he has every other. Cancer may afflict him in many ways: but it will not make him surrender. Nothing ever has."