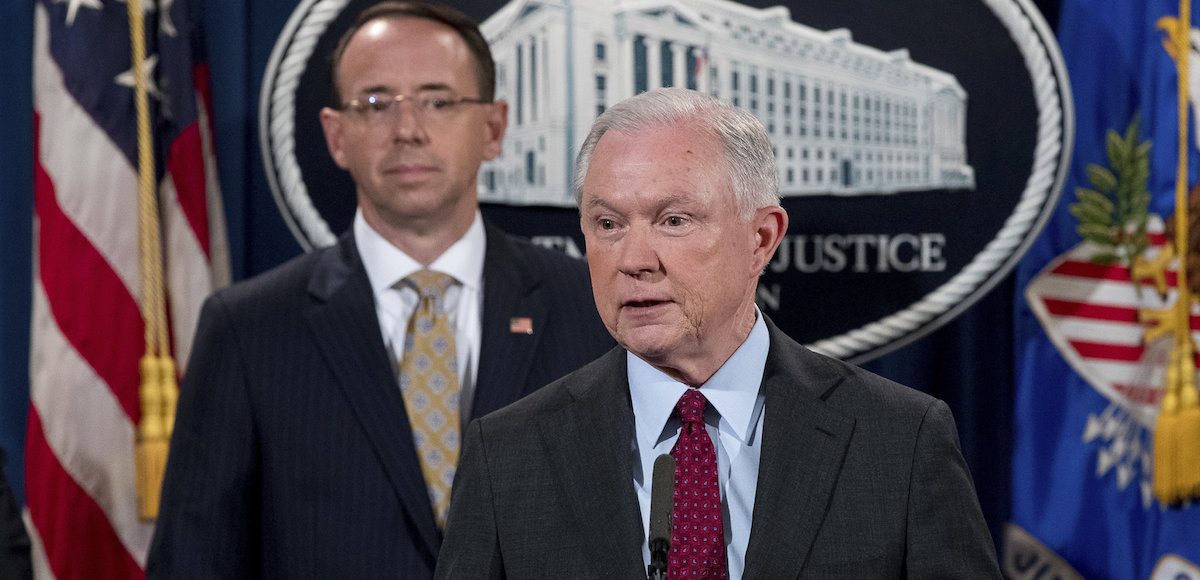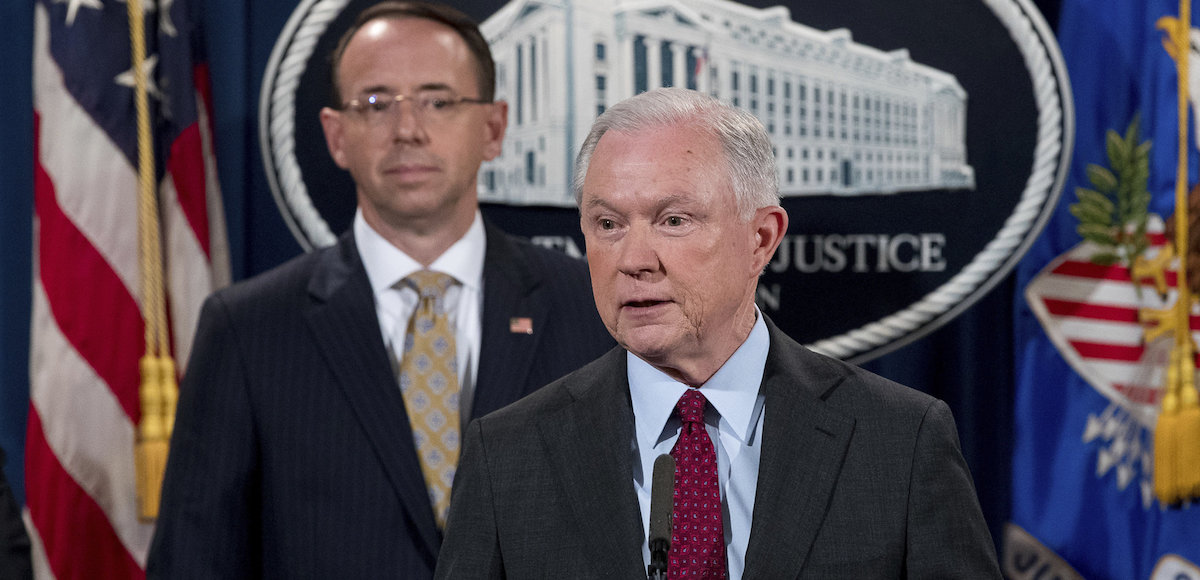 The Justice Department (DOJ) on Thursday announced the takedown of the largest "dark market" criminal website in the world, AlphaBay.
Attorney General Jeff Sessions also responded to President Donald J. Trump's comments during an interview with The New York Times. The President said he would not have appointed Mr. Sessions if he had known beforehand he would buckle to pressure and recuse himself from an investigation that began with no evidence.
"I have the honor of serving as attorney general," he said. "We love this department, and I plan to continue to do so as long as that is appropriate."
When Mr. Sessions stepped aside from the Russia investigation, he allowed fired FBI Director James Comey to conspire to get his friend and mentor Robert Mueller appointed Special Counsel.
"We in this Department of Justice will continue every single day to work hard to serve the national interest, and we wholeheartedly join in the priorities of President Trump," Attorney General Sessions said. "He gave us several directives which we are serving right now. One is to dismantle Internet transnational criminal organizations. That is what we're announcing today — the dismantling of the largest dark website in the world, by far."
AlphaBay operated for over two years on the dark web and was used to sell illegal drugs, fraudulent identification documents, counterfeit goods, malware and other hacking tools, firearms and toxic chemicals. An AlphaBay staff member claimed that it serviced over 200,000 users and 40,000 vendors.
The takedown operation targeting AlphaBay was led by the United States (US) and included law enforcement in Thailand, the Netherlands, Lithuania, Canada, the United Kingdom, and France, as well as Europol.
"This is likely one of the most important criminal investigations of the year – taking down the largest dark net marketplace in history," Attorney General Sessions said. "Make no mistake, the forces of law and justice face a new challenge from the criminals and transnational criminal organizations who think they can commit their crimes with impunity using the dark net."
[brid video="153242″ player="2077″ title="Sessions I'll Stay Attorney General 'As Long As That Is Appropriate'"]
"The dark net is not a place to hide."
Alexandre Cazes, the creator and administrator for AlphaBay, was indicted (1:17-CR-00144-LJO) and charges were filed in the Eastern District of California on June 1. On July 5, the Canadian citizen residing in Thailand was arrested by Thai law enforcement authorities. On July 12, Mr. Cazes took his own life while in custody in Thailand.
"This ranks as one of the most successful coordinated takedowns against cybercrime in recent years," said Executive Director Rob Wainwright of Europol. "Concerted action by law enforcement authorities in the United States and Europe, with the support of Europol, has delivered a massive blow to the underground criminal economy and sends a clear message that the dark web is not a safe area for criminals."
The charges included:
one count of conspiracy to engage in racketeering,
one count of conspiracy to distribute narcotics,
six counts of distribution of narcotics,
one count of conspiracy to commit identity theft,
four counts of unlawful transfer of false identification documents,
one count of conspiracy to commit access device fraud,
one count of trafficking in device making equipment, and
one count of money laundering conspiracy.
On July 19, the U.S. Attorney's Office for the Eastern District of California filed a civil forfeiture complaint against Mr. Cazes and his wife's assets located throughout the world, including in Thailand, Cyprus, Lichtenstein, and Antigua & Barbuda. The DOJ said they worked with foreign partners to freeze and preserve millions of dollars' worth of cryptocurrencies.
"The Department will continue to find, arrest, prosecute, convict, and incarcerate criminals, drug traffickers and their enablers wherever they are," Attorney General Sessions added. "We will use every tool we have to stop criminals from exploiting vulnerable people and sending so many Americans to an early grave."
Under Mr. Sessions, the Justice Department's announcement this week marks the second historic action in as many weeks. In a joint operation including the DOJ, the Department of Health and Human Services (HHS) and Drug Enforcement Agency (DEA), the Trump Administration announced the largest health care fraud takedown in U.S. history.