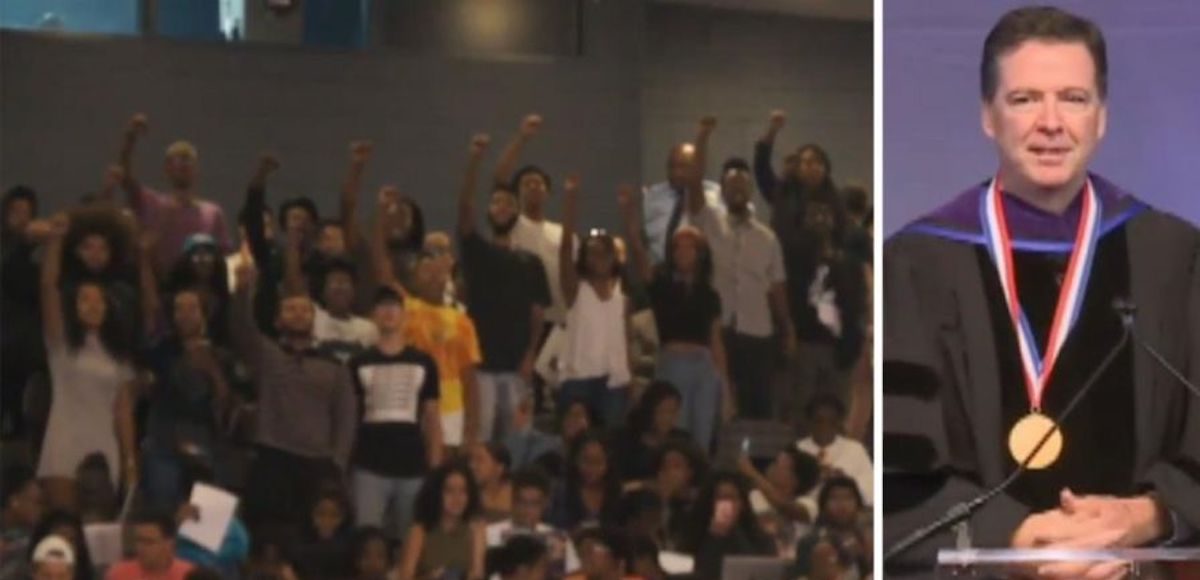 Former FBI director James Comey was shouted down by angry protestors at Howard University as he attempted to deliver a convocation address. The protestors started shouted and chanting as soon as Mr. Comey took the podium at the historically black college in Washington, D.C.
They raised their right fists in the air, a gesture symbolic of "Black Power," and shouted, "F— James Comey" and "No justice, no peace." Protestors also shouted, "Get out James Comey, you're not our homey."
Mr. Comey was fired by President Donald Trump in May for his mishandling of the investigation into Hillary Clinton. Deputy Attorney General Rod Rosenstein reviewed the case, which we now know he decided to throw months before interviewing Mrs. Clinton, and told Congress two weeks later that he stood by his recommendations.
Worth noting, another group of attendees shouted, "let him speak."
At first, Mr. Comey was unable to speak as a result of the protests. Protestors broke out in song, singling "We shall not be moved" immediately after he began to speak. But after several minutes he tried again.
"Okay, thank you. I hope folks, I hope you'll stay and listen to what I have to say," he said. "I just listened to you for five minutes."
Ironically, Mr. Comey was trying to give a message with a theme centering on listening to one another.
"The rest of the real world is a place where it's hard sometimes to find people who will listen with an attitude that they might actually be convinced of something," he said. "Instead what happens in most of the real world, and… in this auditorium, is that people don't listen at all."
He closed his speech by saying: "I look forward to adult conversation about what is right and what is true."
VIDEO H/T: Howard University Television
[brid video="165736″ player="2077″ title="Angry Protestors Shout Down Former FBI Director at Howard University"]