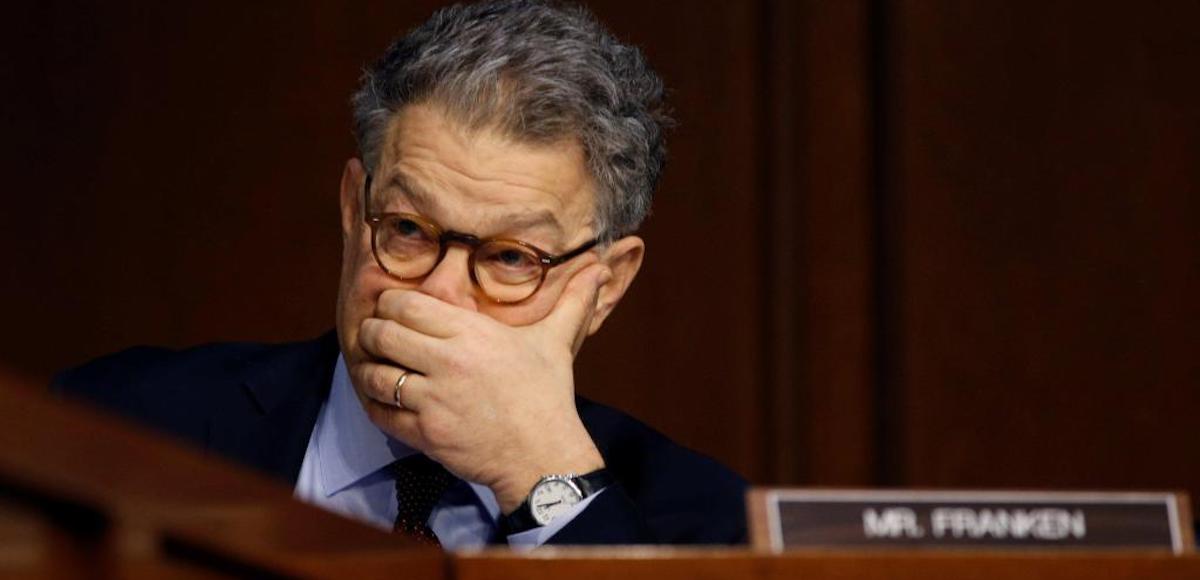 Al Franken will officially be replaced in the U.S. Senate on Tuesday by Minnesota Lt. Governor Tina Smith, who announced she intends to run for reelection in 2018. The former comedian resigned in disgrace amid allegations of sexual assault, sexual harassment and various other allegations of misconduct.
The house came down for the would-be two-term senator on November 16, when Leeann Tweeden, the morning news anchor on TalkRadio 790 KABC in Los Angeles, provided a photo image of Senator Al Franken groping her while she slept.
She also alleged in her story that he forcefully kissed her and stuck his tongue down her mouth without her consent during a 2006 USO Tour in Afghanistan.
On November 20, another woman named Lindsay Menz also alleged Senator Franken grabbed her inappropriately while her husband took a photo of the two at the Minnesota State Fair in 2010.
"It wasn't around my waist," Ms. Menz said. "It wasn't around my hip or side. It was definitely on my butt."
A recent poll conducted by SurveyUSA found only 36% approved of the job Senator Franken was doing in the U.S. Senate, while just 22% believe he should remain in office.
Lt. Governor Smith, 59, also a Democrat, was appointed by Democratic Governor Mark Dayton in December and will serve until a special election is held this year to complete the term, which ends in 2020.
The former General Mills executive started her own marketing and political consulting firm in the 1990s. She ran Walter Mondale's unsuccessful 2002 Senate campaign against Norm Coleman and also Ted Mondale's failed bid for governor in 1998.
"Tina Smith will make an excellent United States Senator," Mr. Franken said in a statement. "She is a dedicated public servant who's worked tirelessly on behalf of Minnesotans, and Governor Dayton couldn't have made a better choice for this job."
Ms. Smith also served in the early 2000s as a vice president of external affairs for Planned Parenthood Minnesota, North Dakota and South Dakota. Following her time at Planned Parenthood, she served as chief of staff to Minneapolis Mayor R.T. Rybak before taking the same job with Governor Dayton.
The race is expected to be competitive and is rated only SLIGHTLY DEMOCRATIC on the PPD Senate Election Projection Model.
Mr. Franken barely defeated then-incumbent Senator Coleman in a wave election for Democrats in 2008. His 312-vote margin of victory was clouded by allegations of voter fraud. Before the recount, Mr. Coleman was up 206 votes and 1,099 felons — all ineligible to vote — were later identified as having voted.
As the People's Pundit Daily (PPD) Big Data Poll correctly identified before the 2016 presidential election, the Twin Cities had begun to swung back toward Republicans. President Donald Trump campaigned only one time in the state during the closing weeks of the campaign and barely lost to Hillary Clinton, due largely to extended early voting totals.
Former two-term Governor Tim Pawlenty has been floated by Republicans as a possibility. He's a widely known candidate who can raise significant sums of money. Worth noting, Democrats apparently view him to be a threat.
Alliance for a Better Minnesota last month paid for a poll attacking him because of a rumor that claimed Mr. Pawlenty was considering another run for governor.