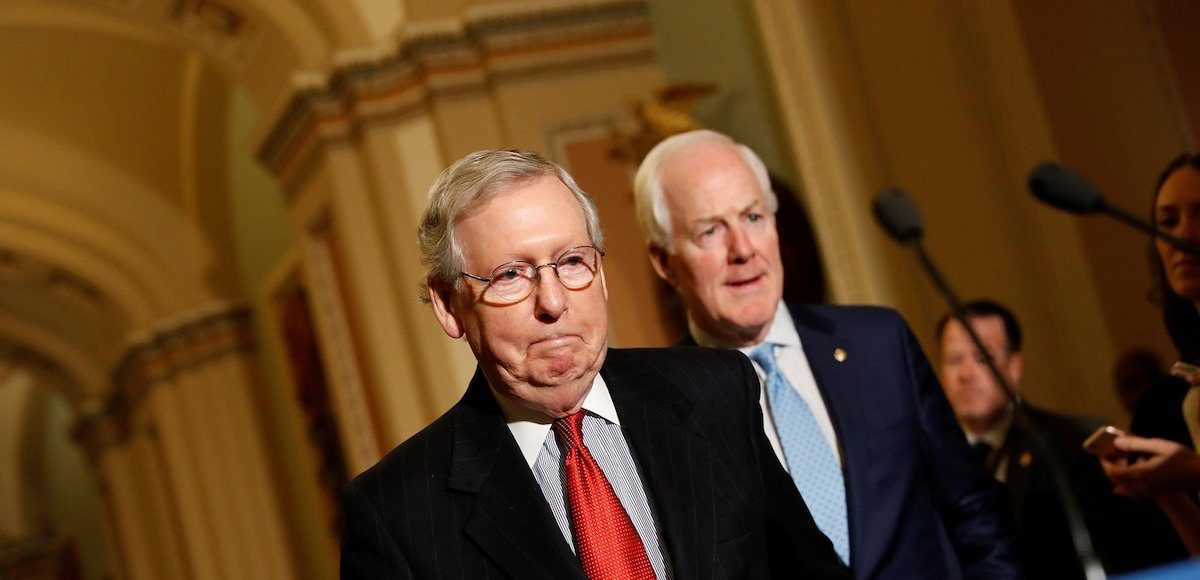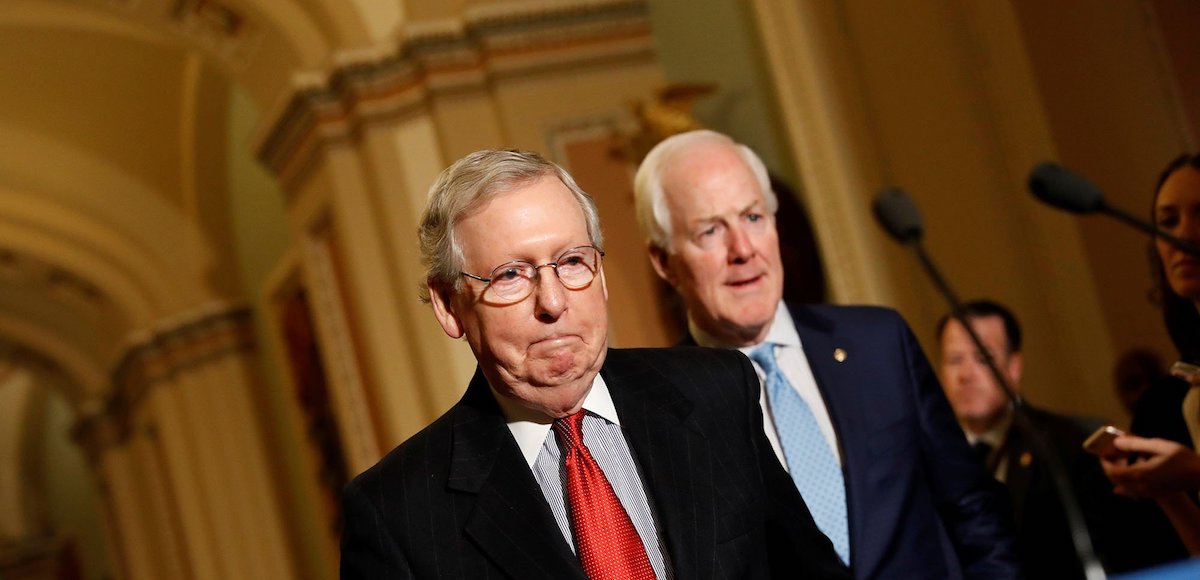 Majority Leader Mitch McConnell, R-Kty., said the U.S. Senate will vote to break the Democratic filibuster and end the shutdown will happen by 1:00 AM EST on Monday. The short-term spending bill that passed the U.S. House of Representatives, which would have kept the government open until February 16, failed to pass the upper chamber.
"I asked for consent to move up a vote on this bipartisan solution and end this craziness. The Democrats objected," Leader McConnell said late Saturday. "That won't work forever. If they continue to object, we cannot proceed to a cloture vote until 1 a.m. Monday."
"But I assure you, we will have the vote at 1 a.m. Monday, unless there is a desire to have it sooner."
Sources tell People's Pundit Daily (PPD) Leader McConnell is likely to attempt a vote on a continuing resolution (CR) that would fund the government only to February 8 — less time than the initial 28-day CR passed in the lower chamber.
The House bill funded the healthcare of nearly 9 million American children and critical needs of the U.S. military. It failed in the Senate by a 50-49 vote, which broke largely along party lines. Senate Democrats who voted for the measure are all vulnerable incumbents up for reelection in 2018 from states President Trump won, handily.
Indiana Senator Joe Donnelly, North Dakota Senator Heidi Heitkamp, Alabama Senator Doug Jones, West Virginia Senator Joe Manchin and Missouri Senator Claire McCaskill joined with all but five Republicans.
But as a party, Democrats oppose the measure because it does not include a provision to grant legal status to roughly 800,000 illegal immigrants currently in the U.S. under Deferred Action for Childhood Arrivals (DACA).
The slim 51-vote Republican majority in the U.S. Senate is not sufficient to meet a 60-vote threshold for appropriation bills. The GOP has been making an extremely effective argument and branded the filibuster result the Schumer Shutdown, after Minority Leader Chuck Schumer, D-N.Y., and polling is not looking good for Democrats.
A new CNN poll finds Republicans have cut their double-digit deficit on the generic ballot more than in half, with Democrats now only leading by 5 points rounded up. Separate polling shows the blame is falling on Democrats and Americans are more inclined to side with Republicans on the issue.
A 56% majority of Americans say approving a budget to avoid a government shutdown was more important than passing a bill to maintain the DACA program. Only about 1 in 3, 34%, said DACA was worth a shutdown. A 57% majority of independents agree with Republicans that avoiding a government shutdown is more important than finding a solution on DACA solution.
Only 34% of independents say a DACA solution is more important. Worth noting, there is no DACA solution at the moment. Democrats have not put forward a bill and the previous outline violated the negotiated terms of the bipartisan agreement hatched at the White House two weeks ago.
A recently leaked memo urged Democrats not to support any funding measure to keep the government open unless they can attach a deal on Deferred Action for Childhood Arrivals (DACA). It states that legalizing so-called "Dreamers" is a "critical component" of the party's "future electoral success."
"In short, the next few weeks will tell us a lot about the Democratic Party and its long-term electoral prospects."
Those prospects are currently outweighing the need to fund the Children's Health Insurance Program (CHIP), which currently provides coverage to 8,900,074 American children. Funding for CHIP lapsed as of September 30, 2017. The House Republican plan to fund the government includes a six-year extension of the popular program.
Overall, 8 in 10 Americans say it is extremely or very important to fund CHIP.
Meanwhile, a recorded voicemail message at the White House has Democrats triggered.
"Thank you for calling the White House, unfortunately, we cannot answer your call today because congressional Democrats are withholding government funding, including funding for our troops and other national security priorities, hostage to an unrelated immigration debate," the voicemail states. "Due to this obstruction, our government is shut down."
In reality, national parks and other services remain open as directed by the White House. Under Barack Obama, these parks were closed by executive direction in an effort to maximize the impact and score political points. The Trump Administration has chosen not to do that.
White House Legislative Affairs Director Marc Short said Democrats are having a "2-year-old temper tantrum."
"The White House position remains the same," he said. "We will not negotiate the status of 690,000 unlawful immigrants while hundreds of millions of taxpaying Americans, including hundreds of thousands of our troops in uniform and border agents protecting our country, are held hostage by Senate Democrats."
While estimates vary, the number of DACA recipients could be as high as 4 or 5 million under the proposed fix.