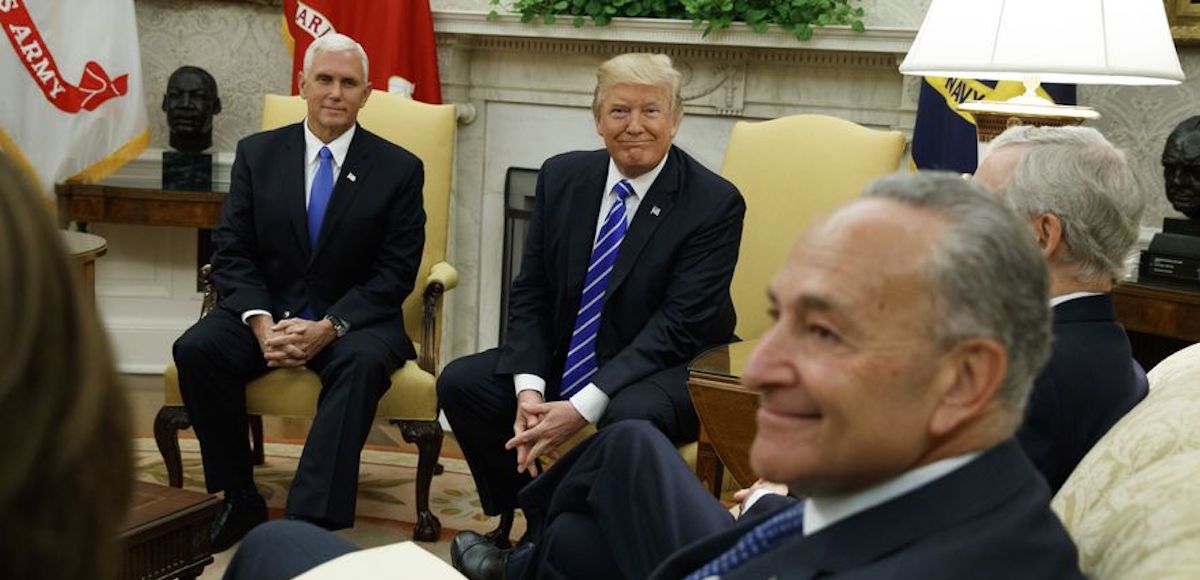 The U.S. Senate adjourned on Sunday without lawmakers reaching a deal to end the partial government shutdown. A bipartisan group of 18 senators had been negotiating on the terms of a shorter-term deal to vote on around 1:00 AM EST.
"The shutdown should stop today,"Senate Majority Leader Mitch McConnell, R-Kty., said on the Senate floor Sunday evening. "And we'll soon have a vote that will allow us to do that."
He called for lawmakers to "step back from the brink."
"The shutdown should stop today," McConnell, R-Ky., said on the Senate floor Sunday evening. "And we'll soon have a vote that will allow us to do that."
The 28-day short-term spending bill that passed the U.S. House of Representatives would have kept the government open until February 16, but it failed to pass the upper chamber.
The group was weighing a deal that would have included a continuing resolution (CR) that would fund the government only to February 8 in exchange for a pledge to address immigration policy. Democrats waged a filibuster to oppose the measure because it does not include a provision to grant legal status to roughly 800,000 illegal immigrants currently in the U.S. under Deferred Action for Childhood Arrivals (DACA).
"The American people cannot begin to understand why the Senate Democratic leader thinks the entire government should be shut down until he gets his way on illegal immigration," Leader McConnell added.
The House bill funded the healthcare of nearly 9 million American children and critical needs of the U.S. military. It failed in the Senate by a 50-49 vote, which broke largely along party lines. Senate Democrats who voted for the measure are all vulnerable incumbents up for reelection in 2018 from states President Trump won, handily.
A new CNN poll finds Republicans have cut their double-digit deficit on the generic ballot more than in half, with Democrats now only leading by 5 points rounded up. Separate polling shows the blame is falling on Democrats and Americans are more inclined to side with Republicans on the issue.
A 56% majority of Americans say approving a budget to avoid a government shutdown was more important than passing a bill to maintain the DACA program. Only about 1 in 3, 34%, said DACA was worth a shutdown. A 57% majority of independents agree with Republicans that avoiding a government shutdown is more important than finding a solution on DACA solution.
"I think they miscalculated on the shutdown," Senate Majority Whip John Cornyn, R-Texas, said. "It's very unpopular and they're trying to find a way out of it."
Only 34% of independents say a DACA solution is more important. Worth noting, there is no DACA solution at the moment. Democrats have not put forward a bill and the previous outline violated the negotiated terms of the bipartisan agreement hatched at the White House two weeks ago.
A recently leaked memo urged Democrats not to support any funding measure to keep the government open unless they can attach a deal on Deferred Action for Childhood Arrivals (DACA). It states that legalizing so-called "Dreamers" is a "critical component" of the party's "future electoral success."
"In short, the next few weeks will tell us a lot about the Democratic Party and its long-term electoral prospects."
Overall, 8 in 10 Americans say it is extremely or very important to fund CHIP.
Meanwhile, national parks and other services remain open as directed by the White House. Under Barack Obama, these parks were closed by executive direction in an effort to maximize the impact and score political points. The Trump Administration has chosen not to do that.
Lawmakers are expected to meet at 10:00 AM EST on Monday. A vote to break the Democratic filibuster is scheduled for noon.