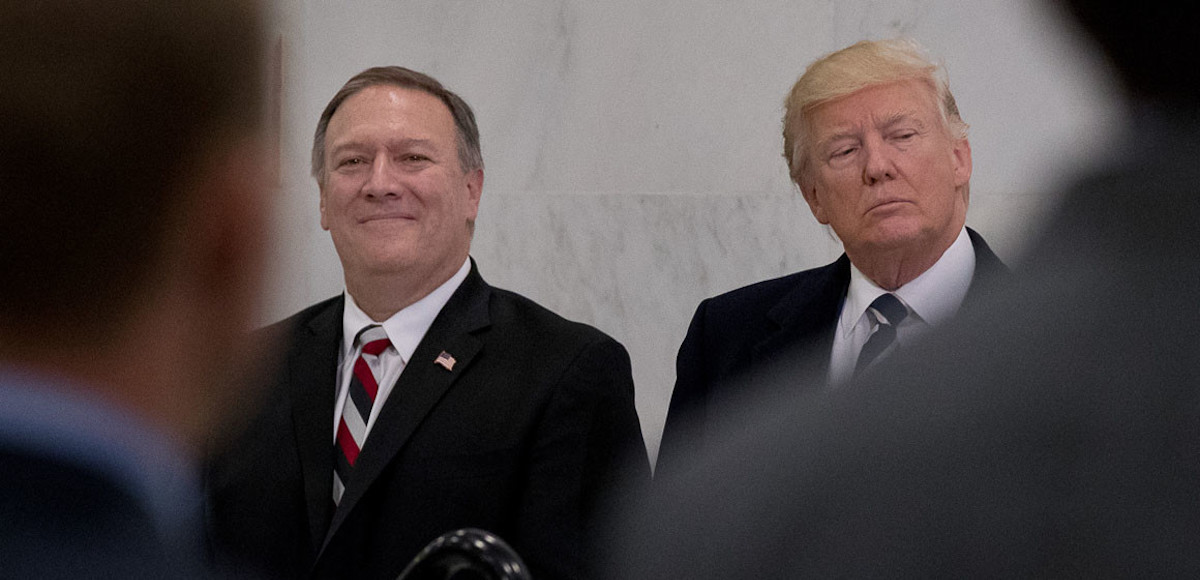 Vulnerable Red State Senate Democrats have begun to announce they will vote to confirm Central Intelligence Agency (CIA) Director Mike Pompeo as the next Secretary of State. Democrats have sought to stall and block his confirmation, but the pressure was building on those facing tough re-elections this November.
In seeking the approval of leadership, some Democrats were arguing that the case against confirmation was weakening by the day. Mr. Pompeo, who was nominated by President Donald Trump to replace Rex Tillerson, received more than a dozen Democratic votes in favor of his CIA confirmation in the U.S. Senate.
Last week, Senator Heidi Heitkamp, D-N.D., became the first vulnerable Red State Democrat to buck party leadership. She was also the first to meet with the nominee. Senator Heitkamp met with Director Pompeo on March 22 to discuss his nomination and policy "that advances U.S. diplomatic, military, and economic interests abroad."
"Pompeo demonstrated during this nomination process and during our meeting in March that he is committed to empowering the diplomats at the State Department so they can do their jobs in advancing American interests," she said. "At a time of peril around the world, we need to exhaust all diplomatic options before sending the brave men and women of the armed forces into dangerous situations that could escalate out of control."
Senator Heitkamp also seemed to take a shot at her own party, saying that the U.S. Senate should be focused on "filling critical jobs that have been vacant, like for the U.S. Ambassador to South Korea."
The remarks were no doubt designed to influence the polls rather than Minority Leader Chuck Schumer, D-N.Y., who multiple sources tell People's Pundit Daily (PPD) has begun to relent on his pressure for a "No" vote. Recent polling shows the incumbent trailing Republican Representative Kevin Cramer, R-N.D., and a generic candidate by an even larger margin.
As People's Pundit Daily (PPD) previously reported, Senator Joe Manchin, D-W.Va., announced earlier Monday he will vote "Yes," as well.
"After meeting with Mike Pompeo, discussing his foreign policy perspectives, and considering his distinguished time as CIA Director and his career in public service, I will vote to confirm Mike Pompeo to be our next Secretary of State," Senator Manchin said in a statement. "I have had a strong working relationship with him in my role on the Senate Intelligence Committee and look forward to working with him as Secretary of State in the best interest of West Virginia and the United States."
However, during a recent visit to West Virginia, a state in which he won by roughly 40 points, President Trump took a swipe at Mr. Manchin. Put simply, he said that the allegedly moderate incumbent Democrat talks a bipartisan game, but ultimately votes the way Senator Schumer wants him to vote.
"You're going to have a chance to get a senator that's going to vote our program," President Trump said. "That's going to help you in so many ways."
A PPD-Big Data Poll survey conducted before the passage of the Tax Cuts and Jobs Act found 4 in 10 voters who back both men said they would not support Senator Manchin in 2018 if he didn't support the president's signature tax reform overhaul.
Senator Joe Donnelly, R-Ina., on Monday became the latest to announce he'll support the confirmation of President Trump's nominee. He met with Director Pompeo on April 10 to discuss the nomination.
"When I met with Director Pompeo, we had a productive conversation about the complex security challenges we face, including the dangerous threat posed by North Korea's nuclear missile program," he said in a statement. "We need a Secretary of State who will give the president an honest assessment on critical issues, including Russia, Syria, and the defeat of ISIS. I believe Director Pompeo is capable of advancing U.S. interests and leading the State Department, and I will support his nomination."
While the consensus now is one of praise for the nominee — or, at least the consensus among these three senators — it wasn't always the case.
Democratic leadership in the U.S. Senate was applying the pressure and it only began to relent after the Trump Administration continued to make significant progress toward the diplomatic denuclearization of North Korea.
Kim Jong Un announced last Friday that he has suspended Pyongyang's nuclear testing program, including a freeze on intercontinental ballistic missile tests and closing a nuclear site. The extraordinary development came after President Trump confirmed that Mr. Pompeo met with the dictator during Easter weekend to gauge the potential for a summit with South Korea and the United States (US).
If the summit is held, it would be the first-ever between the U.S. and North Korea after more than six decades of hostility. The North and South remain in a technical state of war. The 1950-53 Korean War ended with an armistice, not a peace treaty.
North Korea previously announced they have dropped demands for a freeze to U.S.-South Korea joint military exercises and the withdrawal of U.S. troops as preconditions for talks, handing the Trump Administration an enormous foreign policy victory.
Kim is scheduled to hold talks with South Korean President Moon Jae-in next week and with U.S. President Trump in late May or early June.