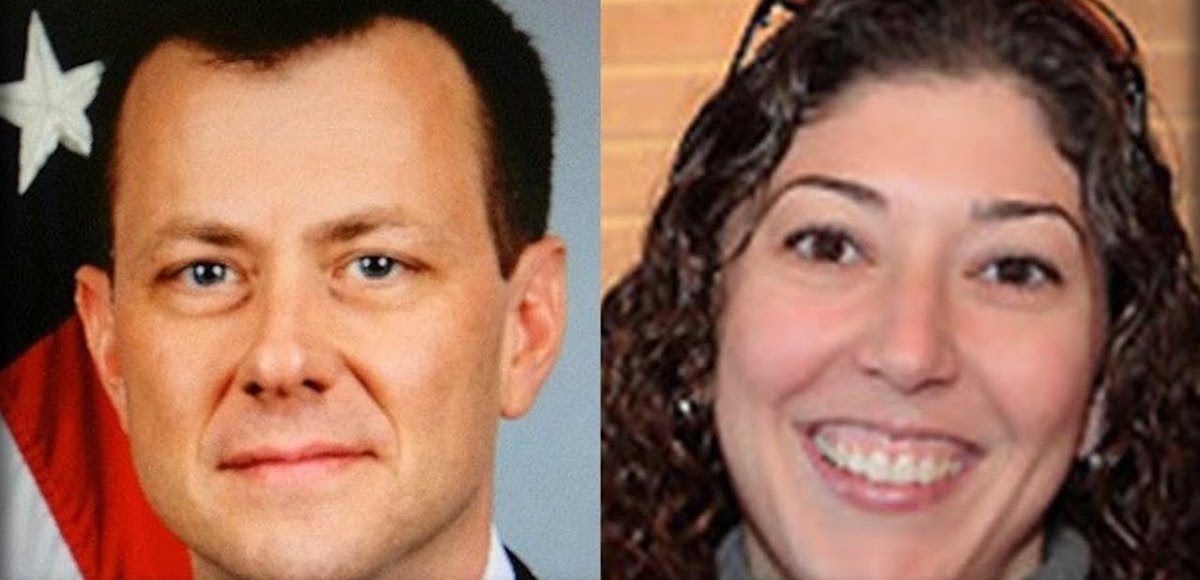 Text messages uncovered by the Justice Department inspector general reveal an FBI official vowed to prevent Donald Trump from becoming President of the United States. The messages, which were previously excluded from disclosures to members of Congress, are between Peter Strzok and Lisa Page, two anti-Trump FBI officials who were also having an affair.
Lisa Page: "[Trump's] not ever going to become president, right? Right?!"
Peter Strzok: "No. No he won't. We'll stop it."
Multiple sources confirm that Attorney General Jeff Sessions and Deputy Attorney General Rod Rosenstein were both made aware of these messages in June. They were recovered in May, but omitted from previous releases.
Following the election, Ms. Page wrote addressing the previous conversation.
Page: "You promised me this wouldn't happen."
The communications were recovered after Inspector General Michael Horowitz seized "at least four" devices belonging to the figures at the center of a scandal surrounding the handling of the Clinton email investigation and the Russia probe.
Previously obtained text messages also show the two lovers discussed needing to talk to "Andy" about an "insurance policy" in the event President Trump defeated Hillary Clinton, a reference to FBI Deputy Director Andrew McCabe.
"I want to believe the path you threw out for consideration in Andy's office — that there's no way he gets elected — but I'm afraid we can't take that risk. It's like an insurance policy in the unlikely event you die before you're 40," Mr. Strzok wrote to Ms. Page.
Text messages also recently obtained insinuate former Attorney General Loretta Lynch knew the investigation into Mrs. Clinton was a sham that would not result in an indictment. Ms. Lynch said she would defer to career prosecutors on the decision after she was caught meeting with Bill Clinton in secret on a tarmac in Phoenix.
According to the text messages, she already knew those "career prosecutors" were never going to bring a case.
In another text message, Mr. Strzok and Ms. Page mentioned a "secret society" within the DOJ and the FBI, which met the day after President Trump's historic and (to them) surprising victory.
U.S. District Court Judge Rudolph Contreras, who presided over the case against former National Security Adviser Michael Flynn, had a personal relationship with Mr. Strzok. The unethical conflict of interest, which too was revealed in text messages, was only recently discovered and only after Judge Contreras unexplainably recused himself.
"Rudy is on the FISC! Did you know that?" Ms. Page texted Mr. Strzok on July 25, 2016. "Just appointed two months ago."
"I did," Mr. Strzok replied. "We talked about it before and after. I need to get together with him."
Judge Contreras, referred to in the text messages by his first name, was appointed to the Foreign Intelligence Surveillance Court (FISC) in 2016.
The highly-anticipated report by Inspector General Michael Horowitz is expected to criticize Mr. Strzok and Ms. Page, as well as fired former FBI director James Comey, Mr. McCabe and Ms. Lynch.
Ms. Page, along with FBI lawyer Jim Baker, both of whom worked closely with Mr. Comey, resigned from the agency in May. Mr. Strzok has been relieved of his post as head of the counterintelligence department and Inspector General Michael Horowitz recommended criminal charges against Mr. McCabe for lack of candor, or lying, including under oath.
Mr. McCabe has requested immunity from Senate Judiciary Committee Chairman Chuck Grassley, R-Ia., in exchange for testimony and emails damaging to his former boss, Mr. Comey.
Worth noting, Mr. Strzok and Ms. Page both worked on the Democrat-dominated team assembled by Special Counsel Robert Mueller III. They were fired last summer before members of Congress conducting oversight and the media learned of the content of the messages.