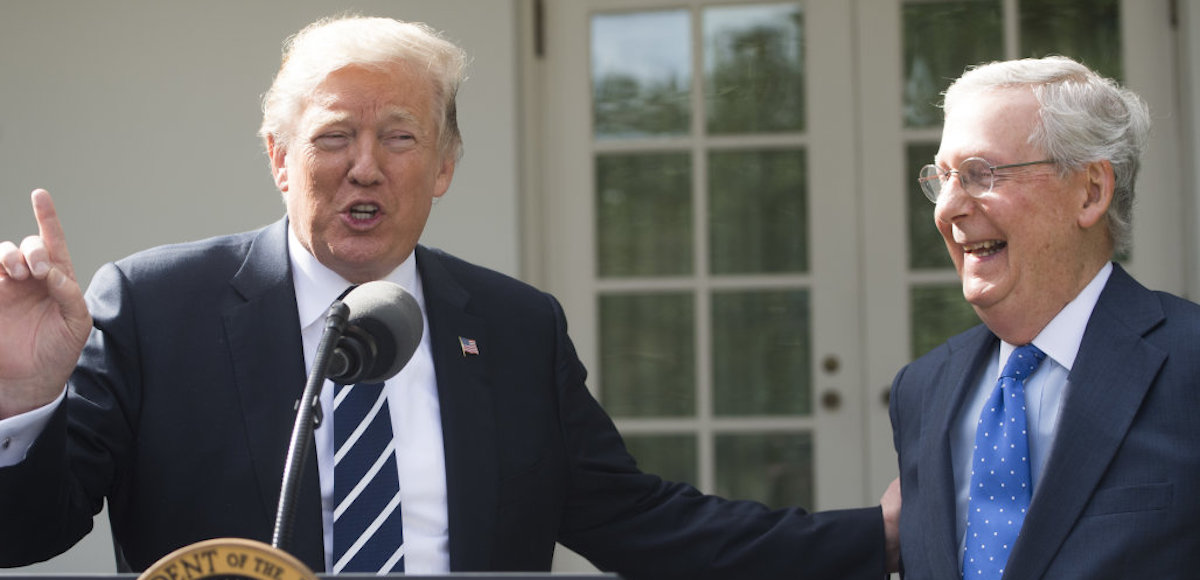 Senate Majority Leader to Conservatives: "Don't Get Rattled By All This"
Senate Majority Leader Mitch McConnell, R-Kty., told the Values Voter Summit Brett Kavanaugh "in the very near future" "will be on the United States Supreme Court."
"You've watched the fight. You've watched the tactics," Leader McConnell said at the largest gathering of social conservatives in the nation. "But here is what I want to tell you: in the very near future Judge Kavanaugh will be on the United States Supreme Court."
He told conservatives "don't get rattled by all this" and that his decision not to take up the Merrick Garland nomination in Barack Obama's final year was the "most consequential decision" he's made.
Judge Kavanaugh, 53, serves on the U.S. Court of Appeals for the District of Columbia Circuit. President Donald Trump moved on the nomination to replace Justice Anthony Kennedy, who announced a few weeks before that he would retire, effective July 31.
The Senate Judiciary Committee began holding hearings for the confirmation of Judge Kavanaugh on September 4. Despite Democrats attempting to obstruct, pay protestors and stage outbursts, they didn't land a glove on him.
Following those confirmation hearings, the percentage of voters both who wanted and expected him to be confirmed swelled. Then, came the allegation that has held the upper chamber hostage.
Christine Blasey Ford, a liberal activist and Palo Alto University psychology professor, alleges Judge Kavanaugh attempted to rape her at a high-school party in or about 1982, when he was 17 and she was 15.
The allegation was made in a letter to Senator Dianne Feinstein, D-Calif., the Ranking Member of the Senate Judiciary Committee, which she withheld for 6 weeks until after the committee held confirmation hearings.
Senator Feinstein has refused to share the un-redacted, original version of the letter with the American public or Senate Judiciary Committee Chairman Chuck Grassley, R-Ia., who invited Professor Ford to testify on Monday.
She refused, and demanded the accused be interviewed first. Of course, it's not only legally unconventional, but highly unusual even for a legislative hearing.
While a large percentage of voters are not sure who is telling the truth, slightly more believe Judge Kavanaugh over his accuser. When asked, 38% of voters said they believe Judge Kavanaugh is telling the truth, while 33% believe the accuser.